A Detailed & Complete Guide To Apostille Services In Bhubaneswar
Are you thinking of applying to a company abroad? Or maybe you wish to join an outside firm with the best annual salary you could imagine? You can achieve these goals, but do not let your visa get in the way.
The most difficult thing in a city like Bhubaneswar is to find a trustworthy apostille service provider, which would get your documents attested in the right manner. Of course, there are many service providers which makes it even more difficult to make the correct choice. They will either be slow or won't follow the instructions provided by the government, or even both.
So the entire process of finding a reliable apostille service provider becomes quite burdensome. That's when ND Universal's Apostille services in Bhubaneswar come to your rescue.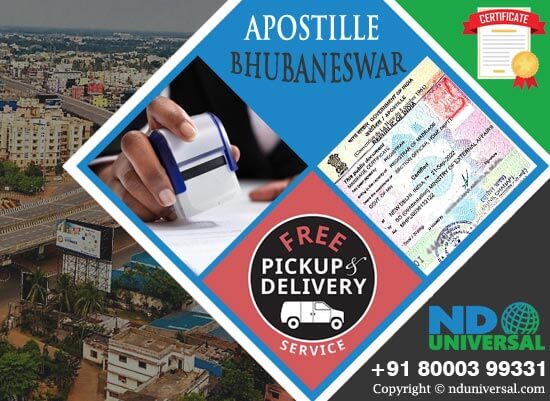 ND Universal is a government-affiliated service provider that offers professional consultation on apostille and attestation of documents in a legal manner. Hiring ND Universal as your service provider will be the best choice. We will make sure to provide quality services and the process of attestation of documents will be done in an authentic and systematic manner.
What Is An Apostille?
By definition, An apostille is a kind of sticker. This sticker is used to check the authenticity of the documents of any individual. Apostille's attestation legitimizes the information contained in some documents and makes them eligible to be used in countries that are contained under Hague Convention. Apostille documents will become legalized to be used by these member countries.
Apostille of documents is required for an individual who wishes to travel to the member countries of the Hague Convention. In this way, the documents will get the eligibility to be used and it is also required to get a visa. Visas are necessary when you travel to another country. Whether you need to go to another nation for a job, for education, or even for visiting your family members residing there, a visa is necessary. Without a visa, you cannot stay in a foreign country.
Why & When Document/Certificates Apostille Is Required?
The documents which are not apostilled cannot be used by the individual and they won't be allowed to enter the premises of the member nations. Apostille documents are required to get residential visas, work visas, employment visas, student visas, and much more. Below are the documents involved:
Degree certificate
The documents can prove your education status like degrees, character certificates, mark sheets, etc, which are necessary to either further your education or help you get a job in other countries.
It is important to apostille the degree certificate because it is required to get a work visa.
People who wish to study in the member countries of the Hague Convention should get their degree certificate apostille or else they won't get admission to any college or university.
It will be easier to get a job or admission to universities with an apostille degree certificate because, without it, the degree will be of no use.
Birth certificate
A birth certificate is an important document that verifies a person's birth details including, date, time, and place of birth. It is required to get a children's visa.
An apostille birth certificate will be used by an individual to show their credentials in other countries.
A birth certificate is the most important document that shows a person's nationality, so it should be apostilled.
Apostilled birth certificate also helps students in the admission process and in getting jobs.
Marriage certificate
Personal Documents are those documents that include personal data. A marriage certificate is a personal document that shows the relationship between a married couple.
It shows the marital status of two individuals.
Apostilled marriage certificates are important to validate any marriage that happens in the member countries of the Hague Convention.
The apostilled certificate will also help in getting a family visa, resident visa, spouse visa, etc.
Commercial documents
Commercial or commerce documents are the documents that certify the capital of the business.
These documents are of a business nature that are required in the nations that are the members of the Hague Convention.
A few examples of these are Partnership deeds, export documents, invoices, memorandum of association, etc.
Police clearance certificate
PCC or Police Clearance Certificate is a certificate that clarifies that an individual has no history of criminal activities.
Attestation of this certificate will validate that an individual has no criminal records and will help in getting a visa.
This particular certificate is very important in terms of getting the visa as criminal records being registered will create difficulty in getting a visa.
Single status certificate
A single status document is essential to understand that a person is single and not married to anyone. This can prove that a person is not in any kind of relationship.
When you desire to marry someone in any other nation, they will need the document.
Apostille affidavit
An affidavit is one of the legal documents which can show the specific identity of a person accompanied by the date of birth of the individual.
The document will be essential to show that a person belongs to any of the nations under the Hague Convention.
Death certificate
Attestation of a Death Certificate is required to claim the belongings of a deceased person.
It is important to state that a person is no longer alive.
By providing a death certificate, it becomes easy to claim the deceased person's money and other belongings from an overseas country.
To receive the visa, an apostille stamp is a primary requirement. Whenever there is any form of negligence, it results in errors and causes difficulties in the entire apostille attestation procedure. Legal actions will be taken against the individuals carrying documents that are not apostilled.
Countries Accepting Apostilled Documents
At present, ninety-two countries all over the world are part of this Convention and thus accept documents and certificates which have received an apostille sticker. When visiting a country that comes under the Hague convention, it is essential for you to get your documents and certificates apostilled.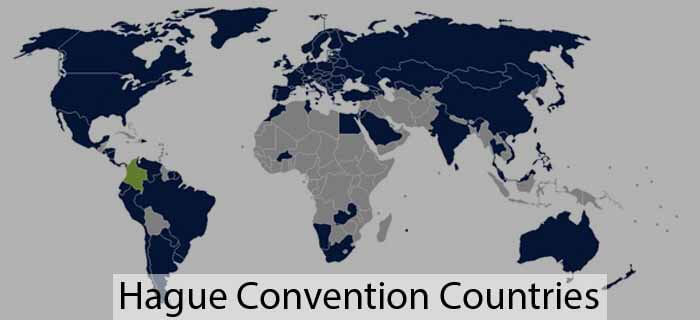 The reason for the same is, these documents will be used by you in those countries. They will check if these documents have the apostille sticker that can only be granted by the legal authority of the respective country. It should be ensured that all documents get passed through all stages of verification and are verified with full accuracy.
Process of Apostille Attestation
The apostille method is time-consuming and labor-intensive. Most of the time, people get the sequence wrong or provide the incorrect document for apostille, and they have to restart the process. Contact ND Universal for apostille services in Bhubaneswar to prevent such mistakes and to guarantee that the process goes well. However, to finish the operation, you must do the following:
Personal Documents
To apostille, one has to make sure that the documents are verified with the help of the local notary. The local notary can prove that the papers are entirely legal.
The Sub Divisional Magistrate must also verify the documents. This is also known as the State Home Department.
These documents must be given to the Ministry of External Affairs to verify the final state of the papers. The central agency also guarantees this. A stamp of the apostille will be added as well. This is proof that the documents are attested completely.
Educational Documents/Non-Personal Documents
To apostille the papers, you have to ensure that the specific University or notary has verified your papers. This is where the documents are issued at the very first scale.
These documents are then given to the Human Resources department to get them attested by the HRD. They need to verify the papers as well.
The last step will require the educational documents to be attested by the Ministry of External Affairs. The apostille is finalized at this particular state.
Business documents or Commercial documents
The Chamber of Commerce must verify the commercial documents at every single step.
The next step will be essential to get the papers certified with the help of the Ministry of External Affairs. This will help to get their stamp of an apostille.
The documents and certificates must be legally verified by all departments at all levels for them to finally receive an apostille sticker from the MEA. Having affiliations with the government, the procedure followed here is highly systematic and completely legal as per the government's guidelines. ND Universal offers hassle-free and quick apostille services to its clients.
What Does an Apostille Look Like?
The sticker that is used for apostilling a document is square-shaped.
It is computer generated. Every sticker is unique with a unique number to identify it.
The sticker is used to verify that your document is legitimate and original.
The legitimate state of any document will be tested by the embassies of another country under the Hague convention.
The document is essential, and it requires several other papers as well. The sticker is stamped at the back of the documents.
Apostille is one of the rectangular stickers added after the verification is complete. These will prove the legitimacy of the documents. The government has to prescribe the legitimate nature of these documents when individuals are willing to leave the nation.
What if Your Documents are Laminated?
Laminated papers have a unique feature. They are wrapped in plastic in a specific manner. This protects the documents from any kind of damage. The laminated pieces must not be ripped off on your own. However, the document's authenticity will be determined with the stamp presented after removing the lamination.
When you have assigned a specific company for this particular service, you have to leave the work to them. The verification process will be done with care. ND Universal believes helping others fulfill their dreams is one of the most satisfying things one can do. And who better to help than our customers? We will not only help you to remove the lamination but also apostille these documents and deliver them to you, at your own sweet home.
Documents Required for the Apostille Attestation Process
There are documents that you will need to apostille.
Educational documents
Certificate of High School
Diplomas or certificates
Personal Documents
Certificate of Birth
Marriage certificate, or Single Status Certificate, etc.
Examples of Commercial Documents:
Export Certificate
Company Registration Certificate
Power of Attorney, AoA, MoA, and many more.
Other Documents:
Apart from the original documents that require the apostille sticker, here are the documents that are needed for this process:
Passport size photos
Receipt of Passport application
Copy of the visa
Copy of your Aadhaar card
Copy of the passport
Time Taken To Complete The Process
The attestation process carried out by the individual themself can be daunting and tiring. It can take a lot of time to complete. IF any individual wants to get the apostille themself, it may take more than 20 days. In some cases, due to some unusual delays, it may take more than even 1.5 months.
But, ND Universal is one of the best attestation services providers in India and has a reputation for providing quick and hassle-free services. We offer the fastest, highly reliable, and quality services to our clients in Bhubaneswar. The attestation process is completed in just 5to 7 working days and the services are affordable and reliable.
What Is The Cost Of Apostille Services In Bhubaneswar?
The cost of attestation of a certificate varies by nation and state. It may be impacted by the urgency of the demand, as well as the state in which the papers were issued. Apart from these, id depends on the type and number of documents to be apostilled. If you do it on your own, the cost of attestation will be too much, in addition to the expenses of traveling.
Most Popular
Services
Regular
Urgent
Cost
₹ 3900.00
₹ 4900.00
Time
6-8 Working Days
4-6 Working Days
Pickup Facility
Drop Facility
Same Day Delivery
After Attestation
Remove Lamination
You can contact ND Universal right away to get your certificates apostille at an affordable cost. We also provide free pick-up and drop-off services throughout India. Our cost is very as compared to our service providers. We offer quick and affordable services and adhere to all government rules and guidelines, conducting the entire process legally and systematically.
How To Start The Process?
You must first call our executive. The executive at ND Universal attends to all your doubts and queries personally and helps you out in completing the formalities. After we receive your documents, we will start apostilling your documents. We are absolutely proud of our exceptional customer service. We update and inform you regarding everything at every step and we make sure that your documents get back to you in a safe and secure way after the completion of the procedure. We handle your documents with utmost care and take all the necessary precautions from the very beginning to the very end of the entire procedure.
Although there are many attestation service providers in the area, we will assist you better than anyone else. This is because we not only have market knowledge, but we also strive to give our customers high-quality apostille services. ND Universal recognizes the anxiety that comes with dealing with an apostille on one's own and hence provides a service that is not only inexpensive but also quick. So contact us now!
Our Highlights:
Quick and Efficient Service: Because the services are reputable and legal, we provide quick legalization for your papers. Our clients hire us and rely on us.
Free pick-up and drop-off service: Our staff will collect papers from your address and return them to you at the end of the procedure. You will be provided with the most efficient and trouble-free services.
Customer assistance is available all day: Contact us at any time of day or evening, and we will respond to your queries and assist you. Our crew is obedient and persistent in providing the greatest aid for the required solutions.
Superior Service: At our organization, we provide services that are of the highest quality and authentic. Competence and capability in the job are acknowledged.
Customer Convenience: Our clients are important to us, and we are technologically smart enough to make our services accessible to them. We keep the procedure transparent for our clients, and there are no concealed expenses.
Safety is our priority: We believe in safe attestation and handling of documents and certificates at any cost.
We provide services for attestation for all types of documents mentioned below:
Educational Certificate Apostille
| | | |
| --- | --- | --- |
| Degree Certificate | Nursing Certificate | PG Degree Certificate |
| MS Certificate | Dentists Certificate | SSC Certificate |
| Diploma Certificate | MD Certificate | Nursing Certificate |
| Transcript Certificate | BE Certificate | HSC Certificate |
| Marksheets | Engineering Certificate | Inter Certificate |
| Pharmacy Certificate | MBBS Certificate | |
Non-Educational Certificate Apostille
| | | |
| --- | --- | --- |
| Birth Certificate | Leaving Certificate | PCC Apostille in India |
| Medical Certificate | Marriage Certificate | Bona-fide Certificate |
| Single Status Certificate | Marriage Certificate | Registration Certificate |
| Power of Attorney | | |
Commercial Document Apostille
| | | |
| --- | --- | --- |
| Physical Analysis Report | Certificate of Incorporation | Export Invoice |
| Chemical Analysis Report | Power of Attorney | Packaging List |
| Certificate of Origin | Agreement | Board Resolution |
| Article of Association | Memorandum of Association | Shareholder Certificate |
| GMP Certificate | Health Certificate | Manufacturing License |
| Food and Drug Licence | | |
---
Why Choose ND Universal for Apostille Services in Bhubaneswar ?