We are here for Attestation Services in Mangalore
Attestation Services in Mangalore
Looking for Attestation Services in Mangalore?
ND Universal offers you quick and reliable attestation services all across India. If you are living in Mangalore and looking for an attestation service provider, you've reached the right place. We assist our clients in obtaining approval from MEA and other government officials.
What is Attestation?
Attestation of documents is the process of verifying the authenticity of a certificate.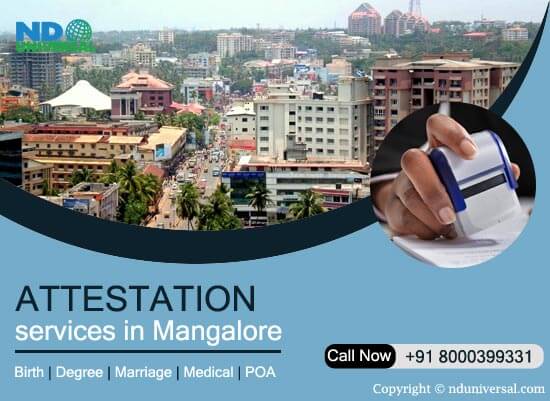 Why Attestation is required?
Today authentication of document is necessary whether you are preparing to admit your kid in a school or moving abroad. Since there are thousands of people who travel abroad for employment/immigration or for any different reason, one of the important things you need to do is attestation (Personal, Educational or Commercial Documents).
What are the types of Attestation?
ND Universal Mangalore offers attestation for different kinds of documents. It includes
State Attestation is needed prior to MEA attestation, wherever based on the type of certificate, appropriate state attestation is neededFor instance, in case of educational certificates, attestation from State Education Department is expected. In the case of personal certificates, General Administration Department of the involving state should attest the document.
MEA Attestation is performed after attestation by appropriate state authorities
Embassy Attestation is done once MEA attestation is completed, process for embassy attestation may vary from one embassy to another based on country you're applying for. The Attestation process may take 10 working days to complete.
Which category of Documents Can be Attested?
There are three types of document which needs authentication namely,
Educational Documents (SSC Certificate, HSC Certificate, Higher Education/ Degree Mark sheet)
Non Educational Documents (Birth Certificate, Marriage Certificate, School Leaving Certificate, Medical Certificate Attestation, PCC Certificate)
Commercial Documents (Power of Attorney, Invoice Certificate of origin, GMV Certificate, Certificate of Incorporation, Article of association, Memorandum Certificate)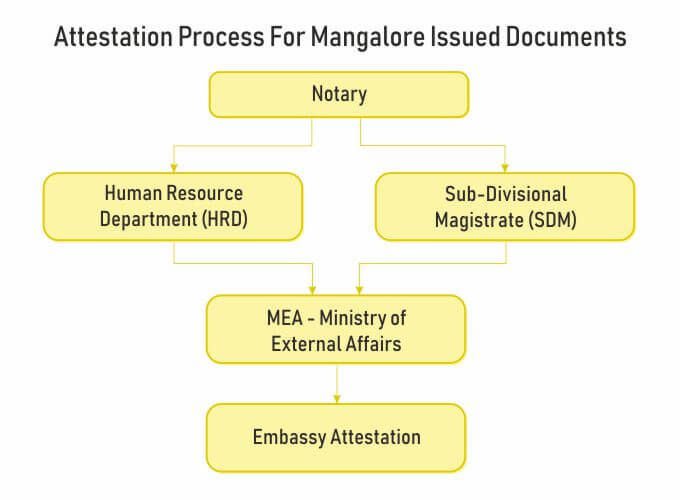 ---
Why Choose ND Universal for Attestation services in Mangalore ?
ND Universal is the pioneer for providing attestation services in Mangalore. We are known as the customer oriented firm for offering hassle free services with free pickup and delivery to the documents. Our team is available 24*7 online to take your inquiries. Feel free to reach us out in case of any concerns. We also provide attestation service in Bangalore, Mumbai, Delhi, Mangalore, Kolkata and Hyderabad.
We have been offering attestation services in India for many years and are known for following standards while offering hassle free services. ND universal is the consulting agency that reaches to the government authorities for you in order to obtain certification on documents on a regular or urgent basis. We offer fast and reliable services with pick and drop facilities with great customer service support.