UAE Embassy Attestation in Panvel
Every year, several migrants migrate from one country to another. A study showed that 60% of Indian migrants migrate to the United Arab Emirates on average. With the fast pace increasing economy of the UAE, employment opportunities are also increasing, and many individuals shift to UAE in search of jobs/employment or for further studies.
UAE Embassy attestation is a mandatory process to obtain a visa for the UAE for any purpose. UAE Embassy attestation or certificate attestation is a process of authenticating one's original document with the official stamp and signature of the issuing authority to make them legally valid to be used in foreign countries. So, if you are planning to migrate to a foreign country it is essential to get your certificates attested to obtain a visa and also to avoid any further obstructions in paperwork or legal procedures after relocation to another country.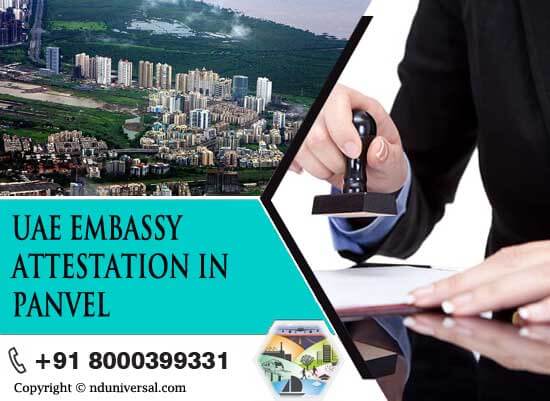 Certificate attestation is an important process but it can be daunting and tiring too. That is why ND Universal makes it easier for people to get their certificates attested without going through any hustle-bustle. We provide our customers with hassle-free UAE certificate attestation in Panvel services at reasonable prices.
Additional Details
The sole purpose of Certificate Attestation is to verify your documents so that you can prove your credentials to the authority of the UAE and use your documents legally outside your country. There are generally three types of certificate attestation:
Personal Document Attestation : For personal documents such as birth certificates, marriage certificates, e.t.c.
Commercial Document Attestation : For commercial documents such as property papers, company registration, e.t.c.
Educational Document Attestation : For education documents such as degree certificates.
Usually, it takes 5-8 working days to get one's certificates attested but the cost and time required to attest one's degree certificate depends upon various factors such as the nature of the case, the number of documents, the extra services customer's avails to and the rules and regulations of the country you are migrating to.
Who Must Apply For This?
India is a populated country with millions of college students pursuing their studies within first-class colleges. The fast pace increasing competition makes it tough for people to either get into a good college or a desirable job within their countries. That is why thousands of people migrate to different nations on the lookout for jobs or further studies or better academic opportunities. Many people also take their families or partners to different nations to reside with them.
Certificate attestation is a mandatory process to get a visa for relocating to a foreign or to use it as a legally legitimate document to avoid further obstruction in any official or legal paperwork abroad. It enables the government or authorities of the country to which you are relocating, in verifying the authenticity and legitimacy of your documents and get rid of obstructions for criminal tactics abroad. So, in case you are making plans to reside, get a job, take care of your family, or pursue higher studies in any foreign country, it is a must to get your certificate attested.
Why Is Embassy Attestation Important?
Certificate attestation or embassy attestation is mandatory for these cases:
Spouse Visa
If you are already staying in a foreign country and recently got married but your partner does not have the residence of the country you are staying in, then an attested marriage certificate will help you get a visa for your spouse.
Sponsorship For The Partner
Getting your marriage certificate attested is essential if you want sponsorship for your partner in a foreign country.
Getting A Student Visa
Degree certificate attestation is mandatory to obtain a student visa to pursue higher studies abroad.
Getting A Employment Visa
A degree certificate is also a must to obtain a work or employment visa for a foreign country.
Applying For A Job Abroad
If you want to apply for a job in a foreign country, an attested degree certificate is needed.
Get Admission To a College
Degree certificate attestation is necessary for getting admission in a college, school, or university abroad.
For Buying Or Renting Property
An attested commercial certificate will help you buy or rent a property abroad.
Dependent Visa
An attested marriage certificate will help one to obtain a dependent visa to take their partner abroad.
Name Change
A degree certificate or birth certificate can help you in changing the name in schools, colleges, universities, other certificates, and other legal authorities.
Resident Visa
If you are planning to reside abroad, then getting your marriage certificate attested is crucial. It will help you get a resident visa for a foreign country.
Family Visa
If you want to take your family abroad, an attested marriage certificate will help you in obtaining a family visa in another country.
ND Universal provides our clients with fast and stress-free Attestation in Panvel services. We follow a simple Four-step procedure for the same. The steps are as follows:
Step 1: Notary Attestation
Getting your certificate attestation from the local notary from where it was issued.
Step 2: State Level Attestation
The next step involves getting your certificates attested from the home department of the country where the documents were issued.
Step 3: MEA Attestation
Making sure that your document gets a stamp from MEA (Ministry of External Affairs). This will be the last step of the procedure under the central government.
Step 4: Embassy Attestation
The last step is to make sure that your certificate is attested from the UAE embassy.
The Cost of UAE Embassy Attestation
Here is the the cost of UAE embassy attestation for educational and non-educational documents:
Most Popular
Services
Regular
Normal
Urgent
Cost
₹ 7100.00
₹ 8100.00
₹ 9100.00
Time
15 Working Days
8-10 Working Days
4 to 6 Working Days
Pickup Facility
Drop Facility
Same Day Delivery
After Attestation
Remove Lamination
Note: No extra/added cost. Pickup and Drop charges are already added. In case you courier your documents an amount of 250 will be deducted from the cost.
---
Why Choose ND Universal?
Doing Legal paperwork or processing can be really exhausting and boring but ND Universal makes it all easier for you. Our motto is to provide customers with less-troublesome, stress-free, professional, and fast services at the lowest prices possible. With more than six years of experience in attestation services, we are the leading attestation service provider in Panvel. Choosing ND Universal for your UAE certificate attestation or Embassy attestation in Panvel will benefit you with:
Pick Up and Drop Off Services For Documents
Certified and Reliable Services
Less time-consuming and hassle-free attestation
24/7 Availability of services
Reasonable prices
Easy payment methods
Less complex and easy-to-understand attestation procedures
Professional and Quality Staff
Customer satisfaction and peace of mind
A streamlined process for document submission
---
Frequently Asked Questions