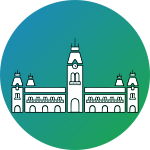 Certificate Attestation in Chennai
An Ultimate Guide to Attestation Services in Chennai
Certificate attestation is the legalization of necessary documents to ensure that they are authentic. Certificate attestation is as important as getting a visa. We, ND Universal, based in Mumbai, are a very well-established company which is full of experienced and skilled people who can help you with certificate and document attestation.
Our services include different kinds of attestation and translation services in case documents are not in the English language or any other language that is preferred for attestation. We, as an agency, help you in the collection of applications and other documents needed for attestation or any other purpose.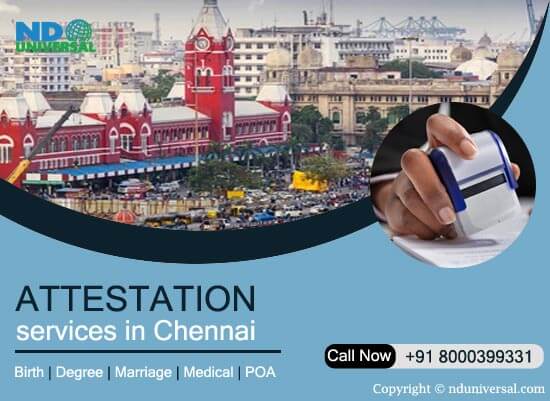 We provide top services in Chennai to get your documents authenticated with a stamp and seal. The certificates and documents have to go through verification by various Indian authorities for the same. All our services of Embassy attestation are available in Chennai.
Degree certificate attestation in Chennai
Attestation is the process that is carried out for proving the legitimacy of the information that a document or certificate carries. This process is done for the documents or certificates that are to be used in another country.
Degree certificate attestation is the process in which the degree certificate is verified by various authorized government departments to prove the authenticity of the document. Attestation of a degree certificate is important to get admission to college or university of another country.
The process of attestation is done for the countries that are not a part of the Hague convention. The process of degree certificate attestation in Chennai involves verification by the following departments:
Verification by the Local Notary or the university was issued from
Authentication by the HRD ( Human Resource Development) Department at the state level
Legalization of the documents through singing or stamping process carried out by the MEA ( Ministry of External Affairs )
Final attestation by the concerned embassy
Papers needed for attestation process:
Original Degree certificate
Photocopies of passport
Passport-size photographs
Attestation of a degree certificate will allow an individual to legally use the certificate in another country for educational and professional benefits and it also helps in getting a work or seduction visa.
Birth Certificate Attestation in Chennai
The process of attestation is carried out for the betterment of citizens and the government of the respected country. Attestation of documents and certificates helps individuals to prove the motto and honesty to the officers of another country and it also helps them to identify if someone is dangerous for the country.
Birth certificate Attestation involves the procedure in which this personal document is being legalized by the relevant authorities. Attestation of a birth certificate will allow an individual to prove his/her credentials and from where they belong to. This personal document also helps during the name change of a person and it is also very important to prove your information in another country.
The process in Chennai will be carried out in the following steps:
The certificate will be verified by the local notary
Authentication will be done by Home Department or by the SDM ( Sub-divisional Magistrate) at the state level
Certificate legalization on a national level will be done by the MEA ( Ministry of External Affairs)
After the above verifications, the certificate will be verified by the country's embassy
Documents needed for the attestation process:
An original birth certificate stating the date, time, place of birth, and your other credentials
Photocopy of your passport
Few Passport sized photographs
Attestation of a birth certificate will help an individual to get a visa and it will also help in proving the identity in another country.
Marriage certificate attestation in Chennai
Attestation is done for the legalization of the documents that are to be used in another country. It is a multi-stepped process that involves various government departments. According to the type of document or certificate, different departments take the responsibility to attest the documents.
Marriage certificate attestation is done for validating the marital status between two people in a country that is not a part of the Hague Convention. Attestation of the marriage certificate is important for proving the relationship two individuals have. Attestation of marriage certificate in Chennai is done in the following manner:
Verification by the local notary from where the certificate was issued
Authentication by the Home Department or by the SDM ( sub-divisional Magistrate) at a state level
Central level verification will be done by the MEA ( ministry of external affairs)
The final attestation will be done by the concerned embassy.
By attestation of a marriage certificate, one can acquire a family visa, resident visa, spouse visa, and even a sponsorship for the spouse.
The fees charged for the Attestation are not fixed because it keeps changing with time and needs and also depends on the concerned authority. The fee also relies on the type of document that needs to be attested. Reach out to us to know more in detail regarding the fee structure.
Benefits of Getting an Attestation certificate in Tamil Nadu
Provides security
When traveling to a foreign country, some important documents and proofs are needed by the government of that country. The attestation certificate helps you in securing yourself as a foreigner. This will come to your rescue in case of an emergency and the authorities will help you without any questions in case you need their help. Without these documents, you will be unable to get access to the facilities of that nation.
Assists in getting essential facilities
Attestation provides you with facilities such as education, residence, medical, and other essential facilities abroad without much trouble.
Makes business establishment easier
Attestation makes your business registration fees smoother and easier. You can buy or sell assets or get access to the company license and banking services of that country.
Provides transparency
If you have all the necessary documents with you then you will not be questioned anywhere in a foreign country. Your transparency will assure your legitimacy as you will have proof of your identity. You will be recognized and have authentication on both national and international levels.
Avoid problems
You are suggested to get your family members' documents attested for avoiding any kind of problems abroad. If you are married, you need to get your marriage documents attested because this helps your spouse and relationship status in getting recognized by the authority.
The Procedure of Attestation
Here we have provided the procedure of document attestation for various types of documents.
Educational Certificate Attestation for Chennai
Verification by the State Education Department of Tamil Nadu.
Certificate Attestation from MEA or Ministry of External Affairs.
Certificate attestation by the embassy.
Personal Certificate Attestation for Chennai
State Home Department (of Tamil Nadu) certificate attestation.
Certificate Attestation from MEA or Ministry of External Affairs.
Certificate attestation by the embassy.
Commercial Document Attestation in Chennai
Certificate attestation by the Chamber of Commerce.
Certificate Attestation from MEA or Ministry of External Affairs.
Embassy attestation.
Duration of the Procedure
The duration is different based on the types of documents that are to be attested. It also depends on the place where the attestation is being done. It takes a little longer in the case of the HRD department, and in the case of Chennai, it usually takes from 7 to 8 business days. But the time frame can differ as the process is different for each document and works on a case-to-case basis.
Who Must Apply For Attestation and Why?
An attestation certificate is an essential document for many reasons. The most important purpose of attestation is to prove the credibility of your documents when you travel abroad for a job, medical, educational purposes, or any other reason.
Educational Purposes
For admission to different colleges abroad
For identity proof
For getting a student visa
For students interested in doing a part-time job.
Non-Educational purposes
For travel purposes
For identity proof and evidence
For having access to residential facilities
For getting a residence visa
For having access to medical services
For getting quick access to other essential services without any delay or trouble
For work grant
For family visa
For employment visa or labor card.
Commercial purposes
To establish a new business brand abroad
To gain the rights of selling or buying properties
To remove LLC partnership
To open a new bank account in different banks abroad
To register your company in a foreign country.
Attestation will make your documents more authentic for any kind of use abroad. Without attestation, you will not be able to get your visa approved. Getting your certificates signed and sealed by the authorities ensures that the documents have been checked by them and are verified and approved. This helps you get your attestation and you will be facing no trouble when traveling abroad for any purpose.
How to Get certificate attestation services Chennai tamil nadu?
In Chennai, we are among the very few agencies that provide you with attestation services. We are one such company that provides suitable and competent certificate attestation in Tamil Nadu.
To get your documents attested, you will have to get your documents verified from the local notary of Chennai and then apply for the same in the MEA, and they will provide the sticker/stamp. Getting the sticker from MEA indicates that the certificate has been approved by them. Only then, it can be used to claim the visa or to begin the visa processing. We provide all these facilities and many other related services.
Reasons to Choose ND Universal
The process of document attestation is a very lengthy and time-consuming procedure and there is no doubt about that. But with the right guidance and help you can get it all done in no time.
We, at ND universal, are well-established and fit for all of these needs of yours. We also provide you with an exceptional team of experts that will walk you swiftly through the whole procedure. They will ensure that you get your documents properly and accurately attested. We are very well known in this field for providing the best services that make the procedure hassle-free for you.
Our team will be there to help and guide you till the completion of the entire procedure and you can consult them anytime you are facing any trouble or have any queries regarding the same.
We are more than happy to be providing the best experience and are proud of our exceptional customer service. We will keep you updated and informed regarding everything and every step and make sure that your documents get back to you safely and securely after the procedure comes to an end.
We will take care of your documents and take all the necessary precautions from the starting to the end of the entire procedure.
Our Services And Process
We, the ND Universal provide easy and feasibleattestation services in Chennai. You need to hand us over, all your original copies of the necessary documents, their photocopies, a clear photocopy of your passport, and the embassy and ND Universal service charges.
You can deposit fees by mode of cash, NEFT/RTGS, or you can address a draft to the company (Name of the company, Mumbai).
The attesting process in Chennai is time-taking and may take up to 7-10 days. We'll make sure you don't have to worry about anything and that we do all the work that is required.
We'll also make sure that your documents are attested as soon as possible. If you cannot deposit your documents by yourself, then you need not worry. You can submit your documents via pick-up centers available in Chennai. Your physical presence isn't required for the process.
Our team in Chennai will look over your attesting process. We've also collaborated with Blue Dart courier services to ensure the safe pick-up and delivery of your documents.
Contact us and we will be the happiest to assist you through the entire process.