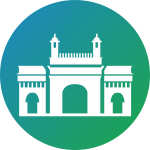 Certificate Attestation in Mumbai (Complete Information)
Many people from India travel abroad. While some of them might travel for a vacation, some might move there for completing their education or getting a better job, or even for starting a business. Whatever may be the reason for travel or stay in another country, it is mandatory to have the attested documents to prove the genuineness of an individual and the information that is carried in the document.
Attestation is the process through which the documents are verified to prove their originality in a foreign land. The process of certificate attestation includes various departments that have been assigned the role of verifying the documents that come under their responsibility according to the guidelines.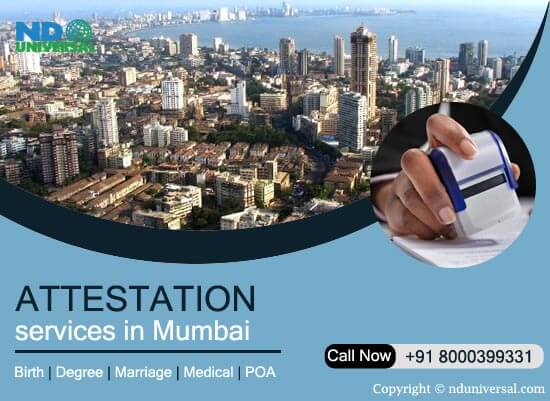 The main reason why one should get all the documents and certificates attested is that without the proper attestation of the documents, they will not be considered valid in a foreign country, and then you will not be able to use them legally in that nation.
One can face various stressful situations while getting the attestation of a certificate and that is why it is recommended to get the help of an authorized service provider, who will not only take care of the attestation but also give satisfactory services. In this field, ND Universal is one of the topmost authorized service providers with experience of more than eight years.
What Is Meant By Attestation?
Certificate attestation is a process where the required documents or certificates that are to be used outside the native country are verified by the different departments of government. The process of attestation helps a certificate to get its legitimacy from the home government, and thus making it easier for the government of the concerned foreign country to trust the information provided in the documents.
As attestation is a multi-step process and includes verification from regional to the national level and then from the embassy, it can be vexing to find what departments are to verify your documents. None of the department verifications can be taken lightly and the negligence of any stage of verification can lead to much complication and trouble in the future.
To steer clear of any such unsolicited inconvenience, many service providers are there to help people, but the fastest certificate attestation services provider in Mumbai is provided by ND Universal. Attestation service is recommended to make the process simple for the individual and less time-consuming as well.
ND Universal is an authorized attestation service provider. We are in contact with relevant government authorities directly. With a professional staff that is well aware of the attestation procedure and its importance, it will be safer for an individual to get the certificate attested with the aid of ND Universal.
What Is the Need for Attestation Services in Mumbai?
An individual can travel or relocate to another country for multiple reasons. In any case, the foreign government officials will need properly attested documents for the safety of both the parties involved, i.e., you and their nation. To prove the honesty of your statements and declarations, it is mandatory to show the required documents that are properly attested.
Some common reasons for relocating include pursuing a better education, getting a better job, starting a business, or migrating.
For staying in any foreign country, you will need a visa depending on your requirements, like a study visa, work visa, commercial visa, residential visa, etc., that will state the reason for your stay.
It is also mandatory for proving your identity and background. Attested documents and certificates act as proof of your honest intentions of traveling to that country.
The common type of certificates that need to be attested are-
Degree certificate
Marriage certificate
Power of Attorney
Birth certificate
Commercial certificate
Medical certificate
How to Get Documents Attestation in Mumbai?
As document attestation is not a single-step process, it is often suggested to get help from a trustworthy and authorized attestation service provider. There are many service providers in Mumbai that provide attestation, but finding a reliable and authorized service provider is difficult. Having an authorized service provider will benefit you with the highest quality of attestation that will not only be simple but also fast.
ND Universal is an authorized service provider with experience of more than eight years in the field of attestation.
We have a team of professionals who have gained expertise in providing these services.
ND Universal is not only trustworthy but also provides satisfactory services.
The whole attestation process will surely be done within one week irrespective of the type of document.
What Are The Categories Of Document That Require Attestation?
The documents are divided into three major types- educational, personal, and commercial. The process of attestation of each kind of document will vary as it will involve different government-authorized departments for the verification of the document, before being presented to the embassy of the concerned country.
Educational Documents
Degree certificate
HSC Certificate
SSC Certificate
Diploma certificate, etc.
Personal Documents
Birth certificate
Marriage certificate
Medical certificate
Death certificate, etc.
Commercial documents
Certificate of Incorporation
The board resolution
Memorandum of association
Power of Attorney, etc.
Attestation of educational certificates will vary on the factors such as from where it was issued and what kind of part it will play. Certificates issued by the Maharashtra government will be obtained from the procedure that will include Home Department attestation.
What Is the Process for Attestation of Mumbai Issued Certificate?
The legalization process of the certificates is neither a single-step procedure and nor is it simple. It is a very burdensome process that has to be taken care of very sensitively. There is no place for even a minor mistake. Thus, hiring ND Universal for this service will work as a lifesaver.
The process being followed is-
Step 1: Local Notary
The documents will get attested by the local notary from where they were originally issued.
Step 2: State Department
After the completion of the above-mentioned regional level process, the document will get verified from the relevant state department, which will be either the HRD (Human Resource Development) Department, or Home department, or SDM (Sub-Divisional Magistrate). The need of the department will depend on the type of document.
Step 3: MEA
Following the process, the documents now will be eligible for the MEA ( Ministry of External Affairs) Attestation, which is the central government department that looks after every issue that is related to foreign relations.
Step 4: Embassy
The final step will be to get the Embassy Attestation from the concerned country's embassy that will be provided only after all the pre-verification is done by all the other departments.
How Much Time Will Be Required For The Completion of The Process In Mumbai?
The time frame of Certification in Mumbai will depend on the origin of the document and for the country it is being attested. It can take up to a few weeks to even months but to eliminate the longer periods, you can contact ND Universal that will give you your attested document back in just 7 days.
What Will Be The Cost of Attestation?
The charges of attestation will depend on the services you ask for. The cost can be cut down by hiring ND Universal, which also provides free pick-up and drop-off services for the documents.
Why Choose ND Universal?
Hiring ND Universal as your service provider will save your time and money, as we work transparently and do not charge any extra penny. Our professional staff will take care of your queries and make sure that you get comfortable with us. ND Universal will provide you with high-quality certificate Authentication in Mumbai.
Our staff will respond to all the queries you might have about the attestation procedure. We are available 24x7 for our clients.
We will give you free pick-up and drop-off services for your documents.
You will not have to pay all that unnecessary travel cost if you take our assistance as a service provider because does not charge unnecessarily.
We work transparently, and you will get regular updates about your documents.
We have easier payment methods and fair charges for the process. You do not have to feel stressed about the payment methods.