Certificate Attestation in India (brief guide)
Guaranteed Certificate Attestation
It is a mandatory process to prove the genuineness of the certificates you own. It is essential to get certificate attestation if you want to use them legally in other countries. All the processes performed will include the involvement of your original certificates such as the original degree certificate you want to attest or the original marriage certificate.
After verification and confirmation, the certificates are passed to the embassy for their seal. Though, it is not a short process. It involves various sectors of government. Attestation will help you to prove that the certificates are authentic thus permitting you to enter other countries.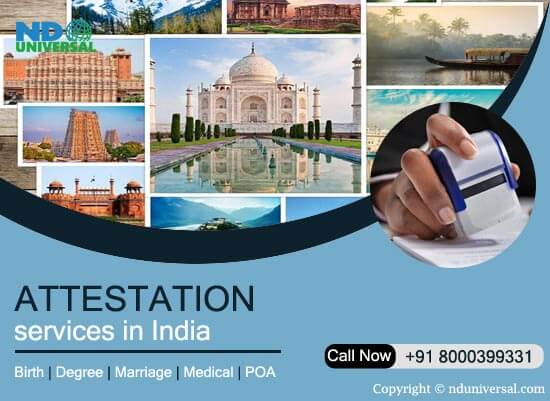 Why Is Document Attestation Needed?
There are various reasons why one should consider document attestation before applying for a visa. The main purposes can be educational or non-educational. Other countries will grant permission for entering their land only when you have your documents which are legalized by attestation done by the authorized bodies.
For educational motives such as for continuing the studies in foreign countries either by getting enrolled in a university, college, or school, it is necessary to get the educational documents and certificates attested. It is also important for acquiring a study visa or work visa where education certificates are mandatory.
For non-educational purposes such as giving an application for a family or resident visa, it is important to attest a marriage certificate for the legalization of your relationship in foreign countries if you plan on relocating there.
Education Certificate and Marriage Certificate Attestation
Attestation of your educational certificate plays a mandatory role in acquiring a visa for educational purposes, and if you wish to have a family visa then it is important to get the marriage certificate attested. All the required documents apart from these should also be attested for future requirements, because without attestation you will not be able to use them in other countries, thus creating difficulties for yourself.
The procedure followed by the documents for attestation is very exhausting at times. Thus it is recommended to hire a service provider who is authentic and trustworthy. By hiring us as your attestation services provider, your documents will get attested faster than usual.
Degree Certificate Attestation
All the required personal, academic, educational, commercial, and professional documents and certificates are to be attested by the sanctioned sectors of government and outside countries' embassies.
There are plenty of opportunities for people seeking good education and a workplace in outside countries because the economy and need for human resources are rapidly growing. The opening of new sectors and organizations also plays a vital role in the need for skilled professionals.
Particularly for certificates related to education, the Embassy Attests the final degree certificate. Following are the documents you will need for the degree certificate attestation:
Degree certificate
Passport Copy (Supporting Document only)
For attestation of marriage certificate, you will need following two documents:
Your original marriage certificate
Photocopy of your passport
Process of Document Attestation
The attestation process involves various departments that are authorized to grant the confirmation to the documents or certificates we own before getting the final embassy attestation.
Step 1: Notary
Required certificates or documents will be verified from the local notary from where they were issued.
Step 2: State level
The documents will be ready to get confirmation at the state level by the HRD ( Human Resource Development) department in case of academic-related documents and by the Home Department or SDM ( Sub-divisional Magistrate) in case of personal documents like a marriage certificate.
Step 3: MEA Stamp
The MEA (Ministry of Foreign Affairs), India will provide you with the stamp or sign confirming the authentication of your document and permission to get it attested from the embassy. This is a very significant step and also the last one taken care of by the home government.
Step 4: Other Country Embassy
The documents being examined by all the authorities will be passed to the State of other countries Embassy where final attestation will take place thus proving the genuineness of your documents.
After the documents have been legally attested following the authorized procedure, you can apply for a visa.
Birth Certificate Attestation in India
Attestation of certificates and documents is done to verify the legitimacy of the details mentioned in them. A birth certificate is a significant document, even for basic procedures in the home country like admission to an institute, filling any form for exams, etc. to determine your nationality and place of origin.
Attestation of the birth certificate is included in the category of the non-educational or non-academic form of attestation. Attestation of your birth certificate will be necessary for obtaining a family, work, study, or resident visa. A birth certificate is a very important document necessary while applying for universities, colleges, or jobs.
The validity of your birth certificate will be accepted only if it has been attested by the concerned authorities.
Why Is Birth Attestation Important?
Attestation of documents is mandatory to obtain a visa for foreign countries. Proving the legitimacy of your information is crucial in a foreign land. These attested certificates will help you in living anywhere in foreign countries safely and soundly.
A birth certificate attestation certifies crucial personal details related to your identity, thus it is of utmost importance. It is an important document for any kind of visa and especially for parents who want to take their child with them.
For having access to the better education and quality of life that foreign countries provide, it is better to have every important document attested from the home county departments and to the destination country Embassy.
A birth certificate is the most essential and basic certificate that proves your identification thus, not getting it attested can lead to many complications.
Process of Getting Birth Certificate Attested
The procedure of getting a birth certificate attested involves various government bodies from regional, state, and national levels, in addition to the foreign countries Embassy. The process that is followed takes place in offices that might be located at different places, all over the state and in the nation.
This is why it is recommended to take help from a service provider that will manage the whole procedure and rectify any issues that might occur. The process has been described in the following points. It will take place in four major steps:
Step 1: Regional verification
Regional verification will be done by the local notary from where the certificate was issued initially.
Step 2: State verification
This will be done by the Home Department of the state you belong to because the birth certificate is a personal document.
Step 3: MEA
The MEA verification will be done by the Ministry of External Affairs, India. No document can be directly sent to the MEA for verification. It has to go from regional and state-level verification.
Step 4: Foreign Country Embassy Attestation
Embassy attestation will be done after all the departments of the home government confirm the legitimacy of the certificate by providing respective signs or stamps. The attestation from the embassy will legalize the use of documents.
Other Documents
Foreign Countries Government needs documents attested by the Indian official authorities and then from the embassy to prove the legitimacy of the credentials. All the personal and professional documents and certificates should be attested for rectifying beforehand any issues that might arise.
This process is not optional; rather, it is mandatory to get all the certificates attested to get a visa irrespective of the purpose of your travel or stay. In addition, it will also help in proving that the reason for your visit is legitimate.
The legal process should always be followed for the attestation otherwise the consequence will not be in favor. For birth certificates, as it is a personal document verification from the Home Department of the state is very important for further procedures.
Mode of Payment:There are various options available for the payment of the attestation process, such as:
Depositing money online through net banking.
Showing the receipt of the deposit made to the service provider.
Through sending demand drafts or cheques which are payable at New Delhi.
Why Choose ND Universal?
From the aforementioned details, you must have gotten a rough idea about the time and energy it will take to attest every document in need. Different departments authorize different types of documents and that can be puzzling. Documents will not be passed for further verification if you mistakenly skip out any department during the procedure.
All the important departments are not situated near to each other; they can be near or very far from where you live. In this process, there is no space for any negligence or error. It is a highly sensitive process and one mistake can lead to rejection of your visa application. Thus, it is important to have precise and accurate knowledge of the process. Taking the help of an expert and authorized service provider will help keep away from the tedious and complicated workings of this procedure.
Hiring ND Universal as your service provider will benefit you in many ways. Not only are we the most trusted service providers but we also have experience of more than 8 years.
Highlights of our service-
24/7 service support
Smooth and safe attestation
Less time consuming
Pick-up and drop-off survive for the documents
Uncomplicated payment options.
Mode of Payment: There are three ways through which you can make the payment -
By sending demand drafts or cheques that are payable in New Delhi.
By transferring the cash to the bank account of the service provider and showing its receipt.
By transferring the amount through Net Banking.