UAE Embassy Attestation in Nashik
ND universal is one of the best organizations in Nashik that can provide you with document attestation services. We get your documents attested from the embassy of UAE and manage everything that has to be done all that while. It might become tiring and frustrating too at times if you try and do it all by yourself, but with our assistance, it will be speedy and hassle-free.
UAE Embassy Attestation in Nashik is done very smoothly with our services. You can invest your time, money, and faith in us for the services that you need, and we will stand up to our promises and reputation.
Additional Details About Our Service
Our services are not just limited to providing attestation. We also pick up your documents from your doorstep while explaining every part of the process.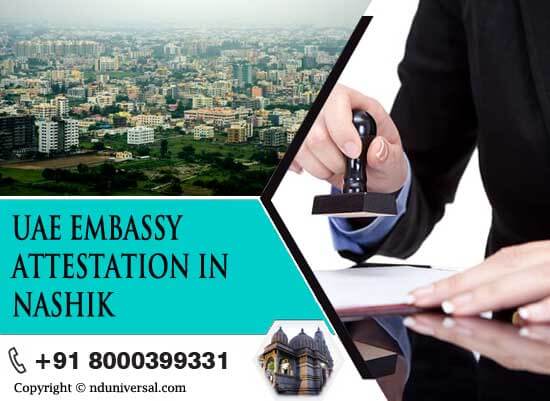 The most important thing in this relationship is transparency. We will provide you updates at every step so that you are aware of the status of your documents at all times. At the same time, all your personal information and documents are kept safe. We do not leak any information, nor do we collect it for any personal use.
Our service is trusted by our customers. We take the documents, push them down the funnel, and keep track to get the work done as soon as possible. To understand more about the services, you can reach out to our agent, and they will meet up with you at a fixed time and place. There are no extra charges for this service. We only charge for the service we provide to get your documents attested. Also, all the costs are discussed before we start the process to maintain clarity between our customers and ourselves.
Who Must Apply For This?
People planning to move or visit the UAE for some kind of work that involves the presentation of documents must apply for the attestation of those documents. Also, some documents are mandatory and that is why every visitor has to necessarily get them attested. This proves to the administration of UAE that all the documents that are provided are legit and have been verified by the Government of India themselves. It is the only possible way for the UAE to know if the documents are valid or not. Visas of any type will not be approved without providing the attested documents.
Why Is Embassy Attestation Important?
Certificate of attestation is proof of authentication of documents. It is issued by a person's home country and is accepted in the country where they are going to visit or stay. It shows the proof of a person's background as well as the motive with which they are traveling abroad. Generally, the laws regarding foreign travel are extremely strict because of security reasons. In such a scenario, a document of attestation provides credibility to the traveler's intentions. The documents consist of a stamp and a signature of the authoritative figure from the government which is proof that the details provided in all given paperwork (passport, visa, etc) are true. If any sort of legal issues come up, this document proves to be of great help and can save the traveler from any kind of identity-related issues. Many people travel to the UAE for education as well as business. The document of Embassy Attestation gives them authenticity and approval for travel. It is a very important formality for the governments of both sides which helps them keep a check on every individual who is traveling. Getting Embassy Attestation is a long and tedious process and thus takes a lot of patience. Therefore, it is required to complete the process before time to avoid chaos.
The process is long and might be confusing if someone tries to go about it on their own. Many people try to get their documents attested all by themselves but they end up spending more time, effort, and money in the process. On the other hand, we make sure that we complete it in the least possible time while paying minimal charges. There are 4 steps that anyone has to go through before they can get the attestation done for their documents.
Step 1: Regional Level
The initial stage is where the document is legalized by the university, or the notary at the place where the document was issued. This is the first level of certification.
Step 2: State Government
The state government has three different departments that check the documents and validate them. These departments are:
State Home Department
Human Resource Department
SDM (Sub-Divisional Magistrate)
Step 3: MEA Stamp
The MEA stamp is the last stage of certification. The documents are provided with the MEA stamp, and then it is passed on to the embassy.
Step 4: Embassy Attestation
After all the stages, the document reaches the UAE embassy, where it gets the final attestation.
UAE Attestation in Nashik takes care of the documents all this while and delivers them back to you after the attestation gets completed.
The Cost of UAE Embassy Attestation
Here is the the cost of UAE embassy attestation for educational and non-educational documents:
Most Popular
Services
Regular
Normal
Urgent
Cost
₹ 7100.00
₹ 8100.00
₹ 9100.00
Time
15 Working Days
8-10 Working Days
4 to 6 Working Days
Pickup Facility
Drop Facility
Same Day Delivery
After Attestation
Remove Lamination
Note: No extra/added cost. Pickup and Drop charges are already added. In case you courier your documents an amount of 250 will be deducted from the cost.
---
Why Choose ND Universal For Embassy Attestation?
ND Universal is a well-known name when it comes to Embassy Attestation. We have an experience of more than 8 years of documentation and embassy attestation works. We have a highly professional support team that provides service to our customers 24x7 without any delay on our part. Our customers are our topmost priority and we are readily available to help them get through every stage. Documentation done through Attestation services in Nashik has bullet-proof security and we pledge to keep your credentials secure with us all the time. We have a powerful technical as well as documentation team where professionals work hard to keep the records of every client safe and speed up the processes as fast as possible.
ND Universal is trusted by hundreds of people due to the timely delivery of work and high protection of data. Headquartered in Mumbai, this company provides many attestation services for various kinds of documents. These documents even include certificates of origin for both imports and export services. The attestation service is fast and commendable. We ensure that you get your job done comfortably and no issue arises while you are traveling abroad for professional or even personal purposes.
---
Frequently Asked Questions