Certificate Attestation for UAE (Sharjah,Dubai) in Bharuch
UAE attestation services in Bharuch,
UAE Embassy Attestation services in Bharuch,
Attestation for UAE in Bharuch,
For further studies in abroad or employment, you are required to provide your attested educational documents from Bharuch HRD department. We are expert and specialize in HRD Attestation of educational documents furthermore our services are very reliable comparing to other attestation service providers in India.
ND Universal Pvt Ltd is rapidly growing towards becoming one of the best educational document attestation, legalization and verification service provider company in India. Just give us a call or Email and our team of professionals will get in touch with you.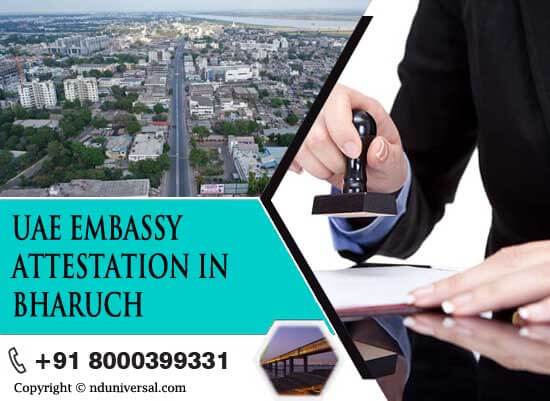 Process for Certificate Attestation for UAE in Bharuch State of Gujarat.
Certificate Attestation for the government of United Arab Emirates include attestation from Home Department and MEA Attestation for all personal, academic or educational and professional certificates issued by the Authority of India. These documents are required to be attested by the Consulate or Embassy in UAE and later by the Ministry of Foreign Affairs of UAE Government before granting the visa. The process of attestation for UAE is done in Bharuch, Gujarat.
The process kick starts with the attestation of all types of certificates by the Notary in Bharuch. Once attested, these documents are further submitted to the Home Department for Attestation, where authenticity for the documents is verified. Home Department ensures the authenticity of the document's content submitted. The HRD ministry that is the Human Resource Department of the State attests all certificates issued by Govt which includes document from Technical, Paramedical Institutes, Government Schools and Universities and other organizations. Once HRD clears the authenticity of the document, they are passed to External Affairs and Embassy Attestation or MEA Attestation.
MEA Attestation falls under Ministry of External Affairs by the Government of India. It is the Ministry of External Affairs that attests the document and submits the certificates to UAE Embassy. Home Department attestation or education department attestation should be done for MEA attestation. MEA is responsible for attesting all educational, non educational and commercial certificates. This attestation of certificates in India is conducted in Bharuch, Gujarat for UAE (Sharjah, Dubai and Abu Dhabi).
After clearing the attestation by MEA, the documents are further passed on to the Consulate or Embassy in UAE for attestation by Ministry of Foreign Affairs by the government of UAE before granting Visa. Attested Certificates by MOFA are then submitted to the Embassy of UAE. The UAE Embassy attests all Educational, Non Educational and Commercial Documents.
Birth, Marriage, Leaving Certificate Attestation process mention below.
If the documents are Non Educational for example Birth Certificate or Marriage Certificate, in such case there are two processes to attest the documents. The first process involves attestation from SDM (local Magistrate) or the documents must get attested from Secretariat/Collector. For Example, If the certificate is been issued from the authority of Bharuch City, it has to go through the process of attestation from local magistrate followed with attestation from Secretariat and finally from Gandhinagar, Gujarat State Attestation. The second process for attestation includes attestation from SDM followed with attestation from MEA and finally from UAE Consulate.
The Cost of UAE Embassy Attestation
Here is the the cost of UAE embassy attestation for educational and non-educational documents:
Most Popular
Services
Regular
Normal
Urgent
Cost
₹ 7100.00
₹ 8100.00
₹ 9100.00
Time
15 Working Days
8-10 Working Days
4 to 6 Working Days
Pickup Facility
Drop Facility
Same Day Delivery
After Attestation
Remove Lamination
Note: No extra/added cost. Pickup and Drop charges are already added. In case you courier your documents an amount of 250 will be deducted from the cost.
---
In case, if you are looking for pick up and delivery of the documents from your place and get it delivered to same, Our services for free pickup and delivery in all area postal code in Bharuch. Feel free to reach us out for any concerns.
For any inquiry contact us using following details:
ND Universal Pvt. Ltd.
WhatsApp: +91 80003 99331
Mobile: +91 95370 89898, +91 99094 22612
Email id : [email protected], [email protected]
We Legalize Attestation from UAE Consulate/Embassy for following of Commercial Certificates.
Degree Certificate Attestation for UAE in Bharuch
Degree Certificate Attestation from UAE Embassy in Bharuch
Birth Certificate Attestation for UAE in Bharuch
Birth Certificate Attestation from UAE Embassy in Bharuch
Marriage Certificate Attestation for UAE in Bharuch
Marriage Certificate Attestation from UAE Embassy in Bharuch
Experience Certificate attestation from UAE in Bharuch
NOC Affidavit attestation from UAE in Bharuch
Board of Resolution attestation from UAE in Bharuch
Pan Card attestation from UAE in Bharuch
Invoice attestation from UAE in Bharuch
Death Certificate attestation from UAE in Bharuch
Power of Attorney attestation from UAE in Bharuch
Free Sale Certificate attestation from UAE in Bharuch
Transfer Certificate attestation from UAE in Bharuch
Memorandum of Association attestation from UAE in Bharuch
Certificate of Origin attestation from UAE in Bharuch
Packing List attestation from UAE in Bharuch
NOC Affidavit attestation from UAE in Bharuch
GMP Certificate attestation from UAE in Bharuch
Articles of Association attestation from UAE in Bharuch
Medical Certificate attestation from UAE in Bharuch
Certificate of Incorporation attestation from UAE in Bharuch
Passport attestation from UAE in Bharuch
Invoice attestation from UAE in Bharuch
Marriage Ability Certificate attestation from UAE in Bharuch
Police Clearance Certificate attestation from UAE in Bharuch
Registration Certificate attestation from UAE in Bharuch
Agreement attestation from UAE in Bharuch
For any inquiry contact us using following details:
ND Universal Pvt. Ltd.
WhatsApp: +91 80003 99331
Mobile: +91 95370 89898, +91 99094 22612
Email id : [email protected], [email protected]
Our Bharuch collection centre address mention below .
G-3, SAIDHAM COMPLEX, ABC CROSS
ROAD, B/S GOVERDHAN HOSPI
BHARUCH
---
Why Choose ND Universal for Attestation Services for UAE (Sharjah,Dubai) in Bharuch