Best Apostille Services In Kerala At Affordable Cost
There are dozens of companies in the market ready to attest to your documents or to provide apostille services to you. What should be done? How to choose amongst the money apostille services in Kerala? The process is extremely important and sensitive, documents should be handed over only to someone you trust.
Learn to ask the right questions; With so many companies coming up in the same business, many illegitimate ones take advantage of the customers. The process is definitely difficult but not impossible.
ND Universal, a government-affiliated apostille service provider, is the best choice. They accept document attestation from all over the world.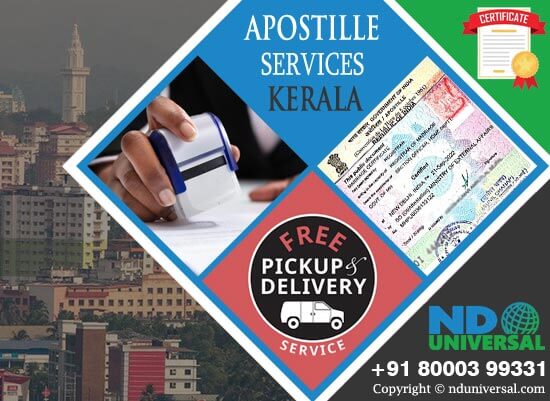 The company has proven its mark by providing primary services like certification for documents from various authorities, and they also have 8+ years of experience, security that is like a bulletproof jacket, 24*7 assistance as well as fast delivery.
What Is An Apostille?
To understand, an apostille is like a seal for the documents in a particular format, which makes it legal and authentic. This certification or stamp is accepted by 92 countries and most of the West. To be more precise, an apostille is a square-shaped stamp that is put on the reverse side of the document by The Ministry of External Affairs, Government of India.
Are all apostilles the same? No, each apostille has a unique identification number, which can be checked in any of the 92 countries to prove the authenticity of the certificate. An apostilled document doesn't require any further kind of attestation from an embassy or government office. The apostille services in India will help you get an apostille attached to your original Kerala issued document, to verify its legitimacy which will be accepted by all the countries recognizing apostilled documents.
Why And When Document/Certificates Apostille Is Required?
Visa is the most important document that one needs when they have to think about moving out. While the apostilled documents will provide you with the credibility that will enable you to obtain any kind of visa. Apostilled documents make the immigration process easier, as well as protect you from legalized actions if you don't have these.
The apostilled documents were introduced to make the legalization of documents a simple process and also universally recognized. Almost all countries accept apostille documents, and this list includes The United States as well.
Degree certificate
A degree certificate is a document used to determine the educational qualification of a person. It tells the marks or score obtained by one in the examinations in the chosen area of education.
With an apostille degree certificate, getting a visa becomes a much easier task, and it is not as daunting anymore.
Also, the apostille degree certificate will allow an individual to apply and get jobs in international universities and companies. If a company specifically requires an apostille document, it will put you ahead of others who don't have one yet.
Birth certificate
A birth certificate is a document determining a person's birthplace, date of birth, and time of birth. It helps determine an individual's origins.
With an apostille birth certificate, the person's nationality and origin can be determined as well as the credentials that one is carrying can be claimed. This document is of extreme importance as it authenticates your identity is not just your country but all countries that are a part of The Hague Convention.
This certificate would not only help in getting a visa but makes one legitimate for school, college, and university admissions. Also, proving your identity for any applied job.
Marriage certificate
This document helps married individuals prove their marital status. It helps legalize their marriage in the eyes of the government as well as the public. A marriage certificate has information like the time and place of marriage, date as well as information about the people who have got married.
The apostille marriage certificate would help a couple prove their marital status in the country they are migrating to. It would legalize their marriage in that country as well.
One can get a dependent visa, spouse visa, and family visa with the help of this apostilled document.
Police Clearance certificate
An individual who has no past criminal record is given a Police Clearance Certificate.
With the help of this certificate, the authorities of the country that the individual wants to migrate can trust him/her on the basis of the clean-chit that is given to them by the government of their own country.
To prove one's innocence and to show themselves not a threat to the foreign country an apostille police clearance certificate is required.
The chances of visa acceptance are higher, as the clearance certificate helps validate the person's records to be completely free of any kind of criminal activity.
Export document certificate
This certificate is important for those individuals who want to do business in a legal and authentic way in another country. Therefore, this is a commerce-related certificate.
The apostille stamp on this certificate will help the people in the business field to complete company registration legally, expand the business, get permissions for import and export, and also get certified incorporation.
Single status certificate
A single status certificate clarifies one's relationship status when travelling abroad. It is a personal document that proves if one is single or married to someone.
The apostilled single status certificate duly authenticated by the relevant department will help you prove your marital status to the countries of the Hague Convention.
Affidavit apostille
The affidavit is responsible to help an individual claim their name as well as changing it according to their wish.
This certificate when apostilled will help an individual validate their name, which is the aspect of their identity in a different country. It will also help one if they wish to change their name in a foreign land.
The apostilled affidavit certificate will also help one if they require name correction.
Death certificate
On the death certificate are mentioned a person's name, place and time, and date of their death along with some personal information and medical history.
The apostilled death certificate can help the family of the deceased individual claim their body if they died in another country.
Apostille of a death certificate is required to submit a claim from another country.
Countries Accepting Apostilled Documents
In 1961, many countries came together to create a simple and efficient way of document legalization, and this was recognized universally. All the countries who came together became a part of The Hague Convention. The apostille is recognized as a legal and authentic way to verify documents by all member countries. This recognition makes the process of the international movement and visa acceptance much easier. All the countries that come under Hague Convention accept apostille documents.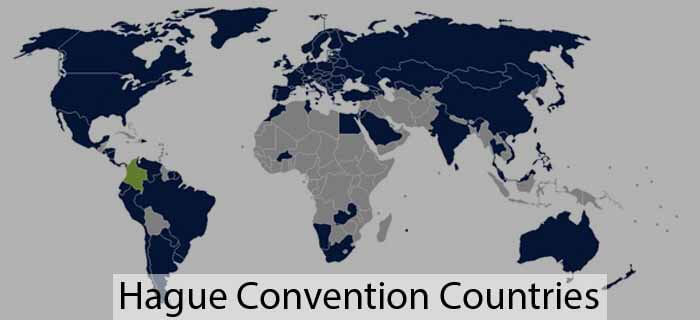 But there are also many countries where apostilled documents hold no value, for those countries their expected procedure is required to be completed.
Process of Apostille Attestation
With ND Universal's easy and hassle-free steps, the certification processes are not long and cumbersome, but simple and easy, with customer satisfaction guaranteed. It's done in a simple 3 step process:
For Educational Documents
These documents need attestation from the Ministry of Human Resource and Development, Government of India. It is required to get a student visa or work visa.
Document verification first needs to be done by the local notary, or the university or school from which the documents have initially been issued to the individual.
For verification at the state level, Human Resource Development authenticates the documents.
When all departments have duly verified documents, they should finally be regulated by The Ministry of External Affairs.
For Personal/ Non- Educational Documents
These documents include the apostille birth, marriage, and similar certificates. They are required when applying for resident or family visas. The steps followed are:
Regional level verification is done by the local notary from where the documents were initially issued.
The State Home Department does the state-level verification.
After all department verification, central government legalization is done by the Ministry of External Affairs.
For Commercial Documents
This certificate has to be apostilled by business personnel because this makes their commercial work easy in other countries. These are also beneficial for import-export setup. The process followed is:
The local notary doesn't have much of a role here as these documents are verified by the Chamber of Commerce.
After Chamber of Commerce verification, the next step is the Ministry of External Affairs.
The final attestation is done by the concerned embassy.
One should definitely make sure that all these steps are followed as it is, as there is no place for any mistakes, and no department can be skipped. By following the above steps properly, you can receive your apostille stamp.
What Does an Apostille Look Like?
An apostille is a square-shaped sticker attached to the back of a document.
The length is approximately 9cm, generated by a computer.
Each apostille has its own unique identification number, that helps the authorities in the country verify the legality of the document.
It is dated, numbered, and has an impression of the seal of the home country's government.
The apostille doesn't require embassy verification and is provided by The Ministry of External Affairs. This ministry is responsible for regulating all processes related to foreign affairs.
What If Your Documents Are Laminated?
There is no need to panic or rip off the lamination on your own. Professionals at ND Universal will remove the documentation easily without damaging your documents and saving you from any hindrance during your attestation process. The lamination needs to be removed for the sticker to be placed right on the document, as only then they will get verified. ND Universal's trustworthy professionals will help you out with this by removing lamination and providing you with the sticker after the procedure ends.
Documents Required for the Apostille Attestation Process
For the apostille process, the main document is followed by many other documents in a proper format.
Documents and certificates related to education
10th and 12th Marksheets and certificates
Graduation degree and certificate
Post-graduation Marksheet or degree certificate
Personal or Non- Educational Documents and certificates
Birth Certificate for stating Nationality
Marriage certificate required for validation of marital status
Business-related documents
All business-related records, such as MoA, AoA,, export documents, etc.
Extra Documents to support
Passport Copy
Aadhar Card copy
Passport-size photographs
Visa Photocopy
Passport application receipt
Time Taken To Complete The Process
The total time taken for completion of this process depends on document origin and type, as different types of documents go to different departments for verification. Each department has its own time cycle, and at times, documents are kept on hold for weeks or even months. This makes the process quite cumbersome. Therefore, giving an ideal time span is not feasible. This process can be extremely tiring when done yourself.
But the ND Universal's professionals are there for your help. They promise to complete the entire process efficiently, with all documents getting apostille stickers in just 5 to 7 working days.
What Is The Cost Of Apostille Services In Kerala?
Again, apostille cost is variable, and it depends on the factors like document origin and type. Each document is verified by a different department, and this affects the total cost spent. Also if one plans to do this process on their own, the cost to travel to different departments and places will be added to it. One can save a lot on travelling and other expenses by hiring us to apostille their documents. Our pricing is quite reasonable with no hidden charges. The process will be entirely transparent, and you'll have the best and most hassle-free apostille experience with us.
Most Popular
Services
Regular
Urgent
Cost
₹ 3900.00
₹ 4900.00
Time
6-8 Working Days
4-6 Working Days
Pickup Facility
Drop Facility
Same Day Delivery
After Attestation
Remove Lamination
How To Start The Process?
Starting the process is not much of a hassle. To avail of ND Universal's apostille services in Kerala, one just needs to call an ND Universal executive. Our executive will personally explain to you every detail along with all the steps that have to be undertaken in the process to make ND Universal your apostille services partner. After all these basic formalities are done, we will pick up all your documents from your residence, and the process will start. A receipt for document pickup will be shared with you.
When the documents reach us, we immediately start the apostille process providing you with step-by-step details of document progress. Once the process is completed, Blue Dart, ND Universal's dispatch partner, will dispatch your documents with the apostille stickers through a safe passage. After dispatch, those documents will be trackable online with the help of tracking details that you'll be provided for your assurance.
Our Highlights:
Experienced staff: We have a professional and friendly staff, which assure quality services. We follow a 3 step, stress-free process to avoid the hassles.
We take care of our customers: Customer satisfaction is guaranteed, and our services are certified.
Transparent process: Our process for document submission is transparent and streamlined to provide you with the assurance to avoid any chaos.
Free pickup and drop: Pickup and dropoff services are available, saving travel time and cost.
Affordable services: Our prices are reasonable with no hidden charges, and we offer easy methods for payment
Team's availability: A 24/7 customer service assured via phone calls, emails, and WhatsApp
---
Why Choose ND Universal for Apostille Services in Kerala ?