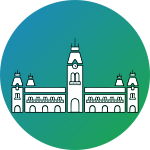 Apostille Services in Chennai
Are you looking to experience the transforming exposure of an international college or university? Or, are you looking to expand your current business overseas so that your company can have a global presence? Whatever might be the reason, it is not unusual to be worried about the entire verification process to enter into foreign soil. That is why ND Universal is here to not only solve your problems but also guide you through the entire process so that you can enjoy peace of mind.
Our experts at ND Universal specialize in providing a straightforward technique to complete the Apostille attestation procedure so that all your important documents and certificates can be legally verified. And what is more important is that you do not have to move a single muscle when carrying out the attestation process since everything will be handled from our side.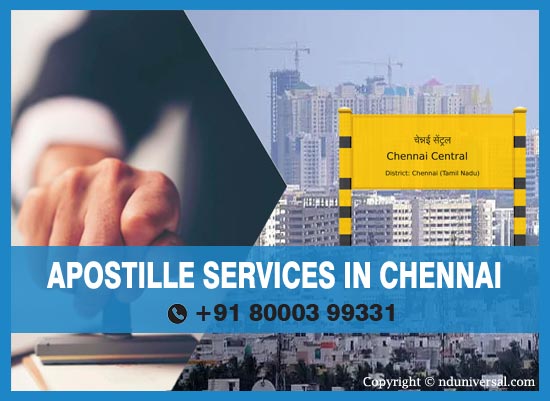 So, it should not come as a surprise to know that if you want an Apostille attestation service provider in Chennai who is highly professional, competent, and reliable, then there is no better option than ND Universal. Therefore, in this comprehensive guide, we will share the method through which you can properly collaborate with ND Universal for a seamless Apostille attestation procedure.
What is an Apostille?
The first kind of question that can spring to anyone's mind, especially when traveling overseas, is – what is an Apostille? Well, in simple terms, it is a legal procedure needed for fulfilling the overall authentication of your important documents or certificates.
You can think of Apostille as a kind of government-backed attestation which allows documents and certificates to be legalised correctly. It is also the process through which the legitimacy and authenticity of documents are established. Thus, when a document or certificate is Apostilled, it means that the same can be relied upon and is deemed credible.
In a country like India, having an Aadhaar Card or a birth certificate is proof that you are a legal citizen of this country. But, when you travel overseas, these documents become invalid. Therefore, if you want the aforementioned documents and certificates to be treated as authentic and credible, you must get them Apostilled. In India, the Ministry of External Affairs (MEA) is responsible for handling the Apostille attestation process.
Benefits of Apostille
Learning the advantages of Apostille is crucial in ensuring that you can have a deeper understanding of the process and how it changed the international landscape for document verification.
Straightforward process
The process of Apostille attestation is very simple. All you have to do is to follow the required steps, and your documents or certificates will be Apostilled in no time.
Assists in identity verification
When an individual's document or certificate is Apostilled, it means that the said document or certificate is authentic. Such a mark of authenticity helps in the verification of the identity of a person, especially when traveling abroad or overseas.
Accepted internationally
An Apostilled document or certificate is valid internationally – provided that you are travelling within the countries that are members of the Apostille Convention.
Countries that accept Apostille documents
Are you confused with the word 'Apostille Convention'? Fear not, as we will explain below.
The Apostille Convention was drafted on 5th October 1961, in The Hague, Netherlands. The primary aim of the convention was to create a common ground for all the member countries for the verification and judging of the authenticity of important documents or certificates.
Thus, an Apostilled document or certificate that is valid in one member country will be similarly valid in another member country. Such rules and regulations help in preventing time-consuming and costly verifications that were previously performed when traveling from traveling overseas.
The Apostille Convention currently binds 124 member countries around the world, out of which India is a member as well. India accepted the Apostille Convention membership in 2005.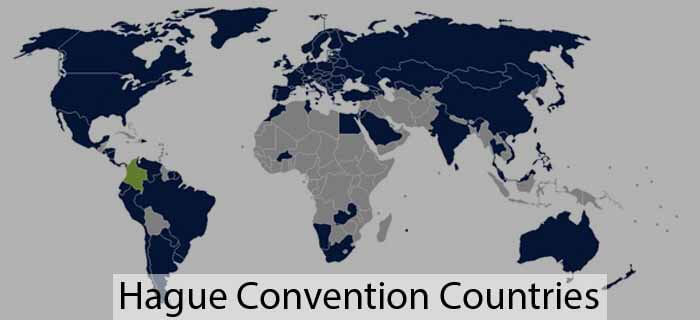 Process for Apostille attestation
Notary
University verification
HRD (Human Resource Development)
Home Department or SDM (Sub-Divisional Magistrate)
Chamber of Commerce
MEA (Ministry of External Affairs)
Since each type of document or certificate goes through different procedures for Apostille attestation, we have described each of them below.
1. For educational documents/certificates
Firstly, the educational documents or certificates will be first authenticated by the local notary or concerned university (where the documents were primarily issued at the beginning).
Then, the documents or certificates will be verified by the concerned state's (state in which the attestation is being done) HRD department.
Once that is done, the final step will involve verification and legalization by the Ministry of External Affairs. The MEA will provide the Apostille stamp.
2. For non-educational/personal documents/certificates
When it comes to personal documents, the first step of verification will be done by the concerned notary from where the documents were previously issued.
Then, in the second step, the documents will be further verified by the SDM or Home Department of the concerned state where the attestation is being done.
Finally, the Ministry of External Affairs will provide the Apostille stamp.
3. For commercial documents
The primary stage of verification for commercial or business-related documents is done by the Chamber of Commerce.
The final step of verification will be carried out by the Ministry of External Affairs, where the Apostille stamp will be affixed.
For commercial documents, there is no need for verification from the SDM or the Home Department of the state.
What does an Apostille sticker/stamp look like?
To ensure that you do not confuse the Apostille stamp with any other attestation stamp or sticker, we have noted down the salient features below:
The Apostille stamp or sticker is 9 centimeters in length, possesses a square shape, and is computer-generated as well.
The sticker or stamp will contain a unique code containing 4 alphabets and 10 numerals.
The unique code will be used to determine the validity and authenticity of the Apostilled document or certificate.
The MEA or Ministry of External Affairs registers the Apostille sticker or stamp to the required documents or certificates.
What documents are required for the Apostille attestation?
As the Apostille stamp is printed on a clear copy of the document or certificate, the following set of documents is required:
The original document or certificate that is to be Apostilled.
An Aadhaar card, passport or driving license acts as civil identification for the concerned individual.
A company cover letter will be required in case of commercial or business-related documents.
Certificate Apostille Cost in Chennai
Most Popular
Services
Regular
Urgent
Cost
₹ 3900.00
₹ 4900.00
Time
6-8 Working Days
4-6 Working Days
Pickup Facility
Drop Facility
Same Day Delivery
After Attestation
Remove Lamination
What is the time required to complete the attestation process?
If you decide to perform the Apostille attestation process by yourself, then it can take quite a long time. But, if you choose ND Universal for your task, then you can expect the procedure to be completed within 5-7 working days.
What is the validity of the Apostille stamp/sticker for Chennai-issued documents?
Apostille documents are generally valid for 6-12 months at a maximum. However, the validity may differ from one member country to another. For example, in some countries, Apostilled documents or certificates have lifetime validity.
---
At ND Universal, you can enjoy free pick-up and drop services for Apostille attestation in Chennai. With our seamless procedure, you can enjoy ultimate comfort at home without having to worry about anything. All you have to do is to share your address pin code with one of our representatives, and the rest will be taken care of by us.
We have one of the quickest Apostille attestation services in Chennai, which is why you can expect your Apostilled documents or certificates to arrive at your doorstep within 5-7 working days.
And the best part is our competitive pricing! So, contact us today and get a taste of the ND Universal experience!
---
Frequently Asked Questions
Get the Professional Apostille Services from ND Universal
We are one of the best attestation and apostille services provider with 9 years of experience. We provide same day pickup in Delhi, Bangalore, Hyderabad, Chennai, Pune, Kolkata and Vadodara.