UAE Embassy Attestation in India
Thinking of moving to the UAE?
UAE is one of the most sought-after destinations among Indians. Tax free salary and innumerable of business opportunities are attracting more and more people.
The UAE is one of the most prosperous regions in the Middle East and a magnet for Indians looking for a wonderful experience or for business or jobs.
But do you know that you need to attest your certificates before moving to UAE for educational, professional or business purpose?
If you are planning to visit UAE then you would like to know more about what UAE Embassy Attestation. involves. Let us walk you through the process so you have a good idea of all that is involved.
What is UAE Embassy Attestation?
The UAE has a law in place that states that any visitor to the UAE must first get their documents attested by their local UAE Embassy. This is mandatory whether people wish to go for a business or job purposes.
Why your document must be attested from Embassy.
For employment
For family residence visa
For higher education
To admission into UAE schools
How do you go about the Attestation procedure?
The simplest way is to stop worrying and let us take care of the entire process on your behalf. It is easy for you and assures success at the first attempt. Still, it is worth knowing more about this process.
The first step for you to do to get the UAE Attestation is to put together all requisite documents.
Documents required for attestation
The Embassy may call for different set of documents based on whether you intend to travel for residence visa or for business or for work.
Educational Documents
Applicants intending to travel to the UAE for employment must put together educational documents of any higher education degree certificate.
These original document will undergo the UAE Embassy Attestation process.
Attestations (case specific):

Notary
Home Department / HRD
Ministry of External Affairs
Embassy of UAE
MOFA Attestation (Dubai)
Non-Educational Documents
Along with educational documents you will also need to compile other documents such as:
Birth certificate – particularly important if your children will accompany you, in which case their birth certificates are a must.
Marriage certificate - You will ask what if I am married and wish to take my spouse along with me? In that case you will need to have your marriage certificate ready and submit it to the Embassy for attestation.
Leaving Certificate attestation - Another question we must address is that parents may take their school going children along with them when they travel to the UAE for work. If this is the case with you then you will have to get a school leaving certificate for your child and furnish it to the Embassy. This document becomes vitally important when you will want to get your child admitted to a school in the UAE.
Below is the process of personal document attestation
Attestations (case specific):

Notary
Home Department / SDM
Ministry of External Affairs (New Delhi)
UAE Embassy (New Delhi)
MOFA Attestation (Dubai)
Commercial documents
OK, you say, you do not intend to work in the UAE but you wish to start a business. In this case the requirements are different but attestation is mandatory. You will have to put together all commercial papers related to the business venture in the UAE and furnish it to the local Embassy for attestation.
So far so good. You have learnt about the various documents one needs to put together. Next, you will learn about the actual process of attestation.
The attestation process
Attestation in this context simply means that the documents are checked by the authorities with the authorities that have issued the documents for legality and authenticity. Various documents must undergo different procedures. Read on to know about the steps and authorities involved in the attestation process.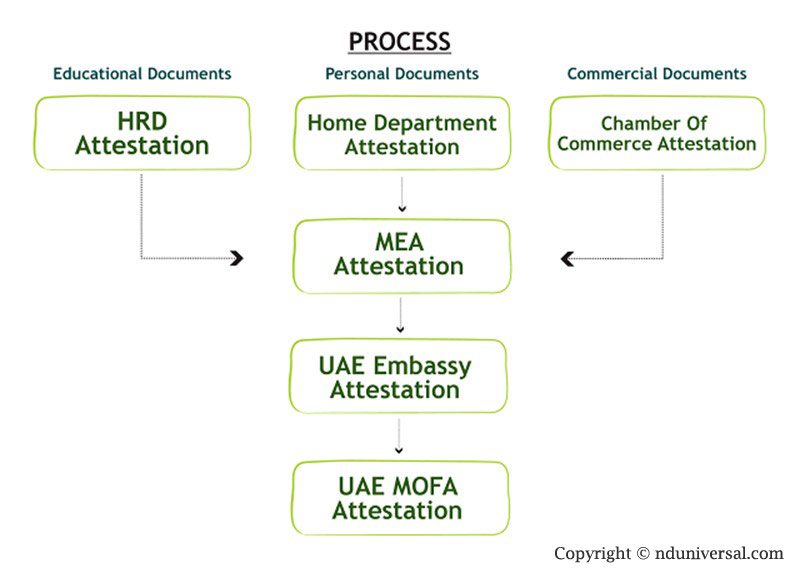 Process for Education and Personal Documents Attestation
As far as India is concerned, it is mandated that the educational and non-educational documents must be attested by the State Department or the Sub-Divisional Magistrate.
Employment seekers must also get their documents attested by the MEA in Delhi
The next step is for such attested documents to be submitted to the UAE Embassy in Delhi or Mumbai for their approval and attestation.
The Final stage of attestation is done at MOFA, located at Dubai. You have the option to do it yourself or through us. It takes around one hour if you do it yourself in Dubai.
You must keep in mind that where government authorities are involved, the process can take time and therefore you should plan your travel accordingly.
Time required for Attestation:
Certificate Attestation for UAE is a time-consuming process. Many steps need to be followed. Even a small mistake can delay the process for many days. With our knowledge and experience, we can get the attestation done within 7 working days.
Cost of Attestation:
You must also consider the costs involved at each step and until the final attestation. The cost varies depending on the document and the urgency
If you wish to get a bunch of documents attested then the cost goes down. We will tell you which documents must be attested based on the purpose of your visit to the UAE.
Most Popular
Services
Regular
Normal
Urgent
Cost
₹ 7100.00
₹ 8100.00
₹ 9100.00
Time
15 Working Days
8-10 Working Days
4 to 6 Working Days
Pickup Facility
Drop Facility
Same Day Delivery
After Attestation
Remove Lamination
Note: No extra/added cost. Pickup and Drop charges are already added. In case you courier your documents an amount of 250 will be deducted from the cost.
Just Click Here or pick up the phone and talk with our executive to start the process now.
---
Frequently Asked Questions
Request Free Quote for Apostille and Attestation Services
We are one of the best UAE Embassy attestation and apostille services provider with 9 years of experience.