UAE Embassy Attestation Services
ND Universal Provide UAE Embassy Attestation Services of All kinds of Documents In India.
UAE is one of the most sought-after countries to stay, study, work, and even do business in. However, individuals planning to visit or stay in the UAE for a brief period as well as for long-term must have the requisite legal documents with them. Here, the attestation of documents comes into play. Certificate Attestation for UAE in the process, which ensures that the certificate is issued by the authorized entity, the certificates and documents are an accurate representation of the facts and prove the genuineness of the seal and signatures on the issued documents. As it is a time-consuming process and involves legal implications, it is advised to seek professional UAE Embassy Attestation Services to avoid unwarranted complications.
What is Certificate Attestation for UAE?
Attestation is the act of attending the execution of a document and bearing witness to its authenticity, by signing one's name to it to affirm that it is genuine.
Why is the UAE Embassy Attestation required?
If you are relocating to a foreign country with the purpose of finding your dream job or landing up to any university for studying, you need to prove to the officials of the nation that your documents are genuine and legal. The attestation stamp or seal on documents confirm your credentials.
How can I get UAE Embassy Attestation?
To obtain certificate attestation you must get your certificates attested by the concerned authorities in your country, followed by the attestation from the UAE embassy in your country and finally from the Ministry of Foreign Affairs in UAE.
Functions for UAE Embassy Attestation in India
Before granting UAE Visa for travel, academic or business purposes, the UAE Government requires all the personal, educational and professional certificates issued from India to be attested by the Embassy/Consulate in UAE for further attestation by the Ministry of Foreign Affairs of the UAE.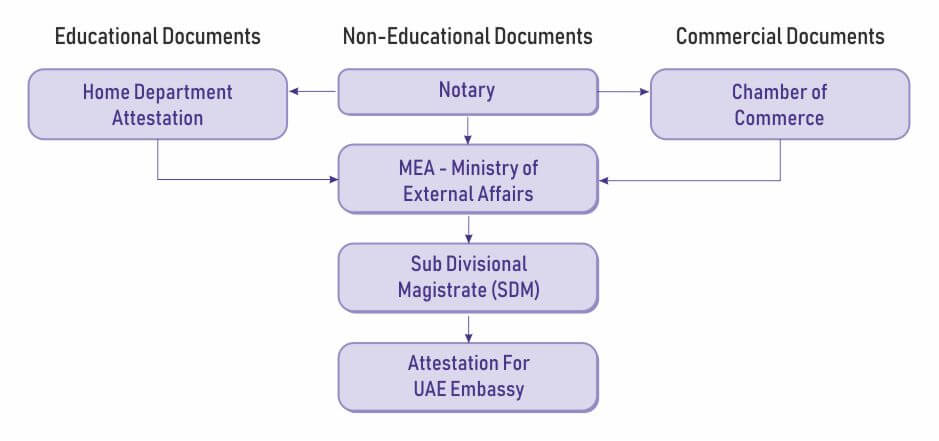 1) Notary – Attestation by the notary is the first step and it ensures the genuineness of the produced certificates. Then, the documents can be submitted to the Home Department for further attestation.
2) State Human Resource Department – The State Human Resource Department attests to the certificates and documents issued by the government, government schools, technical boards, medical institutions, universities, and others. This is a prerequisite for getting the attestation from the MEA. Getting the attestation from the sub-divisional Magistrate is an alternate way to seek MEA and Embassy attestation.
3) MEA – The MEA is the authorized entity to attest educational certificates, non-educational certificates, and commercial certificates. MEA attestation must be obtained before seeking attestation from the UAE Embassy.
4) UAE Embassy – All certificates and documents need to have attestation from the Embassy or Consulate in UAE before getting any kind of UAE Visa grant. The UAE Embassy will attest only those certificates/documents that have previously been attested by the MEA.
Which are all documents, I can ask to attest from UAE Embassy?
ND Universal accepts attestation for all types of documents, be it Marriage Certificate attestation to Birth Certificate Attestation, Degree Certificate Attestation to Invoice Attestation, Export Certificate to Non-Educational Certificate attestation, we have covered everything for you.
Certificates for UAE Embassy Attestation in Detail
You can avail UAE Embassy Attestation Services for the following documents –
Educational Certificate Attestation from UAE Embassy
Master Degree Certificate
Degree Certificate
Diploma Certificate
Higher Secondary Certificate
Secondary Level Certificate
Training Certificate
CBSE Certificate
VHSE Certificate
Transfer Certificate
AMIE Certificate
National Trade Certificate
Ph.D. Certificate
Private Certificate
MBBS Degree Certificate
ME Degree Certificate
Medical Certificate
MS/MD Degree Certificate
Engineering Certificate
Passing Certificate
Provisional Certificate
Online Degree Certificate
Distance Education Certificate
Management Degree Certificate
Provisional Degree Certificate
Non-Educational Certificate form UAE Embassy
Marriage Certificate
Birth Certificate
Transfer Certificate
Divorce Certificate
Death Certificate
Marriage Ability Certificate
Experience Certificate
Passport
Pan Card
Ship Book
Registration Certificate
Reference Letter
NOC Affidavit
Police Clearance Certificate
Finger Print
Affidavit
Copy of Passport
Commercial Document Attestation from UAE Embassy
Invoice
Certificate of Origin
Packing List
Agreement
Memorandum of Association
Articles of Association
Certificate of Incorporation
Certificate of Registration
Power of Attorney
Director List
Board of Resolution
Free Sale Certificate
GMP Certificate
Income Tax Return
License
Joint Venture Agreement
Others commercial document
Stockholders Agreement
Other Document for UAE Embassy Attestation
Leaving Certificate
Bona-fide Certificate
Good Standing Certificate
Health Certificate
House Surgeon Certificate
Membership Certificate
Migration Certificate
Registration Certificate
Translated Certificate
Mark Sheets
Transcripts
Thesis
Syllabus
Internship
Election Card
UAE Embassy Attestation Fee Structure
The UAE embassy fees for certificate attestation depend on the issuing state and the kind of document that needs to be attested. The charges for certificate attestation for UAE for educational, non-educational and commercial documents vary. The embassy fees might change due to the current exchange rate and embassy norms. Contact the experts at ND Universal to help you with the price and the process of attestation. ND Universal offers you certificate attestation services for UAE at competitive prices, no hidden costs are involved.
Any document found to be false or forged will be seized immediately by the Ministry of External Affairs, and appropriate legal action will be initiated against the applicant. So, connect with the ND Universal team to get UAE Embassy attestation services done in a hassle-free manner.
Why Choose ND Universal?
Experience:
With several branches across India, and an authorized expert team, ND Universal has a vast experience of 8+ years in offering attestation services for different types of documents and certificates for Bahrain Embassy Attestation services.
Service Portfolio:
ND Universal experts help you get your certificates and documents notarized, authenticated, legalized, translated and attested according to the Bahrain Embassy norms and rules.
Quick & Reliable Attestation Process:
They take pride in helping our clients get their work done within the stipulated time.
Free pick-up and delivery services are available.
Quality, customer convenience, and 24*7 assistance sets ND Universal apart from its counterparts.
Frequently Asked Questions
Who should I contact for the process of UAE Embassy attestation?
ND Universal is a professional company that specializes in attestation of all kinds of documents, situated in Mumbai.
How to approach ND Universal?
You can contact our support executive or you can write us an email for more queries.
How much does ND Universal Charge?
We have standard service charges for attestation of your documents with facilities like free pick up and drop services. With each progressive step, our team will update you through the message or WhatsApp so that you are aware of the process throughout. You can pay us either through net banking or DD in the name of ND Universal, Mumbai.
For any other queries get in touch with us today.
ND Universal Pvt. Ltd.
WhatsApp: +91 80003 99331
Mobile: +91 80003 99331, +91 95370 89898
Email id: [email protected], [email protected]