UAE Embassy Attestation Pune
Every year, thousands of people migrate from one country to another either with their families, partners, children, or alone; searching for jobs or employment, expanding their business abroad, or pursuing higher studies in a foreign country. The biggest problem people face while relocating to another country is getting their certificates attested.
Certificate attestation is a critical procedure of authenticating one's documents with the official stamp and signature of the issuing authority to prove its originality, legitimacy, and genuineness to the authorities of the foreign country one is relocating to and make it legally valid to be used abroad for various purposes. It is mandatory to get your certificates attested to obtain a visa for a foreign country but it can be a very tiring and daunting procedure to do.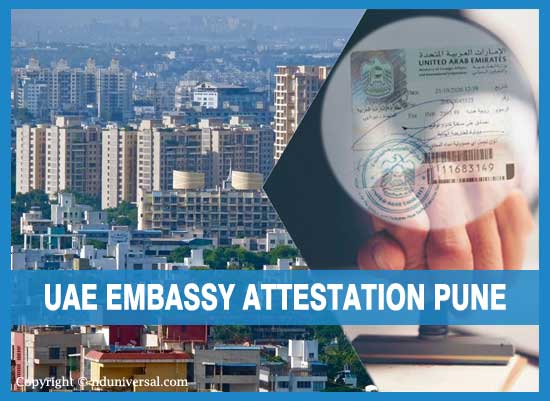 ND Universal makes this tiring and long procedure fast, less boring, and stressless for their customers. We provide our customers with hassle-free UAE Embassy attestation services without making them go through any trouble at reasonable prices.
Additional Details
Embassy Attestation helps the authorities of the country you're relocating to, to verify the genuineness and originality of the document issued by your home country. If you are planning to relocate to a foreign country, getting your certificates attested is essential to use them as legally valid documents and avoid any obstructions abroad. There are generally three types of certificate attestation:
Personal Documents Attestation
Commercial Documents Attestation
Educational Documents Attestation
We, at ND Universal, provide all three attestation services at reasonable prices with hassle-free and trouble less procedures. Usually, it takes 5-8 working days to get one's certificates attested but the cost and time required to attest one's degree certificate depends upon various factors such as the nature of the case, the number of documents, the extra services customer's avails to and the rules and regulations of the country you are migrating to.
Who And Why Must Apply For This?
Certificate attestation is required for various reasons. No government wants to give an entry permit to an intruder on their land, and thus, attestation is mainly a security process that is to be followed for the assurance that when someone will stay, they will cause no harm to their nation. UAE attestation Pune is mandatory for these cases:
Resident visa
Power of attorney visa
To apply in colleges or universities abroad
Student visa for further studies abroad
Family/ spouse visa
For name change in any document in a foreign country
For applying for a work/employment visa
For professional practice in the health and medical industry
For migration purposes
So, if you are planning to migrate to a foreign country, it is essential for you to get your certificates attested to obtain a visa and escape from facing further obstructions after migrating to another country.
Benefits of Getting Your Certificates Attested
The certificate attestation process helps an individual in many ways depending on the rules and regulations of different foreign countries.
If you want to apply for a job in a foreign country, an attested degree certificate is needed.
Degree certificate attestation is necessary for getting admission in a college, school, or university abroad.
An attested commercial certificate will help you buy or rent a property abroad.
An attested marriage certificate will help one to obtain a dependent visa to take their partner abroad.
A degree certificate or birth certificate can help you in changing the name in schools, colleges, universities, other certificates, and other legal authorities.
If you are planning to reside abroad, then getting your marriage certificate attested is crucial. It will help you get a resident visa for a foreign country.
If you want to take your family abroad, an attested marriage certificate will help you in obtaining a family visa in another country.
If you are already staying in a foreign country and recently got married but your partner does not have the residence of the country you are staying in, then an attested marriage certificate will help you get a visa for your spouse.
Getting your marriage certificate attested is essential if you want sponsorship for your partner in a foreign country.
Degree certificate attestation for uae is mandatory to obtain a student visa to pursue higher studies abroad.
A degree certificate is also a must to obtain a work or employment visa for a foreign country.
You can continue your studies in the UAE without any trouble.
You can proceed with your professional/ research-related work.
Getting your child admitted to schools within the UAE and getting equivalent certificates for your child.
More work opportunities.
You can expand your business.
You can move safely to the UAE.
Officials will trust your documents.
You will not get in any legal trouble.
UAE Embassy Attestation Process
Step 1: Notary Attestation - Getting your certificate attestation from the local notary from where it was issued.

Step 2: State Level Attestation - The second step varies according to the type of document i.e., personal, educational, or commercial documents.

For Personal Documents : Personal documents such as birth certificates, marriage certificates, e.t.c are usually required to get family visas, resident visas, spouse visas, and others. These documents are attested by the Home Department or SubDivision Magistrate (SDM) of the country.
For Educational Documents : Educational documents such as degree certificates are required to get an employment or work visa, student visa or to get admission in any college or university abroad. These documents are attested by the HRD Ministry or GAD within the country.
For Commercial Documents : Commercial documents such as property papers, registration of a company, e.t.c are essential for various purposes, including expanding business in a foreign country, establishing a new firm abroad, appointing the new director for the company, and import and export purposes of goods.

Step 3: MEA Attestation - Making sure that your document gets a stamp from MEA (Ministry of External Affairs). This will be the last step of the procedure under the central government.

Step 4: Embassy Attestation - The last step is to make sure that your certificate is attested from the UAE embassy.
The Cost of UAE Embassy Attestation
Here is the the cost of UAE embassy attestation for educational and non-educational documents:
Most Popular
Services
Regular
Normal
Urgent
Cost
₹ 7100.00
₹ 8100.00
₹ 9100.00
Time
15 Working Days
8-10 Working Days
4 to 6 Working Days
Pickup Facility
Drop Facility
Same Day Delivery
After Attestation
Remove Lamination
Note: No extra/added cost. Pickup and Drop charges are already added. In case you courier your documents an amount of 250 will be deducted from the cost.
---
Why Choose ND Universal For Embassy Attestation?
ND Universal is the leading service provider with more than six years of experience in certificate attestation. Certificate attestation is as daunting and tiring as much of an important process it is. But ND Universal makes it easier for people to get their certificates attested without going through any hustle-bustle. We provide our customers with hassle-free UAE certificate attestation in Pune services at reasonable prices.
We being a reputed and famous attestation service provider work closely with the Chamber of Commerce, notaries and Departments, Embassies and Government offices of distinct nations, Government divisions, Public Accountants Workplaces, Colleges, etc to provide our clients with easier and faster attestation services without making them go through any hustle-bustle. Choosing ND Universal as your attestation service provider will benefit you with:
Less complex and easy-to-understand attestation procedures
Certified and reliable services
Less time-consuming and stress less attestation
24/7 availability of services
Professional and quality staff
Customer satisfaction and peace of mind
Pick up and drop off services for documents
A streamlined process for document submission
Easy payment methods.
Doing Legal paperwork or processing can be really exhausting and boring but ND Universal makes it all easier for you. Our motto is to provide customers with less-troublesome, stress-free, professional, and fast services at the lowest prices possible.
---
Frequently Asked Questions
---
Why Choose ND Universal for Attestation Services for UAE (Sharjah,Dubai) in Pune