UAE Embassy Attestation In Navi Mumbai
UAE has long since been a popular destination for Indians for various purposes like education, travel, and employment. Being a tax-free country, the cost of living is significantly reduced in the UAE, making it a preferred place for overseas employment.
Not only Indians but people from all around the world find UAE attractive in terms of employment opportunities, which makes the country possess a wide professional network to enhance one's career.
So, if you too are all set to work in UAE and have a taste of living a quality life in the cultural hub, you would need to get your documents attested by the UAE embassy for those to be acknowledged legally there. Know in detail about the significance of certificate attestation for UAE in Navi Mumbai.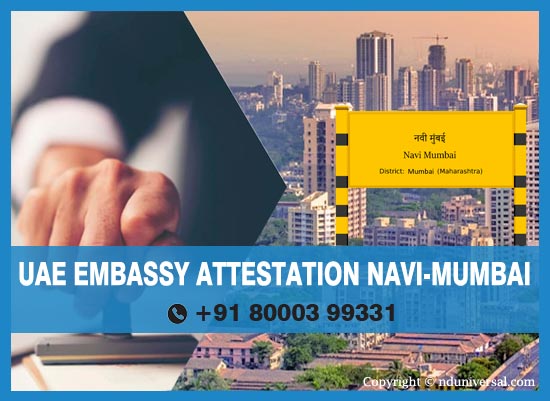 Why Is The Importance Of UAE Embassy Attestation?
The attestation by UAE Embassy is required whenever you are travelling to UAE on a work visa to work for long term, a residence visa if you are going there as someone's spouse, or if you want to take admission to an educational institute in UAE.
The attestation of the documents is done to ensure that there is no fraudulent activity and fake document cases while entering UAE.
There is a law in their constitution for the people who want to live in the UAE to get their documents verified from their home country itself.
How To Do The Procedure?
There are different procedures that are followed in UAE Embassy Attestation for different types of documents. Given below is a detailed account of the procedures to be followed for educational, non educational, and commercial documents.
Process for Educational and Non-Educational Documents
1. Notary
Notary Attestation is the first procedure in the legalisation of the documents for further proceedings by other departments.
Notarisation is a preliminary process to make your document eligible for HRD attestation, Embassy attestation and MEA.
2. Home Department / SDM / HRD
All personal and educational documents are legalised via the Human Resource Department (HRD). But the process can be very time-consuming.
However, if you are a resident of Maharashtra and have your educational documents of the state, a Home Department Attestation is equally valid and it is fairly quicker than the HRD attestation process.
In case, your documents are from other states, you will need the SDM attestation.
3. The Ministry of External Affairs:
After completing the above steps done, the documents need to be verified for their genuinity by the Ministry of External Affairs (MEA).
It is done by the External Affairs Department in New Delhi and is a time-consuming and complex process.
4. UAE Embassy Attestation:
When you are done with all the above processes, the documents are finally turned in for the UAE Embassy to attest it so that they are accepted legally in the foreign land of the United Arab Emirates.
These processes are important to prove your authenticity to the foreign government about you being a legal citizen of India and without any unpleasant background.
5. MOFA Attestation:
The Ministry Of Foreign Affairs attestation for the UAE is the last process in the document attestation procedure.
This is an important and last step as you submit the documents to MOFA either in India or UAE for final verification.
It is often preferred to get it done in Dubai because it costs a lot cheaper there than in India.
Process for Commercial Documents
1. Chamber of Commerce Attestation
2. The Ministry of External Affairs
3. UAE Embassy Attestation
What Documents Are Needed For UAE Attestation?
The documents necessary for attestation depend on the kind of visa you've applied for or are going to travel to UAE on. In any case, original documents are required to be submitted for attestation.
Work visa requires you to submit documents of your higher education, i.e, the graduation degree and other pertaining certificates.
A family visa will require you to get the marriage certificate and birth certificate submitted for attestation.
If you want to take admission to school, you will be required to attest your school leaving certificate.
As a supporting document, a copy of your passport might be required.
How Much Time Does It Take To Complete The Procedure?
As stated before too, the whole attestation procedure is very time taking. It might take weeks to months for the completion, depending on the universities and their verification time window. But, if you are getting your documents attested by ND Universal, it takes around 5-7 business days depending on the package you are choosing.
The Cost of UAE Embassy Attestation
The cost of UAE embassy attestation is different for urgent and normal services. Here is the the cost of UAE embassy attestation for educational and non-educational documents:
Most Popular
Services
Regular
Normal
Urgent
Cost
₹ 7100.00
₹ 8100.00
₹ 9100.00
Time
15 Working Days
8-10 Working Days
4 to 6 Working Days
Pickup Facility
Drop Facility
Same Day Delivery
After Attestation
Remove Lamination
Note: No extra/added cost. Pickup and Drop charges are already added. In case you will courier your documents as well as pick them up, an amount of 250 will be deducted from the cost.
MOFA Attestation
The attestation from the Ministry of foreign affairs, the process can be done from UAE. It takes around 10-15 working days. The cost will be:
Note:This process is done from Dubai so, we suggest that you or your employer can do this process themself from UAE as it is cheaper and it can be done in half an hour.