UAE Embassy Attestation in Solapur
Every year, many people migrate to the United Arab Emirates (UAE) in search of work, education, or to live a better and sound life. Attestation of documents and certificates is necessary to present them in the UAE with the context of your purpose of staying there. The greater economic growth and promising lifestyle of the UAE allow enormous opportunities in the field of education and employment in addition to better personal growth.
For visiting the UAE, you will need to get your required documents attested by the UAE embassy.
Embassy attestation service providers can help you in this tactful and confusing process.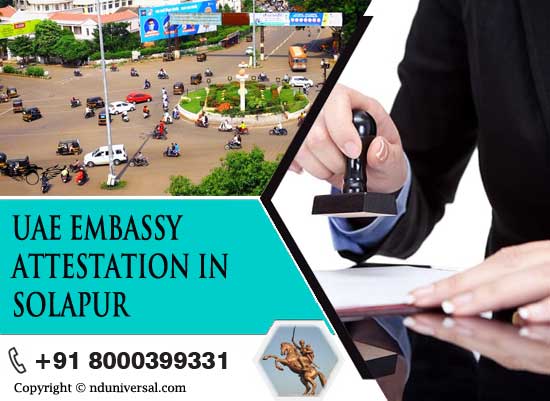 Purpose of UAE Attestation in Solapur
It is the legal procedure where documents are given the authentication and legalization for getting permission to enter the United Arab Emirates. Attestation refers to the document certification that is to be legally done by the authorized officials and departments for obtaining a visa. Without attestation of the required documents, you can face difficulty in the confirmation of your visa application as it is a mandatory requirement for visa application approval.
The document attestation process for UAE is a lengthy one. Your document will not go directly to MEA for the stamping process (Ministry of External Affairs) or the Embassy for final confirmation; it has to pass through certain levels of secondary and re-verification stages.
By attestation of required documents with Attestation services In Solapur, you can reap the many benefits that UAE provides. As a student, you will be able to use your degree for enrollment, as a job seeker your work experience certificate will help you in getting a better job, as a business owner you will be able to thrive your business in the growing economy and as someone wanting to relocate you would be able to live a normal life, only if your required certificates are legally attested.
Who Must Apply For This?
The attestation process is very important from a legal perspective. Many people visit the UAE every year thus making it one of the most crucial steps to be performed to know the legitimacy of the reason for staying in the United Arab Emirates.
Anyone wanting to visit the UAE will be obliged to get the required documents attested for the safety of the nation as well as themselves. The principal goal of this process is to verify your documents to prove your credentials and thus deem you as a reliable person to be given a visa for any purpose whatsoever.
Why Is Embassy Attestation Important?
UAE is the hub of many thriving professions, exceptional education, and it is also known for a better quality of life, but all of this will be granted to you only after you have properly verified documents. Embassy attestation is important for the following reasons:
Educational Purposes
For pursuing higher education in the UAE, you should have your attested degree certificate so that the university or college can verify the legitimacy of your statements and the course mentioned in the application. Additionally, it is mandatory to get a study visa for your stay in the UAE.
Job applicants who want to grow professionally in the UAE should have the required degrees and documents attested so that they can use them in the UAE legally.
Non-Educational Purposes
For people who want to establish their business in the Emirates, you will need legal permission, which will be granted only after verifying your attestation for commercial documents.
When moving to the UAE for a sound lifestyle, you have to attest every needed document to get legal permission for staying in the UAE.
Even for getting a family visa, you have to attest to the documents.
Embassy Attestation is not only an important but an onerous process as well. The complicated stages of the verification followed by different departments for different kinds of documents can be wearisome to understand and remember. Everything should be up to the mark as there is no room for any mistakes. We will make sure you do not have to go through all the stress and exertion that comes with the process if you having us assisting you for UAE Embassy Attestation in Solapur.
Here is a simplified description of the process -
Step 1: Verification by the local authority
Your documents will be verified by the local notary from where the documents were issued.
Step 2: Verification by the state authority
This process will involve verification of your documents by different departments depending on the type of document. The authorities involved are the HRD (Human Resource Development) Department, SHD (State Home Department), and the SDM (Sub-divisional Magistrate).
Step 3: Authentication by the MEA
The MEA (Ministry of Foreign Affairs) will authorize your documents by stamping or signing. They will then be passed on to the embassy.
Step 4: UAE Embassy Attestation
After all the re-verifications and authorizations, your documents will be attested by the UAE Embassy. This is the final step of document attestation.
The Cost of UAE Embassy Attestation
Here is the the cost of UAE embassy attestation for educational and non-educational documents:
Most Popular
Services
Regular
Normal
Urgent
Cost
₹ 7100.00
₹ 8100.00
₹ 9100.00
Time
15 Working Days
8-10 Working Days
4 to 6 Working Days
Pickup Facility
Drop Facility
Same Day Delivery
After Attestation
Remove Lamination
Note: No extra/added cost. Pickup and Drop charges are already added. In case you courier your documents an amount of 250 will be deducted from the cost.
---
Why Should You Choose Us?
Choosing ND Universal as your service provider will help you in getting a stress-free UAE Embassy Attestation in Solapur with the surety of your documents being safe throughout the whole process. We are one of the most trusted and experienced government-certified attestation service providers. Our professional and experienced staff will help you with all your doubts about the process and our services.
You will get the following benefits if you choose our service:
Simplified procedure
24/7 availability
Fast service
Time-saving and stress-free attestation
Pick-up and drop-off service for documents
Your one missing document can hinder the whole process, thus taking professional help is recommended. ND Universal will assist you in every procedure thus making it error-free and saving you from any further disturbances. We will provide you with fair charges that will be less than the travel charges you would have to pay while going from one office to another to get your certificates attested.

---
Frequently Asked Questions