UAE Embassy Attestation in Akola
Attestation of your documents is a compulsory process that you have to follow to prove that the details mentioned in your document are genuine. It is considered to be a significant process because it will give you the legal rights to use your documents in the UAE.
Whether you are a student or someone seeking a job or deciding to relocate to the UAE, attestation of your documents will play a major role in making your life easier there.
This process can be complicated, irksome, and long. Thus, it is advisable to take help from professionals who can make attestation easy for you.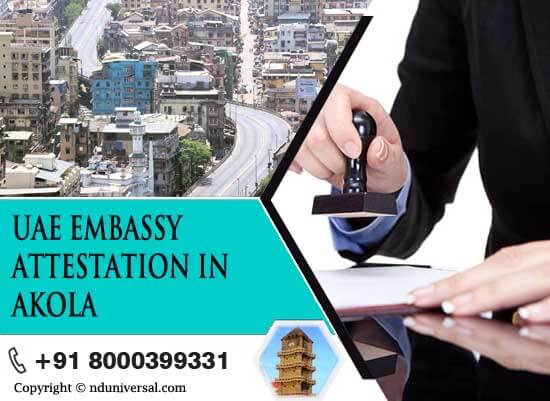 Documents Requiring Attestation
The procedure of attesting documents simply means getting them verified by different levels of authorizing bodies which vary from document to document. You cannot acquire a visa in the UAE without attestation of the documents because your visa application will be approved only when designated officials will verify your required documents. Your document will be stamped or signed by the authorized bodies, thus proving the authenticity of the documents that are to be used in the UAE.
Depending on the purpose of your stay in the UAE, you may require document attestation services for the following documents:
Marriage certification
Birth certificate
Educational certificates such as degrees or diploma
Commercial documents & Business Contracts
Religious documents
Divorce certificate
Since it is a crucial process, your documents go through many stages of authorization by stamping and signatures, before being presented to the UAE Embassy for the final attestation.
Who Must Apply For This?
Anyone who wants their visa application for the UAE to be approved has to apply for this. Whether you are a student seeking an educational visa, a professional who desires a work visa, a business person who is willing to get a business visa, or a person who is planning to relocate to the UAE needing a resident visa- in every scenario, you will be needed to get your documents attested. For a safe and trouble-free stay in the UAE, you must not take non-attested documents, or legal action can be taken against you depending upon the laws and rules of the nation.
Why Is Embassy Attestation Important?
Embassy attestation will help you get your visa and provide you with legal permission to use them for your benefit. Following are the causes for which embassy attestation is very crucial:
Educational purposes
To get into a university or college in the UAE, you must have a study visa for your stay. Your application will be accepted only after the required documents will be attested by the embassy.
Being one of the top growing economies of the world, UAE offers many job profiles that are better paying than most of the states. If you decide to go to the UAE for professional-related work, you will need a work visa, thus making attestation mandatory for you.
There are many scholarships and schemes which are beneficial for students and those who are outside of the UAE, to enjoy such benefits in the UAE you will need to have attested documents.
Non-educational purposes
If you wish to relocate to the UAE for a better and more beneficial lifestyle then while filing an application for your resident visa you must have attested documents.
If you wish to expand your business from your country to the UAE, then you will be requiring a business visa for which it is mandatory to have all of the needed documents attested.
For getting the permit to buy and sell properties in the UAE, you must have attested documents.
ND universal assures you that your UAE Embassy Attestation will proceed in a smooth and hassle-free manner while taking care of every step and your documents. The procedure will be held in four steps:
Step 1: Regional verification
Regional verification is done by the local notary from where the original would have been issued in the first place.
Step 2: State-level verification
This involves authentication from the HRD( Human Resource Development) Department or the SDM (Sub Divisional Magistrate) depending upon your document type.
Step 3: MEA Stamp
In this step, the MEA( Ministry of External Affairs) stamps the documents, thereby verifying them at their level. This will be the last attestation procedure done by the government.
Step 4: The UAE Embassy Attestation
This attestation is done after checking all the above verifications by the embassy of the UAE.
These steps may look simple in words, but in reality, you will have to run from one office to another for days or even months. Additionally, the process can be daunting and tiresome.But with our assistance, you can be assured that your UAE attestation in Akola will be far away from being tiresome. All you have to do is send us the documents and trust the ND Universal staff.

The Cost of UAE Embassy Attestation
Here is the the cost of UAE embassy attestation for educational and non-educational documents:
Most Popular
Services
Regular
Normal
Urgent
Cost
₹ 7100.00
₹ 8100.00
₹ 9100.00
Time
15 Working Days
8-10 Working Days
4 to 6 Working Days
Pickup Facility
Drop Facility
Same Day Delivery
After Attestation
Remove Lamination
Note: No extra/added cost. Pickup and Drop charges are already added. In case you courier your documents an amount of 250 will be deducted from the cost.
---
Why Choose ND Universal's Services?
By having ND Universal by your side for Attestation in Akola, not only will your documents be with professionals who will take care of every process, but also in experienced hands. You might wonder why you should pay for something you can do by yourself?
Undoubtedly you are capable of doing it by yourself but such procedures not only cost you money but also time, because traveling from one place to another just for getting signatures will cost you much more than at what we offer our services. Also, there is always the possibility of forgetting a document or even missing one!
There are many benefits you will get after choosing us:
You can reach out to us 24/7
We offer our clients with free pick up and drop service
You will get regular updates on your documents
Easier processes
The safety of your documents will be our priority
Less time consuming
Fair charges with easy payment methods.
The very daunting and overwhelming process of attestation has been made easier for you. We target the satisfaction and needs of our customers while working with them. We are one of the most trusted attestation service providers, and with our team of experts, the process will get completed without any hassle.
---
Frequently Asked Questions