UAE Embassy Attestation in Ankleshwar
The UAE requires all documents issued from India (personal or professional, educational or commercial) to be verified by the official authorities and attested by the UAE Embassy/ Consulate. Attestation will prove the credibility of your documents to the authorities which makes them admissible in the country.
The main motto behind the whole process is to confirm that the concerned individual has a good intention when obtaining a country visa. Being a subtle process, taking help from trustworthy and honest attestation service providers is advised. The role of the service provider will be to make sure you get all the documents attested without any hassle.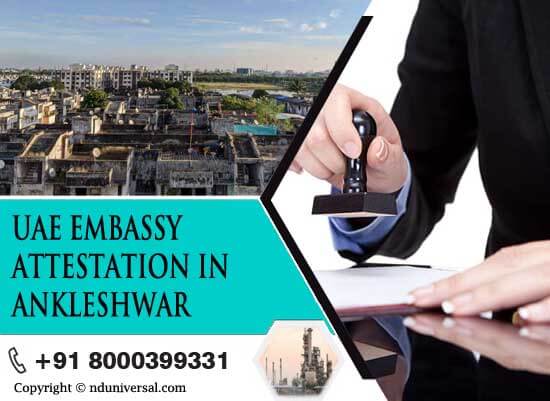 What Documents Require Attestation?
The prime reason for Attestation process is to confirm the authenticity of your documents such that you get permission to enter the UAE and lawfully use your documents. To claim any visa, be it related to education, business, professional, or relocation, it is mandatory to get the required documents attested.
For this process, one needs to get verification of their documents from the local notary that will be preceded by a few re-verifications by authorized bodies before being submitted for the embassy attestation. After this process, the documents will be considered verified and legal to be used in the UAE. The documents to be attested will vary as per the requirement. These are some common documents that are normally required to be attested-
Marriage certification
Birth certificate
Educational Certificates such as degrees or diploma
Commercial documents & Business contracts
Religious documents
Divorce certificate
Who Must Apply For This?
Whether you plan to study or get a job, whatever might be the reason for your stay in the UAE, you have to get the required documents attested for claiming a visa. You will not be granted the visa if your documents will not be verified by official departments. Increased credibility of your documents will assist you to have a safe and sound stay by fulfilling all of your needs without any difficulty in the UAE.
This is a key process for anyone who wants to settle down in the UAE. For gaining legal rights to use your skills and certificates, the embassy attestation is mandatory. If anyone tries to enter or work in a foreign country without attested documents then they will certainly have to face legal charges.
Why Is Embassy Attestation Important?
Attestation proves the legitimacy of your documents in the UAE. UAE Embassy Attestation of your documents will assist you in enjoying the benefits provided in one of the topmost growing economies which provide higher employment rates, better education, and opportunities in every field.
Succeeding points will tell you about the importance of the embassy attestation:
For relocating to the UAE with your family, you will need to attest your birth certificate or marriage certificate for getting a family/resident visa.
Application for a study visa will be approved only after submitting the required attested educational certificates. If you are planning for higher studies in the UAE, this will be a very crucial step.
If you want to visit the UAE for medical consultation then your attested medical certificate will be mandatory.
If you're looking forward to establishing a business in the UAE, getting your commercial, business-related documents attested by the embassy for legal rights to practice your business in the UAE will be mandatory.
The UAE offers better job opportunities. You will require a work visa for practicing professionally in the UAE. All the required documents have to be attested so that you not only get the visa but also use your certificates legally for landing a job there.
While looking for UAE attestation in Ankleshwar all by yourself, you will have to go for a very time-consuming attestation process. ND Universal will make your attestation process less time-consuming and less worrisome. A lot of factors have to be kept in mind while attestation of documents, which can be very tricky. It is a sensitive process, thus it should be taken care of by the professionals. We will get your documents attested in the following simplified steps:
Step 1: Local Verification
Your documents will be verified by the local notary from where they were issued.
Step 2: State Verification
Documents will be further verified by the HRD ( Human Resource Development) Department or SDM ( Sub-divisional Magistrate) according to the requirements of your documents.
Step 3: MEA Authentication
After completion of re-verification, your documents will be passed to MEA ( Ministry of External Affairs) for the stamping process.
Step 4: Embassy Attestation
Once your documents get the stamp from MEA, they will be passed to the UAE Embassy for attestation. This will be the last step in the legalization of your documents.
The Cost of UAE Embassy Attestation
Here is the the cost of UAE embassy attestation for educational and non-educational documents:
Most Popular
Services
Regular
Normal
Urgent
Cost
₹ 7100.00
₹ 8100.00
₹ 9100.00
Time
15 Working Days
8-10 Working Days
4 to 6 Working Days
Pickup Facility
Drop Facility
Same Day Delivery
After Attestation
Remove Lamination
Note: No extra/added cost. Pickup and Drop charges are already added. In case you courier your documents an amount of 250 will be deducted from the cost.
---
Why Should You Choose ND Universal As Your Attestation Service Provider?
Attestation of documents is a very sensitive process to handle. Even a minor error can land you in deep trouble. It is also a very crucial process that will play a significant role in claiming the UAE visa. All the required documents must be attested properly by the official authorities.As the process involves a lot of official work and many government departments, it can be very time-consuming and tough for one to handle. Also, when traveling from one place to another with such important documents for their attestation, you are at risk of losing them too.
By trusting in ND Universal, you will get your UAE Embassy Attestation in Ankleshwar without any trouble. Our professionals will make sure that you don't have to undergo any stress while we do the work we are experienced in.
We will provide you with the following services:
Pick-up and drop-off of your documents
Professional staff for taking care of your documents
24/7 availability
Regular updates of your documents
A safe and reliable place for your documents
Simplified procedure
Fewer charges with easy payment methods.

---
Frequently Asked Questions