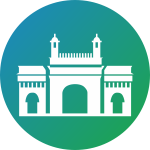 HRD Attestation in Pune
HRD attestation is one type of attestation procedure that is performed to legalize and authenticate educational documents. As the name suggests, the HRD attestation is done by the HRD department of the state. This is the first step in the attestation procedure.
All the educational documents should first be legalised by the State Human Resource Development of the concerned state. After the successful completion of the mentioned step, your educational documents will be entitled to further certification. HRD attestation Is Mandatory when you travel for study or employment purposes to countries such as Austria, Italy, Saudi or Qatar. Let's understand the procedure of HRD Attestation in the below section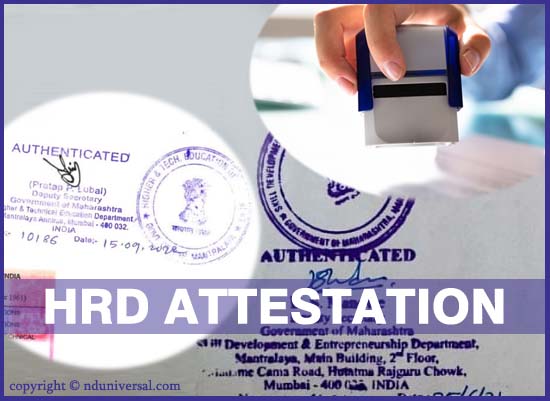 Procedure of HRD Attestation for Pune Issued Documents
1. Notary
This is the first step of HRD attestation in Pune. In the first step, the original educational document needs to be verified by the notary of the country.
The documents need to be authenticated and certified by the concerned notary which will legitimise your educational documents.
2. Verification from the University
In the second step, university verification is performed by the concerned Universities.
Here, the educational documents are sent to the respective University along with a verification letter.
The concerned University then verifies the educational documents and puts a stamp "Verified & Found Correct" on the document.
3. HRD Attestation (Mumbai Mantralaya Authority)
In this step, the concerned HRD department certifies and legalizes the documents and puts a stamp on them.
Now, one can use these attested documents for educational purposes abroad.
How To Know Which Process Is Best For Me?
Many service providers do not know about the correct process. Due to an incorrect process, your visa may get cancelled or delayed. So do not hire the wrong company as they offer low-grade services at a low cost.
The correct method is only known by experienced companies like us. We understand the needs of our clients and take care of the purpose of the application, Whether it is for family, study, or employment visa.
Click here to see a sample of HRD Attestation for study visa Pune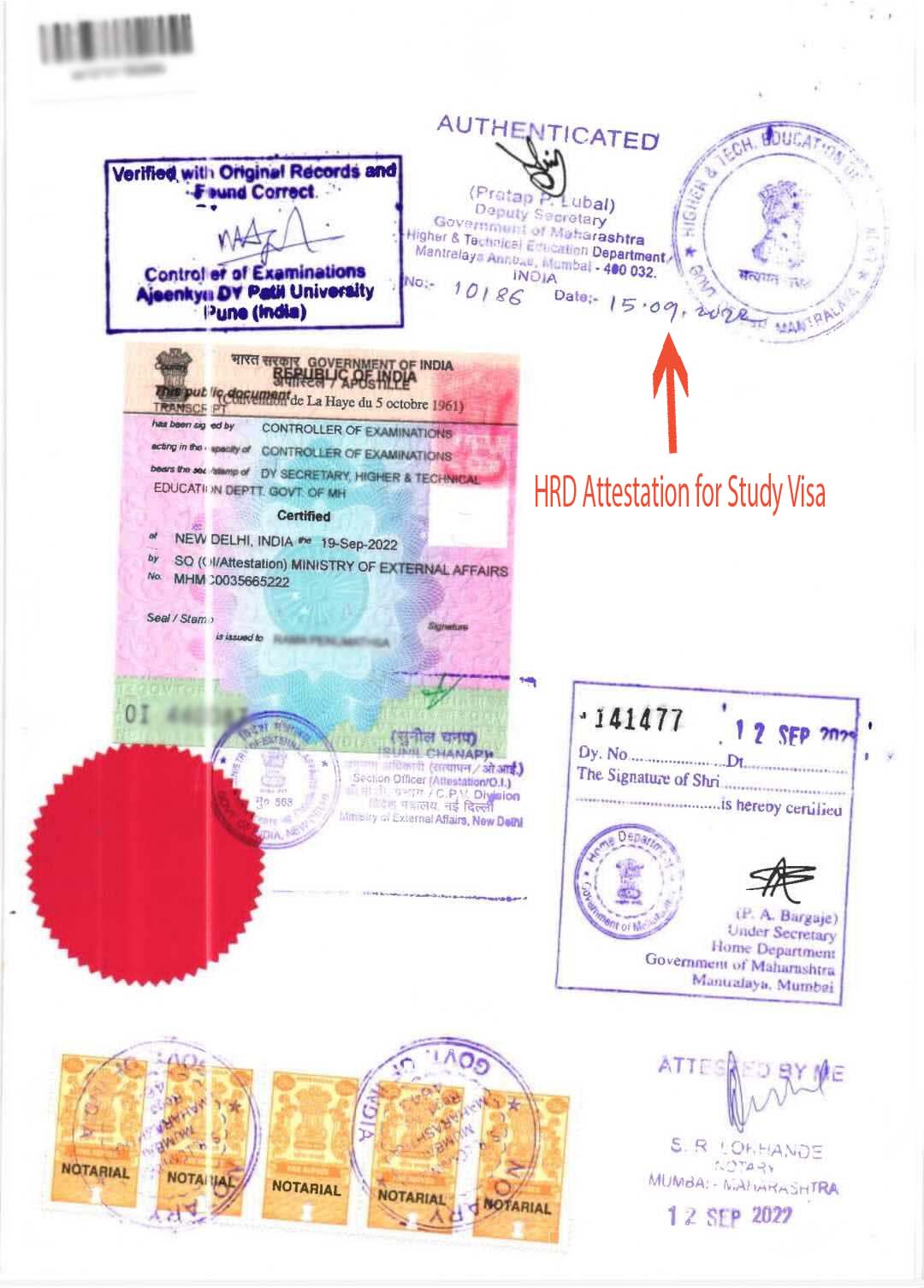 Click here to see a sample of HRD Attestation for employment visa Pune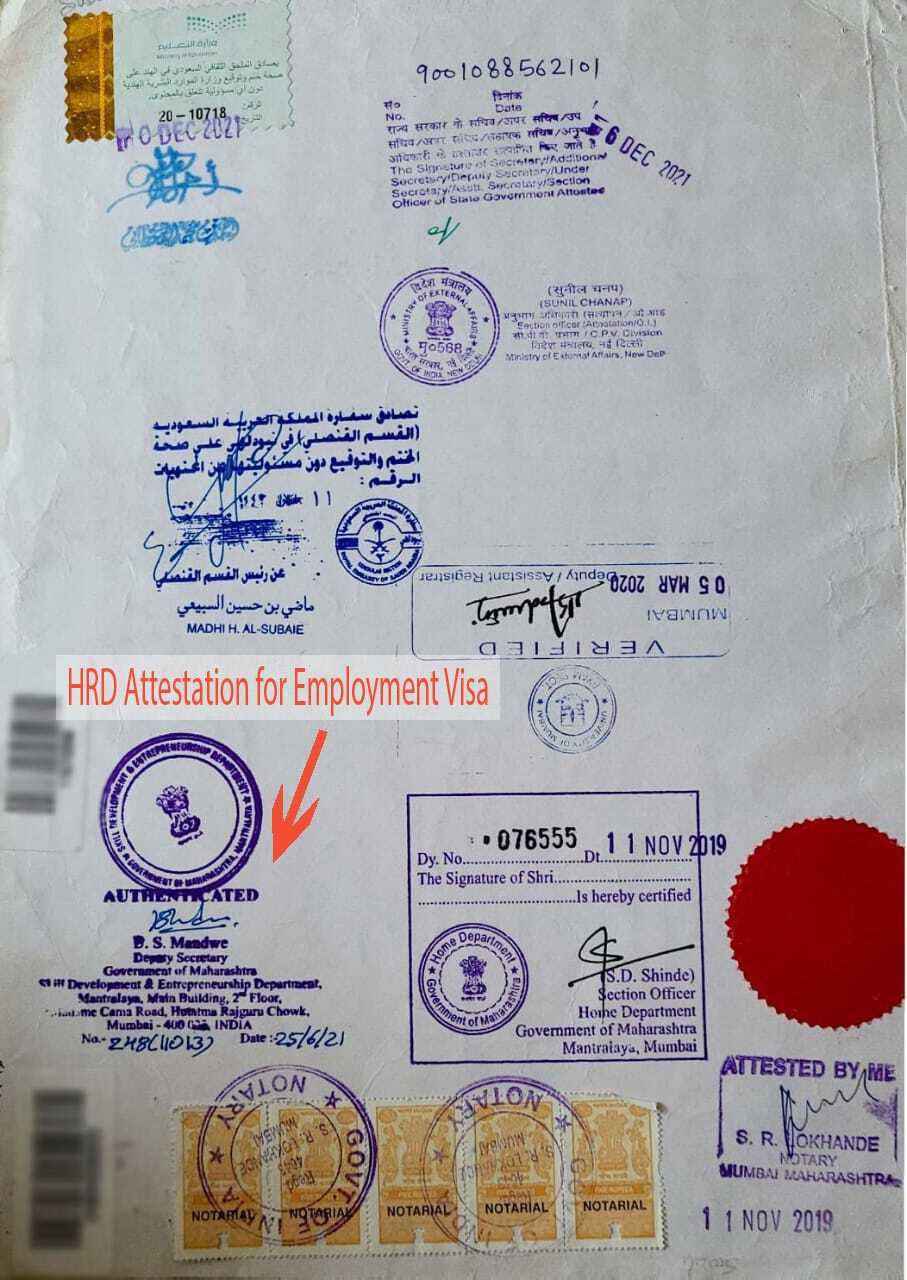 What Documents Are Required For HRD Attestation?
Original Degree
Copy of All Marksheets
Passport Size Photo
Copy of Passport
Contract Letter (Optional)
How Much Time Does It Take?
Overall, the time is based on the university at the second step. Once it is verified by the university, the process will be completed in 5-6 days.
Wanted to know how to start the process for HRD attestation at a minimum cost? Click here to get more details.
---
Frequently Asked Questions
Get the Professional Apostille Services from ND Universal
We are one of the best attestation and apostille services provider with 9 years of experience. We provide same day pickup in Delhi, Bangalore, Hyderabad, Chennai, Pune, Kolkata and Vadodara.