Most Fastest & Cheapest Apostille Services In Solapur
An apostille is an attestation service in which legal documents are legalized and authenticated following a set of rules and regulations issued by the Government, and which is acceptable by all Nations belonging to the "Hague Convention". Now, the tricky part is choosing a reliable and government-authorized agency for apostille services in Solapur. With so many apostille service agencies out there, this is a tricky task to attain.
There are many service agencies that don't adhere to government rules, while others are not reliable enough to hand them your legal documents. There are still others who do not care to handle your legal papers with care! We are a government-authorized agency, whose vision and mission is to provide top-rated apostille services in and around Solapur. We are a group of skilled professionals who offer services at an affordable price!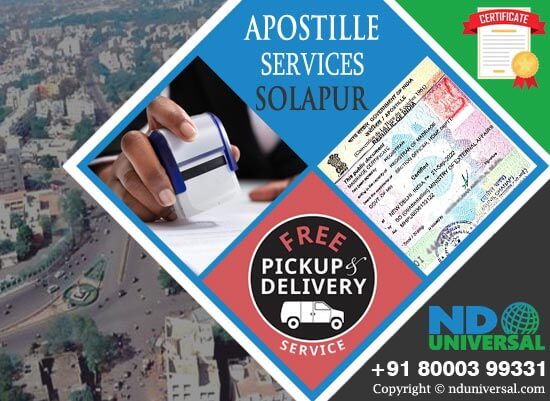 What Is An Apostille?
In general terms, an apostille is a document certification and authentication procedure that verifies and legalizes your personal and legal documents like marriage certificates, birth certificates, degree certificates, etc. It can be used in countries that are a member of the " Hague Convention ". Your documents will only enjoy a valid certification when they will be apostilled by officials of your home country. The MEA, ministry of external affairs, verifies and puts an apostille stamp in all the legal documents, further which can be used abroad!
Different documents need a different apostille. You may need an apostille for your personal documents like marriage certificate, birth certificate, death certificate, migration certificate, etc. Another type of document apostille includes degree certificate apostille, school leaving certificate apostille, or transfer certificate apostille. Depending on the type of documents, whether personal or educational, or legal, the procedures of apostille service may vary!
Why and When Document/ Certificate Apostille is Required?
Apostille of certificate is required for authorizing the documents and to guarantee their validity. Document apostille is important for international uses like getting a visa, travelling to a foreign country, admission to foreign universities, etc.
Birth Certificate Apostille
Birth certificate attestation is a process wherein the birth certificate of a person is scrutinized and legalized for various purposes. It helps to verify one's age.
A birth certificate is the principal document of any person. It includes personal details such as name, place of birth, gender, etc.
Birth certificate attestation is required to get admission abroad. It helps in obtaining a family visa too.
Birth certificate apostille is also helpful during employment and it is also helpful to immigrants.
Degree Certificate Apostille
Degree certificate apostille is a legalized procedure to ensure the authentication of one's degree certificate. A degree certificate is needed to know about one's academic career like the courses of their study, the marks obtained, etc.
Degree certificate apostille is necessary for pursuing higher studies overseas.
A degree certificate contains one's academic history, which helps them in employment purposes. It is used by recruiters to get to know the applicant's academic achievements.
It is also useful for migration purposes and obtaining visas to get higher education abroad.
Marriage Certificate Apostille
Marriage certificate attestation is a legalized operation where the marriage certificate is scrutinized for its authentication purpose, to be used abroad.
A marriage certificate is official evidence of a couple's marriage and provides validity to their marital status.
Marriage certificate attestation authenticated one's marriage to help foreign countries verify their marriage.
It is required in obtaining a resident visa, spouse visa, etc.
Police Clearance Apostille
A police clearance certificate is a legal document that verifies your past and present criminal records. This is important for job purposes, moving abroad, etc.
Job companies and abroad countries need to ensure that you are a safe person, thus one must get their Police clearance certificate apostilled.
Police clearance certificate Apostille is required for travelling abroad. It also plays a crucial role in employment and residential visas.
Single Status Certificate Apostille
A single status certificate is a certificate that proves your marital status as unmarried or single.
A single status certificate is a certificate that proves your marital status as unmarried or single.
A single status certificate also validates that an individual does not bear any connection to his/ her previous life partner in cases of divorce! Thus, it is used in divorce cases as well.
A single status certificate is also essential in divorce cases. This is required for a person who wants to marry again. This certificate proves that he/ she does not have any dependant from their previous marriages.
Affidavit Apostille
An affidavit certificate is used when any person wants to change their names or make any correction to their names.
An apostille of your affidavit certificate is necessary as it proves the originality and genuineness of your affidavit certificate.
It is also required to prove one's date of birth.
Export Document Apostille
An export document certificate is a certification guarantee which proves that permission has been granted to export goods to other countries in a legal manner.
Export document apostille is needed to grant permission to export your goods to foreign countries.
Export document apostille proves the originality and authenticity of your export document, which is verified by Hague Convention countries before engaging in export-import business with other countries.
Death Certificate Apostille
A death certificate apostille is a stamp that is issued for a death certificate. A death certificate is used to prove the death of an individual!
A death certificate apostille verifies and confirms the originality and genuineness of the death certificate.
They are used to claim life insurance from foreign countries. They are also needed during the sale of the deceased property abroad.
Countries Accepting Apostille Documents
Not all countries ask for apostilled documents. Only countries a part of the Hague Convention asks for apostilled documents. Countries that need document apostille include Australia, Austria, Ukraine, the United Kingdom, The United States, among others. If you want to travel to nations that are members of the Hague Convention, you must have your documents apostilled. This is the only method these documents can be utilized in Hague Convention countries.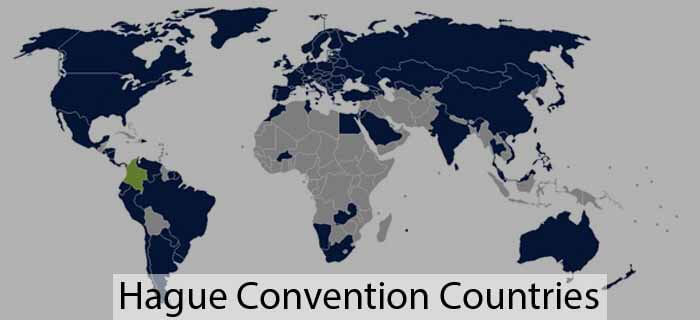 Process Of Document Apostille
The process for document apostille takes a lot of effort. It is a time-consuming process. Different documents need different types of processes. In this section, we have listed all the various processes of certificate apostille.
Process For Apostille Of Educational Document
The educational documents and certificate will be verified from the concerned university from where the papers were issued in the first place.
As a next step, the documents will be verified by the Human Resource Development Department, which is a wing of the State Verification Board.
As a final and last step, the documents will be legalized and verified by the Ministry Of External Affairs. Documents legalized by the MEA will get an apostille stamp.
Process For Apostille Of Personal Documents
In the first step, the personal documents will be verified by the concerned notary from where the documents were being issued previously.
In the second step, the personal documents will be verified by the Sub Divisional Magistrate.
As a final step, all the personal documents will be legalized by the Ministry Of External Affairs and will get the apostille stamp on them.
Process For Apostille Of Commercial Documents
In the initial step, the commercial documents need to be verified and authenticated by the Chamber Of Commerce.
In the last and final step, the commercial documents will go to the hands of the Ministry Of External Affairs where they will get an apostille stamp.
In the commercial document apostille process, there is no role of Sub Divisional Magistrates Or State Verification Departments.
The above mentioned steps should be followed systematically. Any mistake will result in delay and difficulty in the process which might lead to the Apostille being rejected.
What Does An Apostille Look Like?
An apostille stamp or an apostille sticker is an approximately 9 cm long sticker .
Itis stamped on the backside of the documents, whether personal or educational, or commercial.
An apostille stamp has a unique digit that is used by foreign countries to verify the originality and genuineness of the documents.
The apostille stamp is issued by the Ministry Of External Affairs, which is the highest level for document apostilled.
What If Your Documents Are Laminated?
Apostille is done on the backside of the original document. If your originals are laminated, then we at ND Universal, an agency providing affordable Apostille services in Solapur, will take away the lamination and get the process done. However, we cannot completely rule out the fact that the thin document can get harmed. But we remove it very carefully. But, it is our advice to provide us with documents that are not laminated to stay out of risk and complications. It is also important to note here that a laminated document cannot get an apostille. Thus, it is necessary to remove the thin film of lamination before the apostille process.
Documents Required For Apostille Process
In this section, we have enlisted the various documents that are required for the apostille process.
For Educational Documents Apostille
For graduation- certificate of 12th and 10th
For post-graduation- graduation certificate
For Personal Documents Apostille
Birth certificate
Marriage certificate
For Commercial Documents Apostille
All business-related documents like business registration documents, financial documents, etc.
Supporting documents:
Passport-sized photograph
Aadhar card copy
Passport copy
Application form
Time Taken To Complete The Process
You will need a long time to complete all the document apostille process all by yourself. But, if you are someone who does not wish to go through such time-consuming and complicated procedures, we are here to serve you! Please contact the "ND Universal", - an agency for providing Apostille services in Solapur, to get your certificate attestation done at your doorstep in just 5-7 working days.
What Is The Cost Of Apostille Services In Solapur?
If you want to handle all the apostille process by yourself, it will cost you a lot of money, time, and energy. Additionally, you will have to run after a lot of agencies and authorities across the nation, which will again cost you more money. Again, the charges of apostille service depend upon what type of documents you want to get apostille done for!
Most Popular
Services
Regular
Urgent
Cost
₹ 3900.00
₹ 4900.00
Time
6-8 Working Days
4-6 Working Days
Pickup Facility
Drop Facility
Same Day Delivery
After Attestation
Remove Lamination
People could call ND Universal to save all unnecessary travel and costs. As your apostille service provider, ND Universal will not charge you more than is necessary and will complete your documents within a week.
How to Start the Process?
In order to initiate the document apostille process at our agency, hire ND Universal as your provider of apostille services in Solapur. You can simply call our executive, or can even drop an email to us. Our experts will reach out to you within 24 hours and explain everything regarding the process. You can even enquire about any doubt, and our executives will be more than happy to help and clarify your doubts.
As a next step, we will pick up all your documents and credentials from your home and then will start the apostille process. After successful completion of all the work, all of your documents along with proper certificates will be delivered through courier service at your door. We provide free shipping and pickup services throughout Solapur, so no need to worry about any additional charge.
Brand Highlights
We provide free pick up and shipping services: Being a client of ND universal, you will only have to pay for the apostille service charges. No extra charges are applied!
We are here to serve you always: You can always call our agency or drop an email on our official email id regarding any doubts. Our executives will revert back to you within 24 hours and clarify everything to you.
We assure safety: All your legal documents and papers will be handled with utmost care and precaution. We understand that it is tough to rely on any apostille service agency regarding the safety of your personal and non-personal credentials, but with ND Universal, all your credentials will be in safe hands.
Easy tracking: Now, with our agency, ND Universal, you can even track the apostille processes of your documents online! We will also keep updating you about the progress!
Affordable services: Our brand vision and mission is to provide our clients with top-rated apostille services at an affordable rate.
Highly experienced: Unlike other apostille service providers, we provide the quickest apostille service in Solapur. We are a government-certified agency that is working tirelessly in this field for over 8 years!
---
Why Choose ND Universal for Apostille Services in Solapur ?