UAE Embassy Attestation in Allahabad
All kinds of documents need to be verified by the official bodies before you give an application for a visa for the UAE. It is a crucial process for getting the UAE visa because, without attestation of your documents, you will not be allowed in the UAE legally.
In any case, if anyone tries to enter the border without proper documents, then officials can take legal action against them.
Attestation of your documents will give you the legal rights to use them on the UAE premises as it verifies who you are and what your purpose is for staying in the UAE.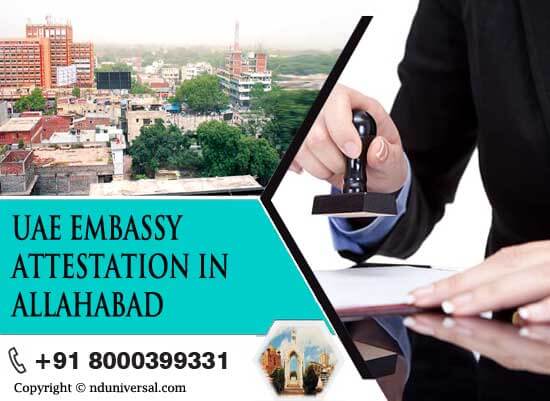 Attestation in Allahabad for UAE
Having your papers attested by the embassy is very important for the legalization of your stay in the UAE. Attestation by the embassy will be done after the verification done by the MEA (Ministry of External Affairs). The documents submitted to the embassy will already be stamped or signed by the MEA which previously were verified by the state government departments.
Document attestation is a very sensitive process, and there exists no room for even a minor error because that can cause the applicant difficulty in the future. Preferably this process should be carried out under the guidance of professional attestation service providers.
The process begins with verification of the documents from the notary and goes through various re-verifications and authentications before reaching the embassy. This procedure is very time-consuming, confusing, and daunting. We at ND Universal make this process handy for you in the best possible way.
Who Must Apply For This?
Applying for embassy attestation is mandatory for everyone who is applying for a visa in the UAE. Especially if you are someone who is looking for better education and job opportunities, you must attest to the required documents so that they don't lose their original authority when you use them in the UAE. The state needs attestation of your certificates to rely on the information provided in your documents.
It does not matter what your purpose is for going to the UAE, whether it is related to residency, education, job, or business purpose; you have to get every document attested from the embassy.
Why Is Embassy Attestation Important?
Many people think about relocating to the UAE for a better quality of life, but that quality of life can only be granted to you after you have all the verified documents with you, or else you might have to face legal charges. UAE Embassy attestation is important for the following reasons:
Educational Purposes
For pursuing higher education in the UAE, you should have your attested degree certificate so that the university or college can verify the genuineness of your statements and the course mentioned in the application. In addition to that, it is mandatory to get a study visa for your stay in the UAE, for which attested documents are required.
Desiring job applicants who want to grow professionally in the UAE should have the required degrees and documents attested; so that, they can use the same in the UAE legally for working the job that they desire.
Non-educational Purpose
For relocating to the UAE for a sound lifestyle, you have to attest every needed document to get legal permission for staying in the UAE. Even for getting a family visa, you have to attest to the documents. Without attestation, acquiring a residence would be problematic and illegal.
For people who want to establish their business in one of the most thriving economies of the time, you will need legal permission, which will be granted only after verifying your attestation for commercial documents.
Attestation in Allahabad will proceed with all the lawfully stated steps while keeping your documents safe and you away from the tedious process. The attestation process will be done in the following stages:
Step 1: Verification by the local authority
Your documents will be verified by the local notary from where the documents were issued.
Step 2: Verification by the state authority
This process will involve verification of your documents by different departments depending on what kind of document it is. The authorities involved will be the HRD ( Human Resource Development) Department, SHD (State Home Department), and the SDM (Sub-divisional Magistrate).
Step 3: Authentication by the MEA
The MEA (Ministry of Foreign Affairs) will authorize your documents by stamping or signing. After that, they will be passed to the embassy.
Step 4: UAE Embassy Attestation
After all the re-verifications and authorizations, your documents will be attested by the UAE Embassy. This is the final step of document attestation.

The Cost of UAE Embassy Attestation
Here is the the cost of UAE embassy attestation for educational and non-educational documents:
Most Popular
Services
Regular
Normal
Urgent
Cost
₹ 7100.00
₹ 8100.00
₹ 9100.00
Time
15 Working Days
8-10 Working Days
4 to 6 Working Days
Pickup Facility
Drop Facility
Same Day Delivery
After Attestation
Remove Lamination
Note: No extra/added cost. Pickup and Drop charges are already added. In case you courier your documents an amount of 250 will be deducted from the cost.
---
Why Choose ND Universal's Services?
Seeking professional help for attestation of your documents will help you from getting away from all those sitting hours and loss of energy. You will not have to worry about your documents as we will safely proceed with them with every step.
UAE Embassy Attestation in Allahabad will be less worrisome for your side as we have professional staff that will not only resolve all your issues but will also make sure that your documents get attested on time with safety measures.
Benefits you will get by choosing us as your service provider:
24/7 availability
Professional staff
Fast and reliable service
Customer convenience
Free pick-up and drop service of your documents
Quality service
Understandable procedures
Fair pricing offers
Daily updates about your documents
ND universal will thoroughly help you with your Certificate Attestation. The stress that would have come to you without any help will be deducted by our efforts.
---
Frequently Asked Questions