UAE Embassy Attestation In Aurangabad
Attestation is the process of validating the authenticity of a document before presenting it to any authority for any legal or official process. This verification involves many official departments. The document undergoes twofold verification- authentication by the MEA (Ministry of External Affairs), and finally the embassy attestation.
The process can take a considerable amount of time to complete as this is a tactful procedure that is meant to be done very carefully without any blunder. This is a process of paramount importance for acquiring any visa for the UAE. There is no other official way to enter the UAE. Your attested documents will prove your genuineness for the cause you want to gain an entry permit to the UAE.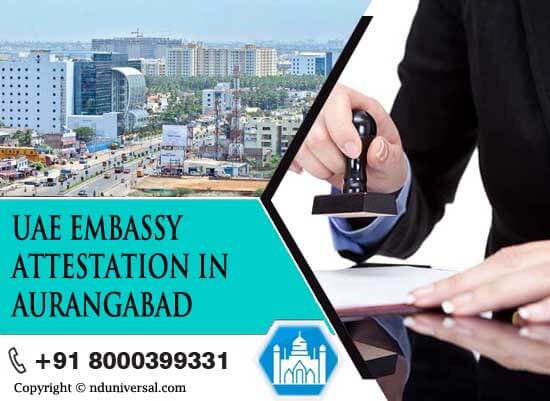 What Documents Need Attestation?
The UAE Embassy's attestation is the last stage your documents will go through. That means the process is much more complicated than it seems. This process holds top-most importance as attested documents will be needed to approve your visa for the UAE.
Whether you are claiming a study, work, business, or residence visa; you will have to get all the required documents attested to get the visa. Attested documents will prove your credibility to the officials that will make your entry legalized. Since it is a very tedious procedure, it is always recommended to take the assistance of government authorized attestation service providers.
Here is a list of very common documents one has to necessarily get attested:
Diploma / Degree certificate
Commercial/ Company/ Business documents
Professional documents
Work experience certificates
Birth certificate
Marriage certificate
Religious documents
Who Must Apply For This?
Attestation of documents is a compulsory process for anyone who wants to enter the UAE. Whether you are a student seeking good education, a professional who fancy working in the growing economy of the UAE with better opportunities altogether, a business person who is looking forward to establishing their business to make a profit, or a person willing to relocate to the UAE for a better lifestyle, you need to get the required certificates attested so that your visa application can be approved by the designated authorities. The main cause for needing your documents attested is that the officials can verify the authenticity of your stay in the UAE.
Why Is Embassy Attestation Important?
It will provide you with the legal rights to use your documents in the UAE. Similarly, you can use the attested documents anywhere in your country as well. Within the country, we do not need to get our documents attested most of the time, because any paper once verified can be legally used anywhere in the country. But when we wish to enter the UAE, where we are foreign individuals, the authorities require documents verified through the hierarchy established, to grant permission to enter their land. They need to verify the authenticity of our documents so that we can benefit from them.
These are the few reasons why embassy attestation is important:
For educational purposes, a degree certificate attestation from the embassy is very important for the verification of the course you have done. It will help your desired university or college in the UAE to trust your degree's authenticity before giving you admission.
Professionals and such other individuals who want to land a job in the UAE for a better career experience need to get their required work experience certificate, degree certificate, etc to be attested to legalize their work and get a work visa.
For establishing a business in the UAE, it is mandatory to present documents related to the business, such as an attested company certificate, to get permission from the authorities to proceed with the business and get a business visa.
Relocating to the UAE means that you have to get your documents such as birth certificate, marriage certificate, etc. to be attested from the embassy so that you can get a resident visa.
Knowing the sensitivity of the process, ND Universal will make sure that your UAE Attestation in Aurangabad is carried out without any stress on your side. With our help, this time-consuming and energy-draining process will be completed as smoothly as possible.
We follow all the stages completely and legally. The 4 stages of attestation are as follows:
Step 1: Verification by the local notary
This is the stage where the documents will be verified from where they were issued.
Step 2: State-level verification
This verification will be done by the SDM (State Home Department) or HRD (Human Resource Development) Department or SDM (Sub-divisional Magistrate) depending on the need of the documents.
Step 3: MEA (Ministry of External Affairs) Stamp
The MEA will provide your documents with a stamp after completion of the verification in step 2. This will authenticate your documents on the country level.
Step 4: UAE Embassy Attestation
This will be the last stage where documents will get attested by the embassy thus providing the legal rights to use them in the UAE.
The Cost of UAE Embassy Attestation
Here is the the cost of UAE embassy attestation for educational and non-educational documents:
Most Popular
Services
Regular
Normal
Urgent
Cost
₹ 7100.00
₹ 8100.00
₹ 9100.00
Time
15 Working Days
8-10 Working Days
4 to 6 Working Days
Pickup Facility
Drop Facility
Same Day Delivery
After Attestation
Remove Lamination
Note: No extra/added cost. Pickup and Drop charges are already added. In case you courier your documents an amount of 250 will be deducted from the cost.
---
Why Choose ND Universal For Attestation Services?
The process of getting your documents getting attested can be very daunting and can cause a great amount of stress. For getting it sorted in a professional way it is always suggested to take help from a trustworthy attestation service provider. Not only will it reduce your stress but also give you a hassle-free attestation experience and we promise to do so for your UAE Embassy Attestation in Aurangabad.
Following are the services we will be providing for a streamlined process-
Professional staff
Lower charges
Pick-up and drop-off service for your documents
Safe and reliable service
24/7 availability of service
Simplified and streamlined process
Regular updates of your document
Easy payment method
Attestation of documents is a very sensitive process to handle. There is no place for even a minor mistake as you can suffer because of it in the future. Your Attestation in Aurangabad will be done safely under the care of ND Universal.
---
Frequently Asked Questions