Egypt Embassy Attestation
Attestation is the process that ensures or signals that the certificate is authentic. ND Universal is a professionally managed and established company offering Certificates or document attestation services from Mumbai. We offer public services to make sure that your certificates are attested from higher officials for countries like Egypt.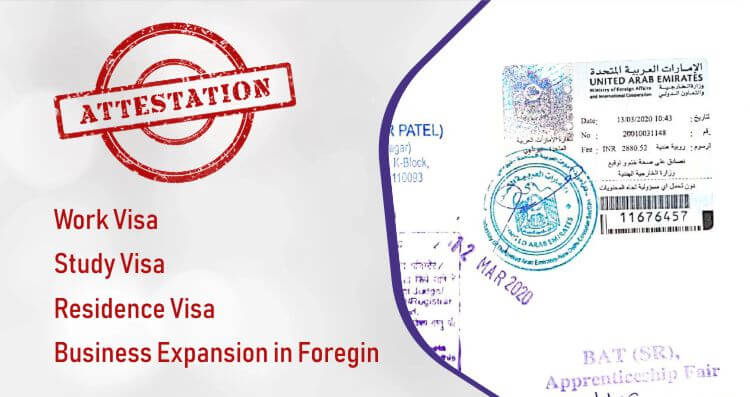 Our services not only include a different kinds of attestation, but we also offer translation services in case, if documents are not in the English language or any other preferred language for attestation. We act as an agency for the collection of applications and documents for the attestation of documents for all purposes. If you are planning to step into a country like Egypt, it is necessary that the documents are certified and stamp sealed. In order to attest the documents, the certificates have to pass through various authorities in India. All our services for attestation for documents for the Egypt process in Mumbai.
Certificate Attestation for Egypt
Egypt is a beautiful country renowned for its rich history and culture. For people looking to move to Egypt, be it for higher studies or work, getting proper attestation of documents is very important. The Government of Egypt requires that several conditions be fulfilled before a visa is granted. Egypt Embassy Attestation is very important if you want to live in Egypt. It can often be a time-consuming process, so getting Egypt embassy certificate attestation services can go a long way in making the process hassle-free for you.
Let us look at a couple of questions that invariably come up when thinking about Egypt Embassy Attestation.
SDM Attestation for Egypt
In the second step of the process, documents may go to one of three departments based on the type of document concerned. The three departments are the Home Department, the Human Resource Department, and the SDM. The SDM or the Sub Divisional Magistrate has to verify the authenticity of the documents. This is an essential step in the process and must be adhered to. Even though the SDM is not part of the Executive Wing of the Government, but is a Judicial Unit, it is equivalent to a state-level verification.
MEA Attestation for Egypt
Attestation from the Ministry of External Affairs is the final step in the process by the Government of the country. Once this verification is done, a stamp is affixed on the document by the MEA. After this step, the Embassy proceeds further to attest the documents.
Embassy Fees
The fees charged by the Embassy for certification may change with time. To get an exact or accurate figure for the same, you may get in touch with us at ND Universal. Further, attestation is also required by the Ministry of Foreign Affairs in Egypt. This Ministry looks at the documents again and makes a note of the area where you shall be moving to for educational purposes or a job. It should be noted here that MOFA may charge you a fee for the services it provides, and the time is taken by them to attest the documents must also be factored in.
Advantages of Egypt Embassy Attestation Services
Egypt Embassy Attestation Services has many benefits. It is particularly useful if you plan to continue higher education in Egypt or if your children are looking to gain admission to a school there, or if you are looking to get a work visa. It also goes a long way in helping your family settle down in Egypt.
The Responsibilities of Notary in the Egyptian Certificate Attestation Processes
The procedure of obtaining the right documents that have to be attested starts with the Egyptian Notary. The process of getting documents attested begins with the notary. It is essential for all certificates first to be notarized. After notarization, they are passed on to other departments, starting with the home department for further attestation and for verifying the authenticity of the documents which have been submitted. This is the first step of the process and usually begins at the regional level.
What is the procedure of the Egyptian Embassy Attestation?
The process involves primarily four steps, with different departments being included based on the type of documents concerned. There are four categories of documents that are involved, they are, Educational Certificates, Non-educational certificates, Commercial Certificates, and Other Documents. First and foremost, the concerned documents are notarized. This occurs regionally across different states and cities. After this stage, the documents will go to one of three organizations, namely, the Home Department, the Human Resource Department, and the SDM. Based on which department it is going to, the amount of time it will take will differ. Once this stage has been completed, the documents will go to the Ministry of External Affairs or MEA, which will put a stamp on the document after due verification. Once these three steps are complete, the documents will be vetted and verified by the Embassy. This is how the process works generally. The departments from which attestation is required may differ based on the nature of the document.

How many days are required for Embassy Attestation for Egypt?
The period for getting the attestation done may differ based on which documents need to be attested and where the attestation is being done, that is which state. Usually, it takes longer when the HRD ministry is involved. About 7 to 9 days is a reasonable estimate, but it might differ on a case to case basis.
What are the charges for Attesting Certificates from Egypt Embassy?
The charges for getting Egypt Embassy Attestation will differ based on the documents concerned and based on the state concerned as well. It isn't straightforward to provide a single figure for all needs. It is best to speak with the concerned agency to figure out how much the process is going to cost. We at ND Universal will be happy to guide you through the process and tell you about the costs involved, based on your individual needs.
Why must you opt for ND Universal?
The process of getting Egypt Embassy Attestation done is lengthy and often complicated. Getting a service provider makes the process much smoother as you are hiring an experienced service provider to help you through it. This reduces the lags and obstacles that might come up when doing it yourself. We at ND Universal have many years of experience in providing top-notch attestation services. We have a dedicated team of experts who will make sure that this is a smooth experience for you. We understand how time-consuming and difficult it can get for you to get this done by yourself. Now, you can leave these concerns to us and focus on other things. We keep you updated throughout the process and share all the information with you on a timely basis. We have a quick turnaround time and pride ourselves on our excellent customer service. We know how hesitant one can be when handing over original copies of documents. We want to tell you that we get how you feel and take the best care possible when handling your documents.
Process for Degree Certificate Attestation
The process of attestation of documents may vary depending on the type of documents. In order to attest the degree certificate, it involves:
Attestation of the document from the State Education Department from the concerned state. It could be via HRD/GAD/Regional Attestation Center, followed by,
Attestation from Ministry of External Affairs, and
Embassy of the Arab Republic of Egypt in New Delhi.
Process for Non-Educational Document Attestation
Process A
In order to attest Non Educational documents, there are three ways which one can opt for, it could be,
Attestation from State Education Department from the concerned state involving HRD/GAD/Regional Attestation Center
Attestation from Ministry of External Affairs, and
Embassy of the Arab Republic of Egypt in New Delhi.
Process B
Second Process for attestation includes Maharashtra Home Department Attestation.
Attestation from Ministry of External Affairs (MEA), and
Attestation from Embassy of the Arab Republic of Egypt in New Delhi.
Process C
Third process for attestation involves, attestation from Sub Divisional Magistrate (SDM), New Delhi.
Attestation from Ministry of External Affairs (MEA), and
Attestation from Embassy of the Arab Republic of Egypt in New Delhi.
Process for Attestation of Commercial Document
Commercial document attestation process includes Attestation from respective Chamber Of Commerce followed by attestation from Ministry of External Affairs (MEA), finally from Embassy of the Arab Republic of Egypt in New Delhi.
---
Our Services and Process
Our services include package services for the attestation of personal or commercial documents. All you need to provide us is the original documents which need to be attested along with a photocopy, clear photocopy of the passport along with embassy and ND Universal services charges. You can deposit the fees in cash, NEFT/RTGS or by bank draft in the name of the company, Mumbai.
The process for attestation is time-consuming and may take some 7-10 working days, let us be the in-charge for the process of attestation and send us the documents through our various free pick up centers available in different cities all over India. The process for attestation will not require your physical presence. You can drop your documents for attestation and rest will be taken care by our team supervised from Mumbai city. Our partnered Blue Dart courier services ensure safe pick up and delivery of the documents.
For more inquiry contact our team or drop us an email,
ND Universal Pvt. Ltd.
WhatsApp: +91 80003 99331
Mobile: +91 80003 99331, +91 95370 89898
Email id : info@superbapostille.com, info@nduniversal.com
---
Why Choose ND Universal for Egypt embassy attestation services ?