Egypt Embassy Attestation
Certificate attestation is the legalization of the documents which ensures that the information contained in them is authentic. Certificate attestation for Egypt is very important for getting a visa which is required when you need to travel to Egypt for any purpose. ND Universal, based in Mumbai, is a very well-established company full of experienced and skilled people who can help you with certificate and document attestation.
Our services include different kinds of attestation and translation services (in case documents are not in the English language or any other language that is preferred for attestation). We, as an agency, help you in the collection of applications and other documents needed for attestation of documents for any purpose. For obtaining an entry permit or visa for Egypt, the documents need to be authenticated with a stamp and sealed.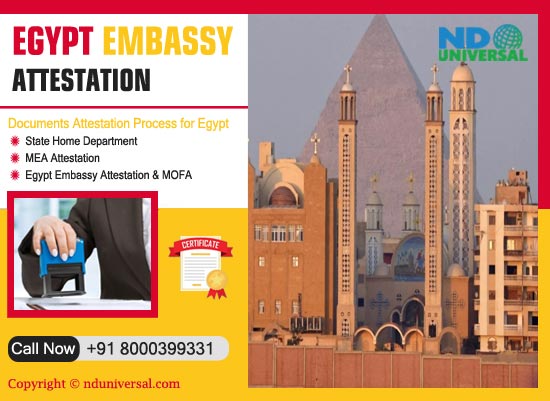 The certificates and documents have to pass through various Indian authorities for the same. All our services of Embassy attestation for Egypt are provided by ND Universal.
Embassy Certificate Attestation for Egypt
The elegant country of Egypt is known for its rich culture, ancestry, and a plethora of opportunities. For people planning to travel or move to Egypt: be it for higher studies or work, proper attestation of documents for them is very crucial. The Government of Egypt requires several conditions to be fulfilled before a visa is approved. Embassy certificate attestation can be a long procedure but ND universal services can help you get them done in the least possible time and without any hassle. Attestation is vital to verify the authenticity of the documents, but the process of attestation can be very lengthy and exhausting. Thus, it is advised to take the assistance of a service provider for this process.
SDM (Sub Divisional Magistrate) Attestation for Egypt
The documents are sent to one of the three departments at the state level, based on the type of document. These three departments include the Home Department, the Human Resource Department, and the SDM or the Sub Divisional Magistrate. The SDM verifies the authenticity of the documents. This is a very important step which must be followed. SDM is a judicial unit, so it is equivalent to state-level authentication.
MEA Attestation for Egypt
The Ministry of external affairs or MEA is the final step in the process of attestation which is done by the government of the country. Once your documents are verified by the MEA, a stamp is affixed on your documents and then we move further to complete the attestation process.
Fees Charged By the Embassy
The fee charged for the attestation isn't fixed and keeps changing with time and needs. You can get in touch with ND universal for guidance and fee structure. The Egyptian Ministry of Foreign Affairs attestation is required. The ministry scans your documents and notes your destination and purpose of visit. MOFA may charge some fees for its services.
Benefits of Getting Embassy Attestation for Egypt in Mumbai
It secures you as a foreigner
When you travel to a foreign country, essential documents and proof of identity are required by the government of that country. This is where attestation comes into play; it secures your place as a foreigner. Attested documents are also very helpful in case of an emergency as the laws will safeguard you.
Without these documents, you wouldn't be having access to the facilities of a foreign nation. You need to trust and rely on the company for getting your certificates attested.
It will assist you in getting essential facilities
The Embassy attestation for Egypt provides you with facilities such as education, residence, and other essential facilities abroad without any hassle.
If you have all the documents, you'll not be questioned anywhere regarding your identity. Attested documents create transparency in legal communication between you and the foreign country's authorities. You will get recognized and authenticated both nationally and internationally.
Visa for family and security
You should get your family members' documents attested to avoid any trouble abroad. If married, you should get the marriage documents attested because this helps validate your relationship status and the identity of your family members.
Easy access to Establishment of Business
The Embassy attestation for will make your business registration process easier. You will be able to buy or sell assets and it will be easier to avail the company license and banking services.
Role of the Notary in Attestation for Egypt
The process of attestation begins from the local notary. This step is essential as the documents need to be notarized before any other verification. After this, the notarized documents are passed on to other departments for further validation. The first step begins at the regional level.
The Procedure of Embassy Attestation for Egypt
Educational Certificate
Your Educational certificates get attested through the following steps:
Step 1: State Education Department (HRD attestation in respective states)
Step 2: Certificate Attestation from MEA
Step 3: Embassy of Egypt, New Delhi certificate attestation
Step 4: Certificate attestation by Ministry of Foreign Affairs (MOFA), Egypt
Personal Certificate
Method 1
Step 1: State Home Department (of respective state) certificate attestation.
Step 2: Certificate Attestation from Ministry of External Affairs or MEA
Step 3: Embassy of Egypt, New Delhi certificate attestation.
Step 4: Certificate attestation by Ministry of Foreign Affairs (MOFA), Egypt
Method 2 (Case Specific)
Step 1: SDM (Sub Divisional Magistrate), New Delhi certificate attestation
Step 2: Certificate Attestation from Ministry of External Affairs
Step 3: Embassy of Egypt, New Delhi certificate attestation
Step 4: Certificate attestation by Ministry of Foreign Affairs (MOFA), Egypt
For Attestation of Commercial
Step 1: Certificate attestation by respective Chamber of Commerce
Step 2: Certificate Attestation from Ministry of External Affairs or MEA
Step 3: Embassy of Egypt, New Delhi certificate attestation
Duration of the Attestation Procedure
The duration varies depending upon the documents that need to be attested and where the attestation is being done on each level. It takes longer in the case of the HRD department. About 7 to 9 days is the probability, but it may differ from case to case.
Who Must Apply and Why?
It is important for many reasons. The major purpose of getting the certificate attestation is to present it as identity proof when you travel abroad for a job, medical or educational purposes, or any other reason.
Educational Purposes
For enrolling to any college in Egypt
For proof of identity
For the student visa
For students who want a part-time job
Non-Educational purposes
For travel purposes
For proof of identity and evidence
For residential facilities
For residence visa
For availing medical services
For quick access to other essential services without any hassle
Work grant
Family visa
For employment visa/labor card
Commercial purposes
To establish a new business brand
To acquire the right of selling properties
To remove LLC partnership
To open a new bank account abroad
To register your company
It will make your documents more authentic. Without authorization, it's difficult to get your visa approved. Getting a seal and mark by the embassy of Egypt on your attestations ensures that the credentials have been checked by the Egyptian Embassy and are approved.
The charges will differ from document to document and state to state. Thus, a single cost cannot be predicted for all types of document attestations. It is advised to take help from professional agencies to estimate how much the entire procedure will cost.
We, here at ND Universal, help you through the entire process and give you an insight into the approximate cost that will be involved, according to your personal needs.
Reasons to Choose ND Universal
Attestation for Egypt in India can be a tad bit messy and time taking if you don't choose the right service-providing company.
We, at ND universal, are experienced and custom-made for all your needs in getting your documents attested.
We have top-notch services that make the process smoother, easier, and hassle-free for you.
Our team of experts will help you in every step and you can consult them for any query.
We are proud of our excellent customer service. We keep you updated at every step and get your documents back safely to you after attestation.
We handle your documents with care and take all the precautions throughout the process.
Our Embassy Attestation Services and Process
Our packages include services for both personal document attestation and commercial document attestation.
You need to provide us all your original copies of your documents, their photocopies, and a clear photocopy of your passport.
You can deposit cash or pay fees in cash mode, NEFT/RTGS, or by draft addressed to the company (Name of the company, Mumbai).
The attestation process is time-consuming and may take 7-10 days. We'll make sure you rest easy and we do all the necessary work.
You can send us your documents through our various pick-up centers available in different cities in India. Your physical presence isn't required for the attestation process.
Our team in Mumbai will supervise your attestation process. We've partnered with Blue Dart courier services to ensure the safe pickup and delivery of your documents.
Reach out to us, and we will be glad to assist you through the entire process of Embassy Attestation for Egypt.