Easiest & Safest Apostille Services In Bihar
There are several apostille service providers in Bihar who are willing to assist customers who need their documents confirmed properly. Because there are so many of them, it is difficult to choose and trust one service provider because many of them are slow, and others will not follow the government's instructions and criteria for this particular job.
The process of selecting a service provider might be time-consuming. As ND Universal is not only government-affiliated, it also assists clients in navigating the multi-layered process of an apostille. ND Universal will be the greatest choice of a provider of Apostille services in Bihar. If you choose ND Universal as your service provider, you will not have to be concerned.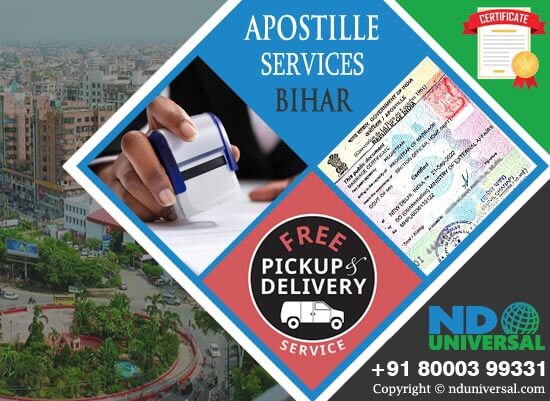 What Is An Apostille?
An 'apostille' is a form of document authentication issued by countries that have signed the 1961 Hague Convention. It is a kind of stamp that is given to the official documents. The US State Department maintains a list of nations that accept apostilles. Papers may be 'authenticated' or 'certified' before being transferred if the intended destination country is not a signatory to the Hague Convention.
Apostille is an international attestation that is accepted in roughly 92 countries and is recognized by the majority of the Western world. It is not necessary to attest to a document that has been apostilled. The MEA (Ministry of External Relations), is in charge of all foreign affairs, affixes the Apostille stamp to documents and certificates.
Why And When Document/Certificates Apostille Is Required?
If one wishes to visit nations that are members of the Hague Convention, one must have their documentation apostilled. It's the only method these papers can be utilized, and Apostilled documents are indeed required to obtain a visa. Visitors would not be able to access the facilities of other countries if their papers are not apostilled.
Degree certificate
The apostille of a degree certificate is necessary since it aids persons in obtaining employment or a work visa.
People who desire to finish their studies in a country that is a signatory to the Hague Conventions must have their degree certificates apostille. Students will not be able to enroll in college or university unless their degree certificate is apostille.
People who have an apostille degree certificate will have an easier time finding work and getting into school because no document may be used without being apostilled, and the degree will be ineffective without the apostille sticker.
Birth certificate
A birth certificate is a personal document that must be shown in order to obtain a children's visa.
Individuals will be able to prove their credentials in another country with the use of an Apostille of Birth Certificate.
Having an apostille birth certificate will also aid students in their school, college, and other admissions processes.
A birth certificate is the greatest document for stating a person's nationality, hence it should be apostilled.
Marriage certificate
Marriage certificate apostille in India is used to establish two people's marital status.
This certificate must be apostilled in order for the marriage to be recognized in a country that is a signatory to the Hague Convention.
This certificate's apostille will help you obtain a family visa, spouse visa, resident visa, dependent visa, and other types of visas.
Police clearance certificate
A Police Clearance Certificate is used to demonstrate that an individual has no prior or present criminal history.
This is a vital document that aids in the legal validation of a person's criminal history.
This certificate's apostille is required to obtain a clean chit for overseas travel.
This document should be apostilled since countries need to know if you are a safe person for their people or not.
Export Document Certificate
This export certificate must be apostilled by the businessperson in order to facilitate commercial transactions in other nations.
This certification apostille stamp will help business people in registering their firm, expanding their business, obtaining export permission, and obtaining certificate incorporation.
Single status certificate
Individuals can use a single status certificate to prove that they are not married and that their status as an individual is single.
To evaluate the single status you may have in a country that is a signatory to the Hague Convention, this certificate must have an apostille sticker.
Apostille affidavit
Individuals who want to claim their birth name, as well as those who want to change it, need to have an affidavit certificate, apostilled.
The apostille of this document will aid individuals seeking to amend their names in a country that is a signatory to the Hague Convention.
Death certificate
A death certificate is used to prove a person's death.
This certificate will also help prove the death of the individual so that no other person can claim their identity.
It is critical to remove a person's body from a country that is a signatory to the Hague Convention.
Countries Accepting Apostille Documents
To use any document or certificate in a foreign country that accepts apostille, it must have an apostille sticker provided by the country's legal authority. Every foreign country does not require apostille documents. You must remember that only countries that are signatories to the Hague Convention will accept apostille documents.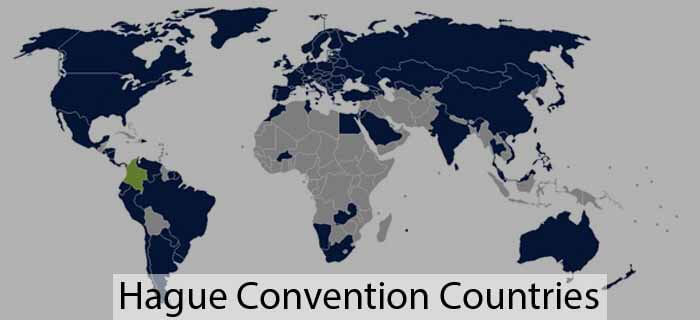 Apostille of documents and certificates is necessary regardless of why you wish to visit the nation. If all of the needed documents for a visa are not apostilled, the visa application will be denied, which is why an apostille is recommended.
Process of Document Apostille
The procedure to receive the apostille stamp is a long and tedious process. The process is a multi-layer one and involves many departments at different steps. Different types of documents are apostilled with different departments. The process involved is:
Educational Documents
The procedure to be performed to obtain apostille stickers on education-related papers:
The verification of the educational certificates is done at the local level. It involves the verification by the Local Notary or the University.
At the state-level verification, these educational documents are validated by the Human Resource Development Department.
Documents will be transferred to the department of MEA after the process is completed ( Ministry of External Affairs ). The papers will acquire their Apostille stickers here.
Non-Educational/Personal Documents
The following actions should be taken in order to obtain apostille stamps on personal documents:
For apostille services in Bihar, the individual needs to show a personal certificate from any region of Bihar, verified by the Local Notary of that region. The local notary will perform the initial check.
These personal documents are verified by the State Home Department for state-level verification.
The paper and certificates will be eligible for an apostille stamp from the MEA if both verifications are completed satisfactorily.
COMMERCIAL DOCUMENTS
The below steps are followed when apostilling commercial documents:
The Chamber of Commerce will be required to verify commercial paperwork.
Commercial document verification will not be handled by local notaries or state departments.
The documents will subsequently be sent to the Ministry of External Affairs (MEA) to receive an apostille sticker.
The procedure outlined above should be followed without any fail. Any lapse in judgment will cause delays in the process. To get an apostille sticker, documents must be carefully validated. Hiring ND Universal will help you get your documents apostilled hassle-free.
What Does an Apostille Look Like?
The Apostille sticker is a 9cm long square-shaped computer-generated sticker.
A unique identifying digit appears on every Apostille sticker.
With the use of these unique identification digits, countries that are members of the Hague convention can verify the legitimacy of the information contained in the documents.
If you have an apostille sticker, you do not need to have your documents examined by the embassy.
The Ministry of External Affairs will give the Apostille sticker ( MEA ). It is a department at the federal level that is in charge of matters that occur outside of the country.
What If Your Documents Are Laminated?
It is necessary to remove the lamination if you want to receive an apostille on your documents. However, if your documents are laminated, you need to remove that. But, if you remove it yourself, you may damage the document.
You can simply send the documents to ND Universal in their actual state. Our professionals will carefully remove the lamination with the help of machines. We will deliver the Apostille label at the end of the procedure.
Documents Required for the Apostille Attestation Process
Below mentioned are the documents that are required for the Apostille Process:
Education-related documents
Certificates of 10th and 12th grades for graduation.
Certificate of graduation for post-graduation
Personal/Non-Educational certifications
Certificate of birth or certificate of marriage
Business-related documents
All records related to business, such as AoA, MoA, export documents, etc.
Additional supporting papers: Along with the original certificates, the below document must be submitted.
A duplicate of your passport Photographs
A copy of your passport
A photocopy of your Aadhar Card is required
Receipt of the Passport Application
Your visa photocopy.
Time Taken To Complete The Process
The amount of time it takes to apostille documents will vary depending on the type of documents and the departments involved in the process. As every department will work at its own speed, there may be delays when you do it yourself.
You should meet ND Universal's team as the procedure will take considerably longer than expected when you do it on your own. Out handle the procedure systematically and due to our experience in the same, you will be able to get the apostille documents within a span of 5 to 7 days only.
What Is The Cost Of Apostille Services In bihar?
The cost of the apostille procedure basically depends on the type and the number of documents to be apostilled. However, the department involved also takes a role in this process. Due to this, travel expenses will also be included when you are handling the procedure on your own.
Most Popular
Services
Regular
Urgent
Cost
₹ 3900.00
₹ 4900.00
Time
6-8 Working Days
4-6 Working Days
Pickup Facility
Drop Facility
Same Day Delivery
After Attestation
Remove Lamination
People could call ND Universal to save all unnecessary travel costs. As your apostille service provider, ND Universal will not be charging anything more than that is necessary and will complete your document apostille in a very less amount.
How To Start The Process?
ND Universal's apostille service in Bihar is the most reliable service. You must reach out to our executive to hire us for your apostille. The process is initiated when the clients approach the firm's executives, who attend to the clients personally and complete all the formalities. Once that is done, the document and certificates get picked from the client's home. After they reach the office, the attestation process begins and both the client is provided an online tracking ID for the same.
ND Universal keeps track of the entire process and upon completion, dispatches your attested documents and certificates and they are delivered right at your doorstep. We will also update you about the process regularly. Blue Dart Dispatch, our delivery partner will provide the drop-off service to your doorstep. Also, your physical presence is not needed. Our team will handle everything without giving you any stress.
Highlights of Our Work:
Free document pick and delivery: You will receive free document pickup and delivery service as a client of ND Universal.
Brand Value: We've been in the business for more than eight years. We have lots of experience offering high-quality apostille services in Bihar.
No hidden fees: We will not ask you to pay more than is necessary. There will be no further costs if the proper grounds are not disclosed.
Efficient support: Our staff will always support you. Once you send us the query, we will answer you within 24 hours. You will receive your documents after the process is done.
Document tracking: With us, you will be able to track the documents online. Also, we will provide you with regular updates about the procedure.
Safety: We at ND universal are among those who attest your documents very safely. We ensure your documents security at every step of the procedure.
---
Why Choose ND Universal for Apostille Services in Bihar ?