What is Oman Embassy Attestation?
The attestation is the method of examining the authenticity of the document & declaring its authenticity by attaching it with the sign of the verifying personnel. The process requires the submission of original documents as well as a xerox of the same to authorized employees for verifying and required sign/stamp on the guided area.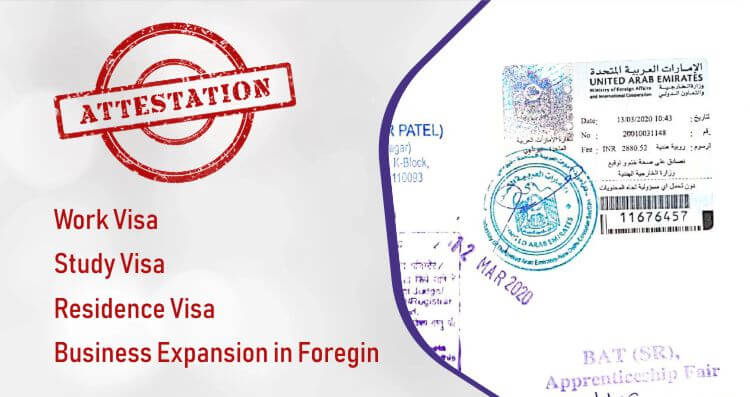 Purpose of Attestation from Oman Embassy?
If you are planning to visit a foreign country like Oman you will need to apply for a visa and as a matter of fact, the visa will be issued only when officials have verified your documents thus this make attestation of required documents necessary. Similarly, if you are looking for a family visa then attestation of the marriage certificate attestation is mandatory.
Everything About Oman embassy attestation: Legal Process & Documentation
Documentation is always a very important thing and it plays a crucial role in any platform irrespective of nature & complexity. Over time, the format of documents has evolved & become highly confidential. Fake documents have become a key and replaced the original ones and since then we see the rise in the concept of attestation.
Oman is a well-established, gorgeous & sophisticated Arabian country that has always opened its way for foreign expatriates. Be it for any personal purpose or for business setup in the country, the place has attracted investors from countries across the globe for business & other job opportunities.
Thus, with the rise in foreigners for business, job or leisure purpose, Oman, like any other country in the world, has made strict consideration to look out for the documents of the tourists. The government in Oman has made it a compulsion for expats to have documents attested for personal/professional and any sort of use.
Legal Process to Follow:
In order to attest your documents, there are 2 different types of legalized process to follow:
Embassy Attestation & Apostille Certification
Oman Embassy attestation is one method of examining the genuineness and originality of documents & then declaring it as authentic. This is ensured by attaching the papers signed by the designated authority. In this, there is a process to follow where you have to submit your original documents as well as the photocopies of the same to authorized personnel. They will verify and then sign it/ stamp it as per the requirement.
Further, if the country you are intending to travel to is a member of the Hague convention, then Embassy attestation won't really work. Apostille attestation for Oman in India becomes a must. If the intended country is not a member of the Hague convention then Embassy attestation is the right step. In such scenarios, Oman is a part of the Hague convention, thus, you must have an apostille authentication done to your certificates. One thing should be clear, apostille certification procedure is not the same for all certificates, it differs and is highly dependent on the country where the certificate was issued. If you are wondering, how many days will it take Certificate Attestation for Oman? It normally takes about 30 to 45 days for the process to be done.
Document Attestation for Oman
The attestation varies according to the type of document. Getting educational certificate attestation for Oman, commercial and so on is actually a part of security for them that ensures the Oman government that you are a genuine individual and you have all the needed documents to be considered valid. Doing so will allow you to visit the place with utmost trust and loyalty. If you are going to seek a job, your employer can have trust in you and rely on your documents for sure.
Procedure for Oman Attestation:
The procedure for the Oman embassy in India certificate attestation is not a direct approach and there are different stages that need to be followed by the government. This step will also clear your doubts on how to get Certificate Attestation for Oman. You will get a brief idea about the process and what to expect from whom. After this, the required action can be taken accordingly. But always remember, this process won't be possible without professional consideration.
Regional Level
It is the initial stage of the certificate legalization. This stage is basically for the verification to be done by the Notary of the university. Where your original documents were issued, as in the Oman Embassy in India certificate. It is the most important requirement to be accomplished to move further with the process.
State Government Phase
The verification of a certificate from the state government is taken into consideration by 3 different departments. As per the requirement of the types of documents, you need to approach different departments such as state home departments, HRD or Human resource department, and Sub Divisional Magistrate (SDM). All of these departments are independent of the state government. Yet, the legalized process considered with them is subjected to be as state government.
Ministry of External Affair
MEA is the last and final stage of the certification to be considered and verified by the home government. After all this, MEA will stamp and apply a verification mark on your documents. MEA is considered to be the central organization that is in charge of the external matters of the country. This is the final step, and once you reach here you can rest assured that your attestation process is finally reaching an end.
Embassy Attestation
This process is performed by the verified person of the county you are planning to travel to. This means the Oman government's personnel will make sure your documents are checked thoroughly and they are being legalized as well. It is the final stage of all the certification to be approved and considered authentic. For most of the country, the step after MEA is the embassy attestation and there needs to be no further consideration.
The process looks simple while reading, but actually following through can be intimidating. There are too many things to consider and you are sure to fail in any of the processes because of the lack of knowledge and unaware of the legal documents to be needed for the process. Save your time packing and shopping for the place to be traveled and leave everything to a professional.
What documents should be attested?
Documents could be your employment visa, family residence visa, higher education or admission of your child in school.
Different Document Attestation Process
For Educational Document
Attestation from the State Education Department (HRD only) of the concerned state
Attestation from Ministry of External Affairs (MEA), Government of India
Verification from the concerned universities
Culture Attestation from the Cultural Attaché of Embassy of the Sultanate of Oman on the original document
Non-Educational Certificate Attestation
Process A:
Notary Attestation from Mumbai, Maharashtra
Attestation from Home Department
Ministry of External Affairs, and
Oman Embassy Attestation, New Delhi
Process B:
Home Department Attestation from Respective State
Ministry of External Affairs, and
Oman Embassy Attestation, New Delhi
Commercial Document Attestation
Chamber of Commerce Attestation
Ministry of External Affairs, and
Oman Embassy Attestation, New Delhi
Documents Required for Attestation
Original Copy for the degree certificate.
Photocopy of the original certificate
Passport Photocopy
Embassy Fee
ND Universal Service Charges
Why choose ND Universal?
ND universal is a one-stop solution to your problems and you definitely can rely on the process that is followed here. The service ensures free pickup and delivery of your documents, so you need not have to travel and invest your time struggling outside. The facilities can be available in overall India for respective cities & states. The service provided is great and there is no chance of error or hassle. There are staff and support staff who answer queries and solve problems if any that is troubling you.
Pick Up and Drop Services
ND Universal offers free pick up and delivery of your documents. This facility is available in respective states and cities all over India. The services for free pick up and delivery are taken care by our partner, Blue Dart Courier Services.
Our Fee and Support
ND Universal, Mumbai offers great assistance for your queries related to the attestation of documents. You can call our support staff, for any support related to document attestation during office hours. We offer standard service charges for attestation of your documents. You can pay us either by Online Transaction or sending us the DD in the name of the company, located in Mumbai.
Feel free to drop us an email for any query,
ND Universal Pvt. Ltd.
WhatsApp: +91 80003 99331
Mobile: +91 80003 99331, +91 95370 89898
Email id: [email protected], [email protected]
---
Why Choose ND Universal for Oman embassy attestation services ?