Taiwan Embassy Attestation
Many Indians visit Taiwan for travel, residence, education, employment, business, or other work. For traveling to Taiwan or for a Taiwan Visa, Indian documents must be legalized and have Taiwan Embassy Attestation. Attestation ensures that a Government Department witnesses these documents as they bear the signature or seal of the authorized agency of the Government and can be used for traveling to Taiwan. The Taiwan Embassy Attestation is a crucial part of the verification procedure to ensure the genuineness and authenticity of the person and their documents.
Attestation of education certificates or commercial documents or any other document is a long and tedious process, and it's necessary to get it right. Otherwise, it results in loss of time and money.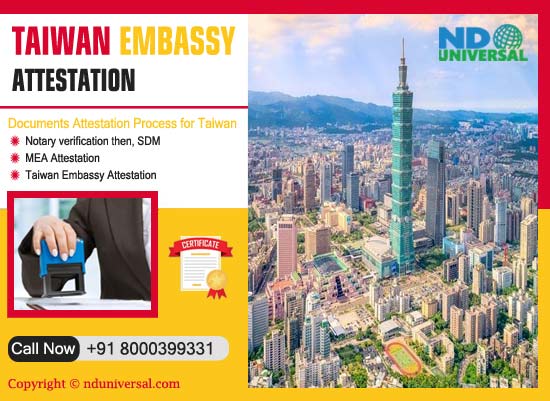 So, it is best to get the help of professionals such as our team at ND Universal who have in-depth knowledge of the procedure and can complete the formalities for you without hassle. The professionals at ND Universal have close to a decade of experience.
Your physical presence is not required for the attestation procedure of your documents or certificates. You need to send a photocopy of your passport with all the listed documents to ND Universal's Mumbai address. We have a standardized process that includes pick-up and delivery of the documents taken care of by our service partner Blue Dart. We take 7 to 10 working days to complete the entire procedure, and you will have the required documents attested for your travel to Taiwan.
What are the documents required?
There are a few essential documents that are required by the Indian Government to proceed with the Taiwan Embassy Attestation. These certificates are divided into -
The procedure for attestation of educational certificates is -
Your educational certificates and documents need to be attested by the State HRD or the education department from where your education degree/diploma, etc. were issued.
We will proceed to get the necessary attestations from the Indian MEA (Ministry of External Affairs) and the attestations from the Embassy of Taiwan in New Delhi.
Your educational documents include degree certificate, diploma certificate, any professional certificate like ITI, pre-degree certificate, and provisional certificates.
Non-educational certificates or Personal documents
The procedure for attestation of non-educational certificates involves attestations from the state home departments (GAD attestation), attestations from MEA of India, and Taiwan Embassy Attestation. The type of non-educational documents which need to be attested are -
Birth Certificate
Marriage Certificate
Death Certificate
Experience certificate
General Power of attorney
PCC Certificate
Fingerprint Certificate
TC certificate
Financial Statements
Competency Certificate, etc.
The procedure for attestation of commercial documents involves attestations from the Chamber of Commerce (where the company is registered), attestations from MEA of India and Taiwan Embassy Attestation. The type of commercial documents which need to be attested are -
Certificate of Origin
Memorandum of Association
Commercial invoices
Article of Association
Board of resolution
Why Choose ND Universal?
ND Universal is a trusted, and well-known provider for Taiwan Embassy Attestation services. Here are the key reasons why you should connect with the ND Universal team to get your documents attested for the Taiwan Embassy.
Quick, and reliable embassy attestation services by a well-groomed professional team
Round-the-clock services for clients from various geographies
High-quality document attestation for all embassy with a quick turnaround time
Pick-up and drop facility for documents
Optimum security is ensured for the client's original documents
For any other query or in-depth details, get in touch!
ND Universal Pvt. Ltd.
WhatsApp: +91 80003 99331
Mobile: +91 80003 99331, +91 95370 89898
Email id: [email protected], [email protected]
---
Why Choose ND Universal for Taiwan embassy attestation services ?