Libya Embassy Attestation
Libya is one of the countries in North Africa bordered by Egypt in the east, Algeria to the west, the Mediterranean Sea to the north, and Chad to the South. Libya is the fourth-largest country in Africa. If you need to head to Libya for business, work, education, or tourism and are planning to export things to Libya, you will need Libya embassy attestation for all your documents.
The documentation required for the Libya Embassy can be classified as below.
Educational documents such as Diploma certificate, Law certificate, Graduation certificate, PG certificate, Ph.D. certificate, Hotel Management Certificate, Management degree certificates, Education Transfer certificate, Technical degree certificate, Sports certificate if played at National and International level. Certification course document, if any.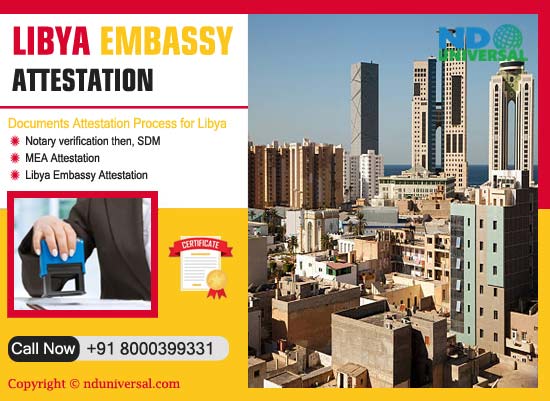 Birth Certificate, Salary Certificate, Marriage certificate, Divorce certificate, Equivalence certificate, Health fitness certificate, Experience certificate, Employer Certificate, Single status certificate/document, Bank statement comes under Non-educational documents.
Commercial Documents – Identification document, Certificate of origin, export invoice, certificate of incorporation, physical analysis report, Registration certificate, packaging list (if applicable), Power of attorney documents, etc.
Process for Education Documents attestation.
The sequential order of the process.
Documents must be attested by the State Education Department (HRD/Regional Attestation Centre) of the respective state.
Documents attestation from the Ministry of External Affairs (MEA).
Final - Libya Embassy attestation in New Delhi.
Process for Non-Educational Documents attestation
Attestation from Regional attestation center of individual state / Maharashtra Home Department (specific case) / Sub Divisional Magistrate (case-specific).
Attestation from MEA - Ministry of External Affairs.
Attestation from the Libya Embassy in New Delhi.
Process for Commercial Documents attestation
Attestation takes place in the below chronological order.
Step 1. Attestation from individual Chamber of Commerce.
Step 2. Verification from MEA - Ministry of External Affairs (MEA).
Step 3. Attestation from Libya Embassy in New Delhi.
Duration for attestation of the documents for the Libya Embassy.
The duration differs for attestation depending on the purpose of the Visa application. The turn-around time (TAT) may vary from seven days to ten days from the date of submission of the required documents. However, if you pay an 'urgent' fee, they may expedite the process for the applicant, and it can happen within 1-3 days. During the time of submission for attestation, applicants should ensure the accuracy of the documents submitted.
Consider the below points before submission of documents for attestation for the Visa Process.
All the original documents to be submitted along with the clear photocopy of each document.
All fees/Charges payment for Libya Embassy attestation should be through Demand Draft.
Ensure all original documents are submitted. Any fake certificate found makes your application void.
Ensure you clearly specify the purpose of the visa at the time of submission. Later, no changes will be accommodated.
You can opt for an urgent Visa process at an extra cost.
Why Choose ND Universal?
ND Universal is a trusted, and well-known provider for Libya Embassy Attestation services. Here are the key reasons why you should connect with the ND Universal team to get your documents attested from various embassies.
Quick, and reliable embassy attestation services by a well-groomed professional team
Round-the-clock services for clients from various geographies
High-quality attestation services with a quick turnaround time
Pick-up and drop facility for documents
Optimum security is ensured for the client's original documents
For any other query or in-depth details, get in touch with us,
ND Universal Pvt. Ltd.
WhatsApp: +91 80003 99331
Mobile: +91 80003 99331, +91 95370 89898
Email id: [email protected], [email protected]
---
Why Choose ND Universal for Libya embassy attestation services ?