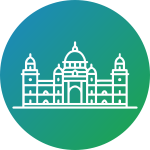 Apostille Services in Kolkata
In Kolkata, ND Universal provides a high-quality document attestation service to individuals who want to travel abroad. If you are someone wanting to go abroad for studies or better opportunities professionally then you can contact ND Universal for a document apostille. Individuals seeking help for document apostille who want to migrate permanently or those who want to open a business abroad can also contact ND Universal for document apostille. This Apostille agency will make sure to provide a variety of Apostille Services in Kolkata. Getting your documents apostilled is a must for those who are traveling to other countries.
What is an Apostille?
An apostille is a sticker given to the documents and certificates that are permissible for use in countries forming part of the Hague Convention. You can say that Apostille is a type of attestation that will verify and ensure that all the documents are legal. Documents and certificates will follow a defined procedure to get the apostille sticker. A point to keep in mind is that Apostille is not a one-step process. Documents must go through all the verification they require.
Apostilled documents and certificates can be used in ninety-two countries that are part of the Hague convention. The MEA (Ministry of External Affairs) is the authority that provides documents and certificates with the Apostille sticker.
Why and When Document Apostille is required?
Document Apostille is a mandatory process that has to be performed on the documents and certificates to use in the countries forming part of the Hague convention. Apostille of documents will help individuals to use them legally in these countries. Without Apostille documents, it will be illegal to use the documents. If you want to use your documents in the Hague Convention countries then an apostille stamp is necessary on all the documents and certificates. If caught, stringent actions can be taken against the user of the documents. Once you complete the process of Apostille for all documents then you can use them in the Hague Convention countries as the legalization process is complete. It is also mandatory to acquire a visa as the application without apostille documents and certificates will be rejected.
1. Degree Certificate:
Crucial for students and job seekers as it will help individuals obtain study and work visas.
As you complete the process of Degree certificate apostille, you will see the apostille stamp on it.
Those interested in working or studying in the countries forming part of the Hague convention should get their degree certificate apostille.
If you want to use a degree certificate in Hague Convention countries then you have to go through the Apostille procedure of degree certificate as it is a legalization process.
A Postgraduate degree certificate will help individuals get admission to universities or colleges. It will also help in applying for job interviews that need qualification proof.
2. Birth Certificate
A birth certificate is a personal document that helps state a person's date of birth, time, and place. It also helps in identifying nationality.
Apostille of Birth Certificate will help individuals prove the credentials they carry as a respected person.
It will help in acquiring school admission for children, college admission, and also to get a visa.
3. Marriage certificate
It is a personal certificate that carries information about two individuals being married legally.
It carries information like date, time, and place of marriage and includes general information on the two individuals.
Apostille of the Marriage Certificate is necessary as it is one of the most important documents that are required to migrate to other countries.
Apostille of the marriage certificate will help an individual prove their marital status in countries accepting the Apostille.
The applicant can easily authenticate the marriage certificate and get an Apostille stamp on it by going to the place where the certificate was issued.
4. Police Clearance Certificate
A Police Clearance Certificate is used to determine the previous criminal activities of an individual. In case you have not done any criminal offense (s) then it will help give you a clean-chit.
The applicants can get a Police Clearance Certificate (PCC) when they want to settle in other countries.
This certificate will help individuals prove their innocence. If the PCC certificate has an Apostille stamp on it then only it can be considered a legal document.
Apostille of this certificate will help the authorities of other countries to trust an individual. It will also be beneficial during the visa acceptance.
5. Export Document
The export document helps a business person set up the business in a legal manner.
If you want to do the business of importing and exporting in other countries then an Export certificate is necessary as it is issued by customs officers.
It helps in gaining the permission of authorities for commercial-related work.
Apostille of this certificate will help in company registration in another country including company expansion, export permission, etc.
You require an Apostille stamp on the Export certificate as it will ensure that the certificate is legal to be used in other countries.
6. Single Status Certificate
This certificate helps individuals in proving that they are not married.
It is used to prove the single status of an individual.
Apostille of this certificate will help individuals state the single status they carry on foreign premises.
7. Affidavit Apostille
An Affidavit is a certificate that helps individuals claim their birth name and change them if they want to.
An affidavit will help individuals in changing their name legally in another country.
8. Death Certificate
An Apostille of a death certificate will allow individuals to get the claim of a person overseas.
A death certificate helps in proving the death of a person.
Countries Accepting Apostille Documents
Apostille is not accepted in countries that are not part of the Hague Convention. The Hague Convention comprises almost ninety-two countries. These countries accept Apostille documents and certificates.
For using the documents and certificates in countries forming part of the Hague Convention, it is mandatory to have the documents and certificates verified by the relevant departments to get the apostille stamp. The visa application for any particular reason will not be approved unless documents having apostille stickers that make them legitimate and eligible for the process are submitted.
Process of Document Apostille
Different documents and certificates need verification from various government departments to be eligible for the apostille sticker. You can say that the apostille procedure will be different in each state and if you are wondering how to do the process of Apostille Attestation in Kolkata then you are at the right place. The documents and certificates should be verified by the in-charge department to get the apostille stamp from the MEA (Ministry of External Affairs). The following process followed for the apostille of documents.
1. For Educational Documents
The documents that a person can use to show educational background will be known as Educational documents. For educational documents, the following steps are followed:
To get an Apostille stamp on all educational documents you need to go through the step of Notary Attestation. Notary verification or legalization by the University.
After verification at the regional level, the documents will be eligible for verification by the HRD (Human Resource Development) Department that comes under state verification.
After verification from the above departments, they will be eligible enough to be submitted to the MEA (Ministry of External Affairs) which grants the documents their apostille stamp.
2. For Non-Educational/Personal Documents
For documents that are personal or non-educational, the steps followed are:
Verification of documents by the local notary from where they were initially issued.
After notary verification, they need to be verified by the State Home Department or SDM.
After verification by the above departments, they will be eligible to get the Apostille stamp from the MEA ( Ministry of External Affairs ) India.
3. For Commercial Documents
Commercial documents go through the following process of verification to get an apostille stamp:
The commercial documents obtain verification from the Chamber of Commerce. The local notary or even the state-level departments will play no role in this case.
After the verification by the Chamber of Commerce, the documents are eligible to get the apostille stamp from the MEA (Ministry of External Affairs).
The above steps should be followed systematically and not taken for granted. Verification should be done from all the required departments because the whole process will be affected if the documents are not verified accurately. If you are thinking about settling in another country from Kolkata then you should find the agency that will provide the service of Apostille in Kolkata.
What Does an Apostille Sticker Look like?
An apostille sticker is granted by the MEA (Ministry of External Affair) on the backside of documents and certificates. It helps an individual prove the legitimacy of their statements.
The apostille sticker is generated from the computer. It is square and about 9cm long.
Every Apostille sticker has a unique Identification digit.
This identification code helps countries that are part of the Hague Convention check the authentication and legitimacy of the information provided in the documents by scanning the sticker.
The apostille sticker is registered, numbered, impressed, and dates with a government official's seal.
For the countries that are a part of the Hague Convention, Embassy attestation need not be obtained. The Apostille sticker is provided by the MEA (Ministry of External Affairs), a central government department in charge of looking after every affair that includes foreign premises.
What if your documents are laminated?
Individuals having laminated documents beforehand should not try to remove the lamination by themselves as this might cause damage to the original documents, thus creating distress in the process. You can give us the documents in the way they are. Our professionals will carefully remove the lamination in a very safe manner without damaging the documents in any manner.
Documents Required for Apostille
Along with original documents, various supporting documents are needed for the process of an apostille. Some of the major documents are mentioned below:
Documents or certificates related to Education such as:
Certificate of middle and high school for graduation
Degree certificate for post-graduation
Apostille of these certificates and documents are needed to get a better education and job opportunities.
Documents and certificates that have personal or non-educational information such as:
Birth Certificate
Marriage certificate
Apostille of these certificates plays a major role in getting visas such as residency visas, family visas, or dependent visas including spouse visas of the countries forming part of the Hague Convention.
Supporting documents are mentioned below: (any 1)
Copy of Passport
Passport size photograph
Application receipt of the Passport
Photocopy of Aadhar Card
Photocopy of the Visa
Time frame to complete the procedure
The time taken by the apostille procedure can not be generalized as it depends on the origin of the documents, type of documents, and other factors that include how much department verification they will need. Every department works in a different time frame. Thus, the process can be stretched in many cases also. If you are wondering how much time this process Apostille in Kolkata will take then here you will find the answer. The process lags because the documents are held up for verification in many cases. Work that takes a week to complete stretches to months because of the delay.
An individual wanting to do the apostille on their own should keep in mind that the process is multi-layered. Hence it can be very tiresome and time-consuming too. One will have to visit different offices and have to wait for hours hoping to get the document. But, if you hire ND Universal, you will get your documents and certificates attached with an apostille sticker in just five to seven working days.
What is the Cost of Apostille
The cost of this process can not be generalized and the process will depend on the origin of documents, the state they are in & the number of documents to be apostilled. The cost highly varies based on the verification needed by the documents and the departments involved. Different types of documents go through verification from various departments in charge to check the legitimacy of the documents.
If an individual decided to get the apostille done on their own, then the cost of traveling during the process needs to be factored which will hike the cost. Choosing ND Universal will ensure that you pay less than the previous option but also enjoy a safe and fast apostille service.
Validity of Apostille for Kolkata issued documents
As the Apostille of different documents is completed, you must submit your all documents within 6 months or 12 months. Apostille documents normally have a 6-month or 12-month validity period. Apostille documents' validity can change from one country to the next. Apostille documents are valid for a lifetime in some nations. You can contact our executive for further information if you have any questions about the validity of Apostille documents in your country.
How to Start the Process?
If you are willing to hire us as your apostille service provider then you must call our executive. Our executive will attend to you personally and explain our process and clear any doubts you have. After clearing all the formalities, we will collect your documents from your place, thus starting the process of an apostille. You will receive the receipt when we collect the documents.
Once the documents are collected, we will start the legal procedure of attestation. You will be able to track the progress of your document online even as we keep updating you. Once your documents get an apostille sticker, we will return your documents safely with our dispatch partner, Blue Dart dispatch whose tracking details will be shared. The receipt will be provided once the documents are received. The pick-up and drop-off service will be free of cost.
Why Choose ND Universal?
ND Universal understands the pressure and trouble the multi-layered apostille service can give someone. The process is simplified by our professionals for your understanding. You can call us at any time to clear your doubts. We are available 24*7 for solving your queries. The steps followed by us for the apostille process will be the same as mentioned by the government. We work transparently and that is why you can be free of fear of anything including the safety of your documents. ND Universal will provide the best apostille service in Kolkata.
Our Highlights
Free pick up and drop off services :We provide our clients free Pick-up and drop-off services for their documents.
Value of Brand :We have 8+ years of experience and have been providing high-quality and authentic apostille services. We are a government-authorized apostille service provider.
High-end customer service :Our service will not give you any chance of complaint. We promise to help get your documents with apostille stamps within 5-7 working days.
Affordable cost :We will not charge more than necessary and the process followed will be transparent. Hence, you need not worry about paying extra money without any reason.
Tracking system :You can track your documents through a barcode provided by our Team.
24*7 customer service :You can call us whenever you feel like it and we will solve all your queries and problems professionally.
---
Frequently Asked Questions