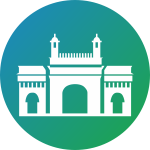 Document Apostille Services in Pune
Are you one of those who are struggling to get their documents apostilled in Pune? Are you also looking for someone to help you out in attaining the visa? Worry no more! We've got your back!
We are a team of professionals who specialises in all kinds of apostille procedures, be it educational purposes or non-educational purposes (such as employment visa, work visa or dependent visa). We are a group of skilled professionals who aim to provide the best services to our clients at an affordable rate.
Why and When Apostille is Required?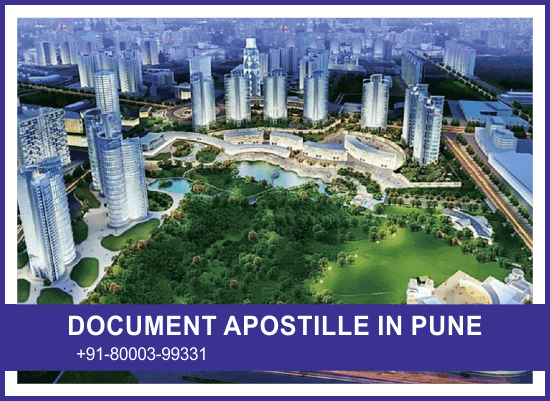 In general terms, an apostille is a document certification and authentication procedure which verifies and legalizes your personal and legal documents such as a marriage certificate, birth certificate, degree certificate, etc, which can be used in countries that are members of the " Hague Convention ".
Your documents will be validated when they will be apostilled by officials of your home country. The MEA, ministry of external affairs, verifies and puts an apostille stamp on all the legal documents, further which can be used abroad!
Certificate apostille is important for international uses like getting a visa, travelling to a foreign country, admission to foreign universities, for business or work purposes, etc. Let us understand the process of Apostille for different categories of documents in the below section.
Process of Educational Document Apostille Attestation
1. Notary
2. SDM or HRD Attestation
3. MEA Attestations
Process of Personal document Apostille Attestation
1. Notary
2. Home Department of Mumbai Mantralaya
3. MEA Attestations
Procedure for Educational Documents Apostille
Here is the brief Guide about the process of Attestation for educational documents at each step:
1. Notary
In the first step, the original document to be attested needs to be verified by the district notary of the home country.
The notary needs to put a stamp certifying the genuineness and authenticity of the educational certificate.
2. University Verification
Here, the educational documents are sent to the respective University along with a verification letter.
The concerned University then verifies the educational documents and puts a stamp mentioning "Verified & Found Correct" certifying the document.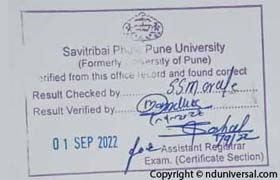 3. SDM/HRD Authentication
Here, the SDM or the Sub Divisional Magistrate at the state level needs to verify and legalize the certificates and legal documents to be attested.
It is a very quick procedure as it involves only one department for the concerned educational documents attestation.
HRD attestation is the process of obtaining an official stamp from the state HRD Ministry from (Mumbai Mantralaya)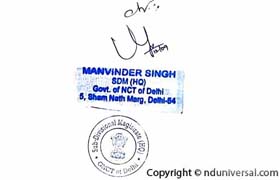 4. Ministry Of External Affairs
Following the completion of all the previous steps, the documents are sent to the Ministry of External Affairs.
In this process, the Ministry of External Affairs authenticates and certifies all educational documents by putting a stamp or signature.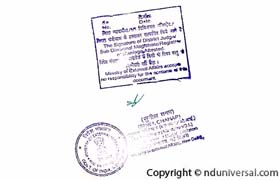 Note: If you are travelling to Portugal, Saudi Arabia, Italy or Austria, your documents must be attested from the HRD Department though SDM is Not Valid.
Click to get more details about HRD Attestation in Pune.
Here is the brief Guide about the process of Attestation for personal documents at each step:
Procedure for Personal Documents Apostille
1. Home Department Authentication
In the third step, home department authentication is performed to legalize the genuineness of your educational documents.
This procedure is performed by the officials of the State Council.
2. Ministry Of External Affairs (MEA)
Following the completion of the previous steps, the MEA or Ministry of External Affairs needs to authenticate and certify the documents to be attested by putting a stamp or signature on the credentials, which vouches for their genuinity.
Once this last process is performed successfully, you are now free to go to any country that comes under the Hague convention for your educational purposes.
Process of Commercial document Apostille Attestation
1. Chamber Of Commerce
2. Ministry Of External Affairs (MEA)
Do You Know How An Apostille Stamp Looks Like?
Click here to see Educational Document Apostille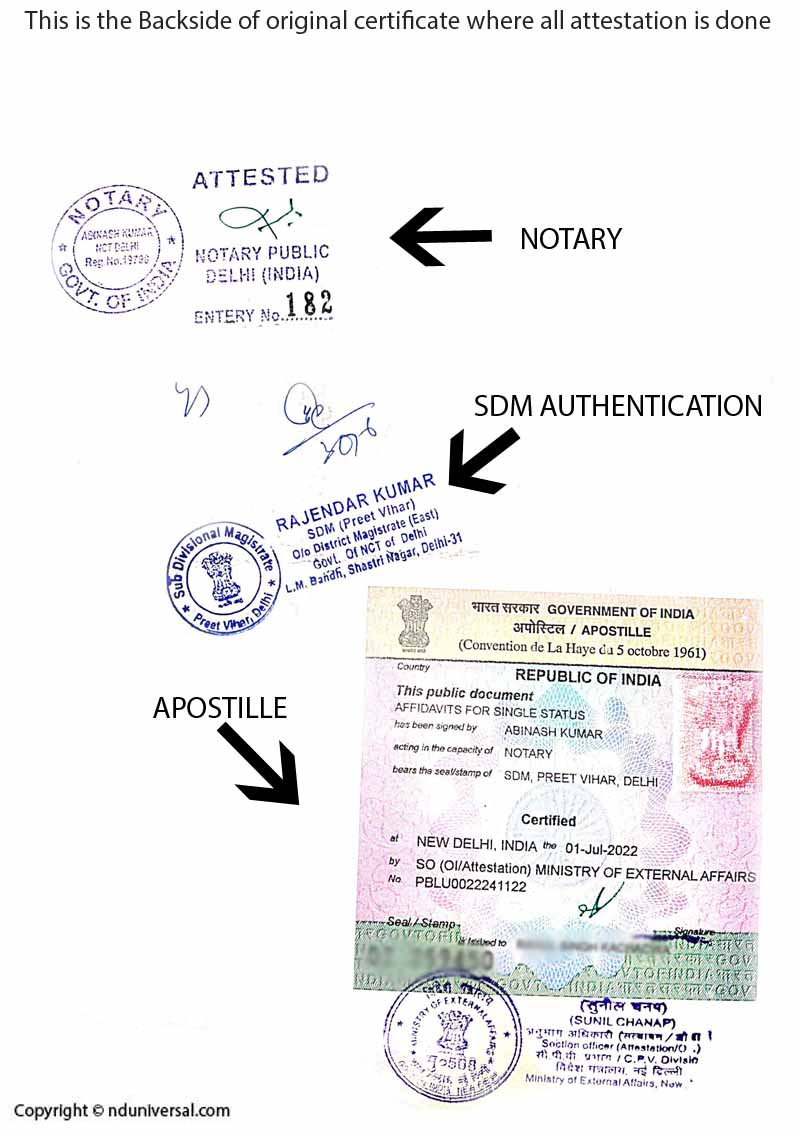 Click here to see Non-Educational Apostille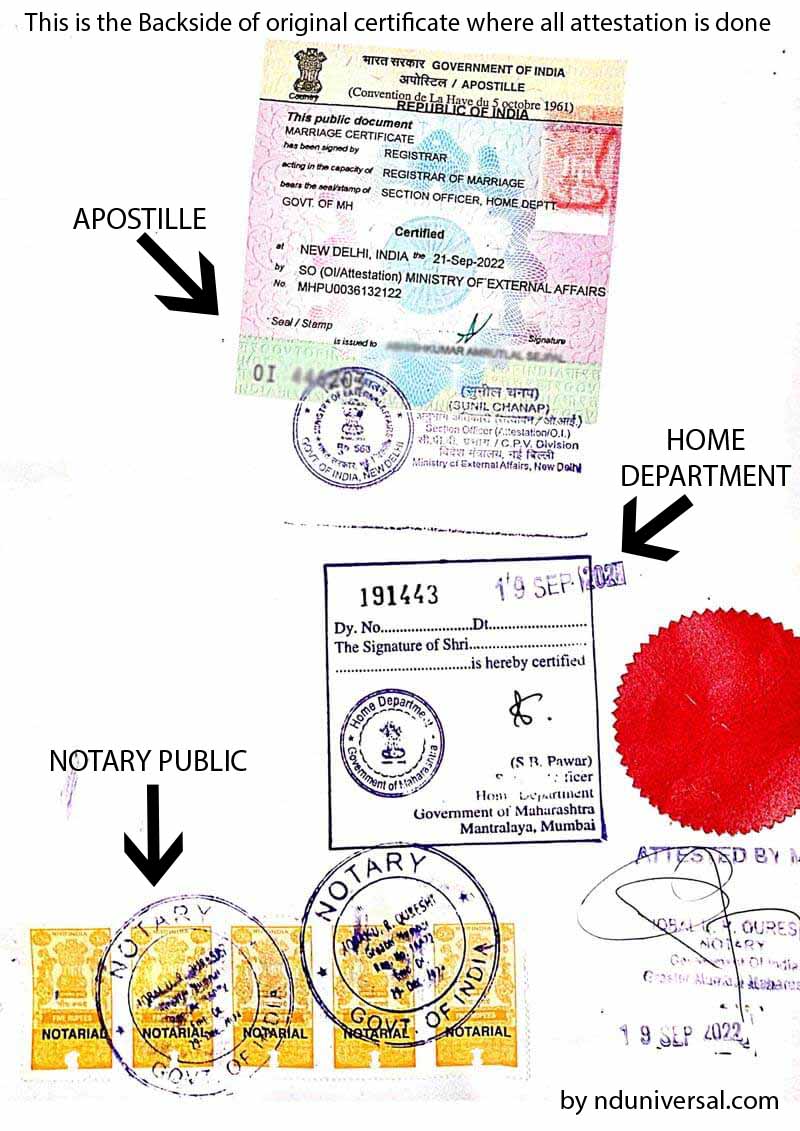 Where My Documents Will Go For Apostille?
First, it has always been done from the capital of the state nowhere wherever you stay in the state. As you are in Pune, they will be forwarded to the Mumbai department.
Documents and Certificates Required
1. Original certificates
2. Passport copy ( Front & Back)
Note: If you do not have a passport, you can submit your Aadhar card.
How Much Time Does It Take To Complete The Process?
The document attestation is a very time-consuming process. The several steps involved make it even more complicated and laborious! From the above sections, you can easily understand how much time it takes for a single attestation process to complete.
If you are someone who prefers to do everything by yourself, you will need a long time to complete the document apostille process and worst of all, you may make mistakes which make it even more complicated.
But, if you are someone who does not wish to go through such time-consuming and complicated procedures, we are here to serve you! Please do contact our team of experts in Pune to get your certificate attestation done at your doorstep, in just 5-7 working days.
How much does Apostille Cost for Navi Mumbai issued documents?
There are three different package options available here, so pick whichever services suit your needs best.
Most Popular
Services
Regular
Urgent
Cost
₹ 3900.00
₹ 4900.00
Time
6-8 Working Days
4-6 Working Days
Pickup Facility
Drop Facility
Same Day Delivery
After Attestation
Remove Lamination
If you're wondering what the next step is to begin the procedure, CLICK HERE.
---
Frequently Asked Questions
Get the Professional Apostille Services from ND Universal
We are one of the best attestation and apostille services provider with 9 years of experience. We provide same day pickup in Delhi, Bangalore, Hyderabad, Chennai, Pune, Kolkata and Vadodara.