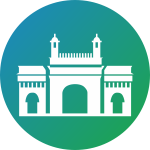 Apostille services in Pune with Free pick-up And drop facility
Nduniversal has got highly qualified team who can provide fast Apostille Services in Pune along with free pick up and delivery. The team can process all you task in limited time frame and will maintain the accuracy. They have been in this field from last 8 years and have multiple success stories.
Applying for a visa when you want to go for a long-term stay means you get to hear the term apostille. It means temporary or permanent residency, employment, work, or higher education, is the need that calls to apply for apostille services. The term 'apostille' refers to the mandatory documents to receive apostille stamps to show genuineness.
An apostille certificate is a legal stamp available to your documents and certificates. There are many validation and verification levels that you must go through as the legalization step. This process is of the central government. You can look for professional certificate apostille services in Pune so that the process is faster, and you get to complete the formalities easily to get your transfer abroad.
What are Apostille services, and when is it required?
Apostille refers to the certification of documents, and it formally proves the credibility and authenticity of documents. The sticker or apostille stamp is stuck to the document back, and it confirms the record online. It allows the authorities to check the details. However, there is no need for additional certification. The apostille document eliminates document legalization requirements on traveling to foreign nations.
The apostille is about certifying documents as mentioned in the Hague Convention. It is as per the requirements of the country you want to go to so that it is admissible. The Hague Convention signed in 1961 accepts an apostille and does not need further attestation of documents. It is legally acceptable around the world in 116 countries on documents. This format is acceptable by most European and American countries.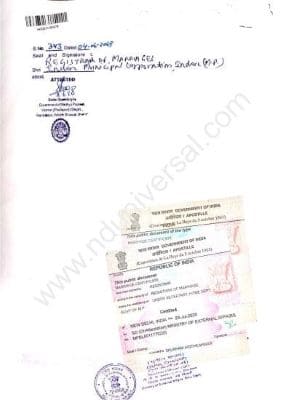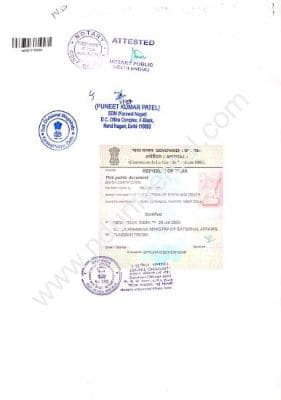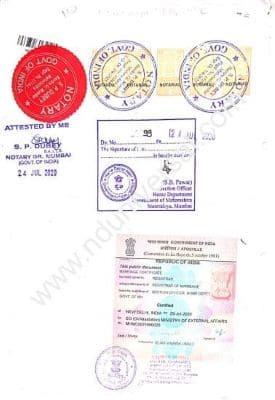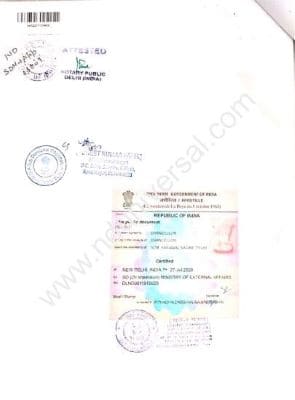 Sample copies of documents apostille stamp
Types of Documents requiring Apostille
The documents for the Apostille stamp to travel to another country in the Hague convention include:
Personal Documents
It is suitable for travel purposes in another country. It may be a marriage, vacation, family occasion, and so on, where the personal documents need an apostille. The apostille procedure for personal documents includes attestations from the Notary, SDM or Home Department, and finally, the Ministry of External Affairs apostille stamp.
The personal documents list includes Marriage and Birth certificate, Medical certificate, Police clearance certificate and many more.
Educational Documents
The education documents require apostille for many reasons, such as higher studies, employment, or employment visa. The apostille procedure for educational documents includes respective University verification and attestations from the Home Department HRD or MEA apostille.
The educational documents list includes Degree Certificate, Diploma Certificate, PG Degree certificate, Mark sheets, MS certificate, SSC certificate, HSC certificate, MD certificate, and so on.
Commercial Documents
People traveling for reasons such as Import or Export, or starting a new branch or company need apostille attestation on commercial documents from the Notary, Ministry of External Affairs, and also from the respective Chamber of Commerce.
The commercial documents list includes Certificate of Origin, Export invoice, Power of Attorney, MOA, AOA, Board Resolution, Agreement, Health certificate, Manufacturing license, Analysis Report, and Shareholder Certificate.
What is the need for doing Apostille?
The Apostille is a must so that it is attached as a seal or stamp to your original document. It verifies as your document being authentic and legitimate to be acceptable in the countries that are the Hague Apostille Convention members.
Apostille is a must if you are a visiting foreign country for any of these reasons:
Business or corporate purpose
Admit in foreign school for education
Work visa or employment
Giving power to someone
Planning to take family or spouse as a dependent visa
Exporting goods
To conduct legal activities
Work Visa
Study Visa
Family Visa
Business Develop in Foreign
Who can Apostille the document in Pune?
There are many agencies in Pune that are reliable. But ND Universal is one among offers hassle-free services. You can arrange to pick and get the documents to drop at your home. However, if you need it in a short time, you must call ND Universal immediately.
The charges depend on the documents, information, number of documents and the need for it determine the price.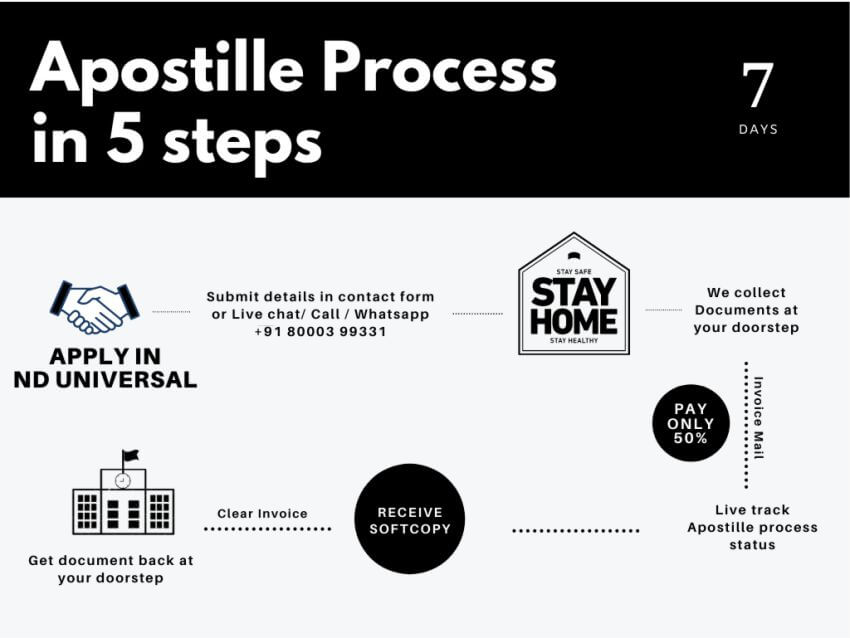 What is the duration?
The process has a timeline to complete. Yet the document and the issuing state determines the time process. Normally, in Pune ND Universal will get you apostille in 5 to 7 working days. However, when the attestation is to come from the HRD Ministry, it will take more time.