Medical Certificate Attestation
Medical Certificate attestation is the legalization of your medical-related documents to prove your health condition status before traveling to a country. It is very important for getting a visa because it acts as proof of the candidate's health.
We, ND Universal, based in Mumbai, are a very well-established company with a team of experienced and skilled people who can help you with certificate and document attestation.
Our services include different kinds of attestation and translation services (required in case documents are not in the English language or any other language that is preferred for attestation).
We, as a service-providing agency, help you in the collection of applications and other documents needed for attestation for any purpose.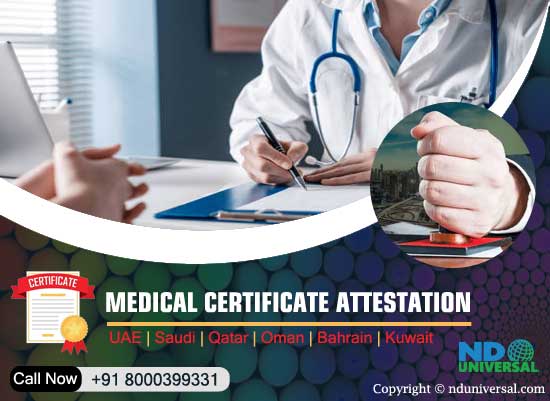 Before stepping into any country, your medical certificate attestation is as important as the attestation of any other document. All services for medical certificate attestation and attestation of other documents are provided by us.
Benefits of Getting Medical Certificate Attestation
Getting a medical certificate attested is as important as getting your visa approved because of the following reasons-
Supports your reasons for extended leave in work in Gulf Countries like UAE, OMAN, QATAR, KUWAIT, SAUDI, BAHARAIN (short term and long term)

Sometimes, there are medical issues that require you to stay at home and rest. Though, your job may demand you to work consistently. So, to support your reasons for taking a leave, you need to produce a medical certificate.

Necessary to get an extension and salary when you're on a leave for medical purposes

Having a medical certificate helps you to get your salary at the end of the month even when you're on leave. It supports your reasons for being on a leave from work for medical reasons. It also helps you in getting an extension if you require it for the same.

Medical insurance

Sometimes you might not have the money to cover all your medical expenses. Issuing a medical certificate will help you get medical insurance to cover your expenses completely or partially.

Availing medical benefits from different organizations, your workplace, or the government

If you want to avail all medical benefits from your workplace, the government, or some organization, it is essential to produce a medical certificate.
The Procedure of Medical Certificate Attestation for UAE
The decentralization of the process of Medical Certificate by the Ministry of External Affairs or MEA has made it a very long and tiresome process. However, we are there to help you throughout and get your certificate attested without much hassle. The medical documents are verified and stamped by the new authorities, i.e., the officials of the MEA who are the RPOs and branch secretaries. The entire procedure is described below in detail:
Step 1: Notary
The first step is to get your medical certificate attestation from your local notary. The local notary needs to attest to your document with a stamp and/or signature. This is the most essential step for the attestation of all types of documents.
Step 2: Home Department
As the medical certificate is a type of personal document, you need to get this document attested by the Home Department of your state. They will carry the verification process further.
Step 3: SDM
The third stage is rather optional. It may be required by the organization or authority where your attested certificate is to be presented and they may demand to get the document attested from the Sub-Divisional Magistrate.
Step 4: MEA
While applying for a visa, the country which you are planning to visit will want you to provide them with an attested copy of your medical certificate. The Ministry of External Affairs will attest the medical certificates with a specific signature or stamp for the same.
Step 5: Embassy
In this step, the Embassy of the country that you are planning to visit will verify and authenticate your medical document. This is the final step in getting your medical certificates attested.
The process undoubtedly is lengthy, which is why people rely on us to get their medical documents attested in the easiest possible way and in the least possible time. With our help, you will get your paperwork done and dusted, and delivered to you at your doorstep. This will save you a lot of time and energy, which you would have otherwise spent by standing in the long queues and traveling from one location to another.
Duration of the Procedure
The duration fluctuates depending on the documents that need to be attested and in which place the attestation is being done in the local notary. It usually takes about 7 to 9 days, but it may differ from case to case.
Who Must Apply?
Getting your medical certificate verified is compulsory for providing your authenticity. Job-holders, students, and people willing to move to a foreign country need to get their medical documents attested to be eligible to avail all medical benefits and make insurance claims.
Why Should One Apply For Medical Certificate Attestation?
Medical certificate attestation is mandatory not only for visa approval but for other purposes as stated below-
For short-term or long-term leave from work, schools, or institutions.
For getting an extension, and claiming salary when on leave for medical issues or reasons
To get medical facilities abroad
To claim insurance
To claim medical benefits from the government or the concerned organization
To certify your health status in foreign countries.
The fee charged for the attestation isn't fixed and keeps changing with time and needs. You can get in touch with ND Universal for guidance and fee structure. The charges also depend upon the country you want to move to and the fees each department charges and may change accordingly.
Charges for Attestation
The charges will differ from document to document and state to state. So a single cost cannot be predicted for all the documents. It is advised to take help from professional agencies to estimate how much the entire procedure will cost. We, here at ND Universal, would be glad to walk you through the entire process and give you an insight into the approximate cost that will be involved, according to your personal needs.
Reasons to Choose ND Universal
Medical certificate attestation can be a very time-consuming process if you do not have the right guidance.
We, at ND universal, are experienced and tailor-made for all your requirements like getting your medical or other personal documents attested.
We provide the best services that make the process smoother, easier, and less time-consuming for you.
Our team of experts will be helping you throughout the procedure and you are welcome to consult them anytime you have any issues or queries.
We are proud of our exceptional customer service. We update you about every step and deliver your documents back to you safely and securely after the completion of the attestation procedure.
We handle your documents with utmost care and take all the necessary precautions from the very beginning to the end of the procedure.
Our Services and Process
Personal document attestation and commercial document attestation are both provided by our services.
You need to provide us with all your original copies of your documents, their photocopies, a clear photocopy of your passport, and the embassy, along with the payment of our charges.
You can pay fees by cash, NEFT/RTGS, or address the draft to the company (Name of the company, Mumbai).
The attestation process is time-taking and may take up to 7-10 days.
We'll make sure you remain stress-free and we do all the hard work. You can deliver your documents to the various pick-up centers available in different cities in India. Your physical presence isn't required for the process. Our team in Mumbai will oversee your attestation process. We've collaborated with Blue Dart courier services to ensure the safe pickup and delivery of your documents.
Contact us and we will be more than glad to assist you through the entire process.