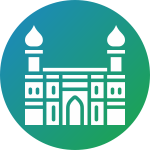 Certificate Attestation in Hyderabad
Traveling abroad is something that everyone wishes for, but many fear it and take a step back from their plans due to the long and complicated process.
The procedure of certificate attestation is one such process that makes people think twice about their plans to travel abroad. Well, if you are one of those travel enthusiasts, you don't need to have such doubts about your plans.
At ND Universal, we would make sure that all your documents are attested and verified by the government officials within a short period.
Certification attestation services in Hyderabad would be very stressful if you don't find the right agency for guiding and helping you in the process.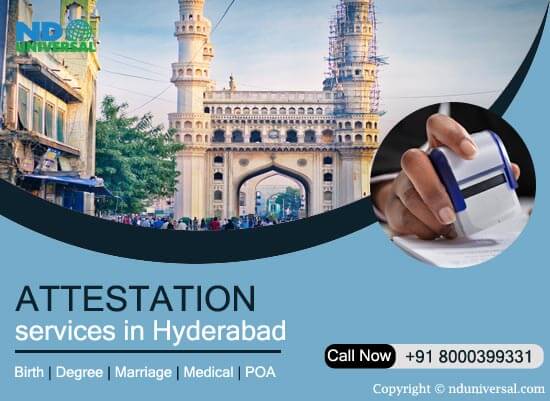 The process would require approvals from the regional government offices to the Ministry of External Affairs; hence it is quite clear that a huge amount of consideration and care should be taken in each step of the process.
It is not a process that can be completed within a single day or by taking a single step. Hence, searching for agencies that give you a complete idea about this process is essential.
This is where the role of our services comes in. The professionals at ND Universal will make sure that all your documents are taken care of, and all you would need to think of would be your other priorities.
How to Obtain an Attestation Services in Hyderabad?
There are many verified certificate attestation services in the state of Telangana, especially in Hyderabad. Searching for such places yourself would be time-consuming; hence there are many other ways to look for such certification attestation services.
One of the methods would be the referral method, where you ask your colleagues, friends, relatives, or neighbors for names of such attestation service provider in India. You need to go for an approved certificate verification and validation agency, as it makes sure that your documents are in safe hands and won't be tampered with in any way.
They would know the latest tips and tricks for getting the job done. The specialty of such attestation-providing services will be their fast and convenient service and quick verification or attestation of documents. They will get the documents attested from all the needed government officials in the least possible time.
What Does this Service Do For You?
These services are for all the Hyderabadians who wish to travel abroad. Certification Attestation services would provide you with help and guidance for getting all your documents approved by the government. Getting the attestation done on your own can be a very complex process as it involves the role of both the regional/state government and the Ministry of External Affairs.
Hence, getting the help of such services is advised. Our experts would handle the situation with much care, as we know all the handy tips and tricks for getting your documents attested within a short span of time. The other reason would be our work culture and technique that is well-loved by both customers and government officials.
Why Do You Need Attestation?
Attestation of the certificate has many benefits. Here is a small sketch of the various benefits it provides:
Educational Benefits:
For all those who wish to study abroad, attestation is important.
You can easily get your employment visa if you have attested certificates.
Those looking forward to staying abroad after studies for job opportunities can do so if they have their document attested.
You can easily get admission abroad for your child if you have your documents attested.
Non-Educational Benefits:
For both yourself and your family, the process of getting a residential visa would be easy after getting your certificates attested.
You can get both national and international validation if you have your certificate attested.
You can easily begin your business over there because of your attested certifications.
Since the purpose of your visit is transparent to the officers, they won't cause you any problems.
You can easily access all the facilities over there.
Who Must Have the Certificate Attestation?
It is an obligation of any traveler from foreign lands to have their certificate attested. It is used as proof of the applicant's intentions for traveling to a foreign country. It is a certification of the authenticity of your purpose for traveling abroad, and thus aids you in your trip.
The following individuals should have the certificate attestation:
Job opportunities: Individuals who are seeking job opportunities abroad.
Travel Uses: This is to verify the true intention of the traveler. With the help of such attested documents, you can easily travel around.
Establishing a business would be easier if you have these documents.
The universities and schools will easily provide you admission if you have these certified documents.
Residential uses: For families that are moving abroad, these certificates can help verify that the members are moving out of the country for residential purposes only.
What Are The Categories Of Document Attestation?
There are three types of documents that need to get approved:
Educational
Commercial
Personal
Our agency offers the best and most trusted services in the state of Telangana without any trouble. The agency that helps you in the process of getting your documents attested will make sure that your documents like marriage certificate and birth certificate are also attested.
They also make sure that your educational documents like degree certificates, mark sheets, school leaving certificates, etc. are also verified. The commercial and Personal documents include the Birth Certificate, Marriage Certificate, board resolution, memorandum of association, and certificate of incorporation which will get attested by the government.
What Is The Process for Document Attestation?
With the help of our company, ND Universal, you can breathe a sigh of relief. Our professionals will be at your doorstep whenever you need them, providing the most efficient performance that any organization has rendered so far. It is the most reliable among all the companies.
STEP 1: Regional level
The first stage of the procedure is certificate authentication. We start from the university that issued the document or the seal in the first place. In the case of the commercial papers, attestation is obtained from the Chamber of Commerce.
STEP 2: State Level
The certificates legalization is done through three organizations depending upon the document that needs to get attested. We get the attestation to your documents from the state you reside in. The three departments are the State Home Department (SHD), Human Resource Department (HRD), and Sub-Divisional Magistrate (SDM).
STEP 3: National Level
The government issues the MEA stamp and we get the same for your documents. This is the last step where the government of India will be working on authorizing your documents.
STEP 4: International Level
This is where the attestation is received from the other country's officials (Embassy). They will go through your application one last time and then give the final attestation, allowing you to travel to and from their country.
How Much Time Is Required?
The time that is required for processing these documents depends upon the traveler's purpose of travel. Normally it would take a few weeks to months for this process. According to the requirement of the traveler, the list of documents that need to be attested will increase.
Here is just a glimpse of the various factors:
The country you want to visit
The authentication type they need
The document types or the organization you need it from
With the help of our services you can get all these done at an affordable rate within a short time
What Is The Cost For Certification Attestation?
The price for attesting your documents in Hyderabad would depend upon the services that you opt for. It also depends upon various other factors like:
The requirement priority
The place of issue of the documents
The urgency
Extra services such as pick-up and drop facilities for the documents
Why Choose ND Universal?
Trust is an action word that usually takes a lot of time! Especially when it comes to agencies that deal with valuable documents like birth certificates, marriage certificates, and educational documents. There are many services out there especially in highly populated areas that state their services can be trusted and is 100% reliable, but none of them would ever be able to show proofs of such claims, but you can see the proof of our work.
You would be able to get the best services even at your doorstep when you want them. Anything is possible with ND Universal, all you have to do is trust us!