Everything You Need to Know About Degree Certificate Attestation
You study for four to five years or even more to get a degree. However, do you know that your degree might be invalid even after all the hard work of all these years? Yes! Read on to know why I say this and how can you make your degree valid with just a small attestation process.
A degree certificate is one of the most crucial documents that an individual earns after studying hard for years. This educational document tells what exactly have you studied and how good you were. However, this document is generally invalid without authentication from an authority. This authentication process is called attestation.
What is Degree Certificate Attestation?
Degree Certificate Attestation is an act of witnessing, authenticating and legalizing a degree of an individual by an authoritative person or department. An official seal and signature on the degree certificate by the concerned authority, make it a legalized document. This process makes the degree certificate legal and valid to be used anywhere.
Usually, degree certificate attestation is done from the issued country of the certificate. However, if you plan to travel outside your country for the purpose of undertaking a professional role or pursuing higher education, the embassy of the country you are planning to go attests your degree certificates.
Why is Degree Certificate Attestation Required?
Attestation of degree certificates or any other certificate for that matter is basically required when you have to present your certificates to some institute, organization, department, country, etc. for your admission inside it. If the place you are seeking admission is in the same country from where your degree certificate has been issued, you will have to get it attested in the same country.
However, for visiting a foreign nation, you need a visa for that particular country. In addition to it, many countries need degree certificate attestation for permitting foreign residents in their country, especially if these people are visiting for educational or professional purposes
For example, if you are visiting China with one or more of the following objectives, you need to get your degree certificates attested from the China Embassy.
For a professional position with a Chinese organization
For a professional position in the Chinese office of an Indian organization
For starting or investing in a business in China
For getting a family visa of China
For settling in China
For getting your child admitted to a China-based school
For getting your marriage or birth of a child registered in China
For getting medical and death benefits and transferring power of attorney
For pursuing education in China
How to get a Degree Certificate Attested?
There are authorized agents in the market who can get your degree certificates attested in a hassle-free manner. You simply need to find one and provide him with all the required documents and the agent will help you through the whole process of attestation.
Process of Degree Certificate Attestation
The process of getting your degree certificates attested has several steps or levels of attestation. If you are applying for a China visa, you cannot simply hand over your educational documents to the China embassy for attestation. Instead, your documents will have to go through the following procedure.
Regional Level – The first level of authorization or attestation has to be done by a notary or the University that issues your educational documents. This step precedes all the other steps of the attestation process.
State Government – Attestation of educational documents at the state level is usually performed by one of these two departments – State Home Department (SHD) or Human Resource Department (HRD). The requirement and state of the origin of the document decide which department will be attesting to a particular document.
Stamp of MEA – MEA or Ministry of External Affairs is a department of the Central Government of India. Authorization of documents from this department is the last step of attestation from the home country. Once this is done, the documents can be forwarded to the Embassy for the final attestation process.
Embassy Attestation – When the documents have been approved from all of the above stages, they reach the Embassy for the final step. Here, the officials of the respective country in question, verify and attest to the certificates.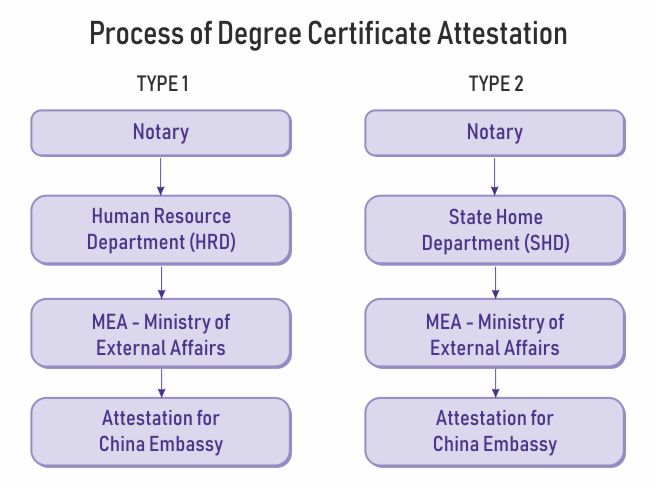 Documents Required for Degree Certificate Attestation
Below is the list of documents needed, along with the application form, forgetting your educational documents attested.
Original and photocopy of the legal documents that are to be attested
Signed cover letter mentioning the list of the documents to be attested and the purpose of attestation
Original and photocopy of a legal identity card of the applicant
Original and photocopy of a legal identity card of the agent, if any
Why ND Universal?
Getting your documents attested by an Embassy for the purpose of the visa is a very tedious and time-taking job. Moreover, it is a long process taking around 8-10 working days. It might even take longer than this if there is a problem with the documents. In addition to it, this task involves taking documents from one step to another, which will mean taking documents from one state to another.
Thus, now you know that no matter how easy the process of degree certificate attestation looks like, the reality is different. Hence, hiring an agent who can do all of this for you is definitely a good idea.
ND Universal has been a market player in this field for more than fourteen years now. In the past one and a half-decade, we have done the attestation of certificates for thousands of customers. We not only have sound experience in this area but also know how to keep your documents safe and secure.
Since we have been in the market for a very long period, we have developed an army of experienced people who know how to get your work done in the minimum number of days. Also, we work dedicatedly towards making the process of attestation stress-free and happy for our customers.
Feel free to drop us an email for any query,
ND Universal Pvt. Ltd.
WhatsApp: +91 80003 99331
Mobile: +91 80003 99331, +91 95370 89898
Email id: [email protected], [email protected]