UAE Embassy Attestation in Bangalore
People might need to travel to the UAE for many reasons, either for education, a vacation, a business trip, or for just attending some ceremony. But to travel to the UAE, you will first require a visa, for which you will need attested documents.
You might also need to either present some attested documents to the officials in the UAE. Thus, attestation is quite an important procedure, and therefore it is advised to find a company that can assist you in getting your documents attested by the authorized officials.
You might face some issues if you go for the procedure without any prior knowledge because it is not easy to get your documents attested and the process is long and tedious as well.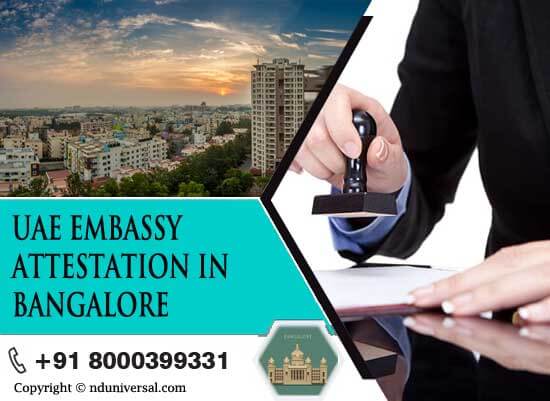 Purpose of Certificate Attestation in Bangalore for UAE
When the embassy attests your documents, as in, gives you the attested certification, it means that it verifies for that respective nation that you are visiting that country for legitimate reasons and that you mean no harm to them. No individual can get a visa for some other country without some reason, though; there are some countries where you can get a visa on arrival. This certificate is also used to get a visa that gives you permission to not only enter the nation but also stay there; depending upon the type of visa you have applied for.
On a travel visa, you do not get a lot of time for staying, but when you go for other reasons like study or work, you can be given a permit to stay for a longer time. Several attested documents are also required for either admission or job purposes. People have to present the calling letter to get everything approved. There are many embassy attestation offices for the UAE Attestation in Bangalore, but ND Universal is one of the most popular ones.
Who Must Apply For This?
People who are visiting UAE for either a job or for getting admission to a university can apply for attestation. Also, anyone who wishes to go to the UAE and has to present any kind of documentation must get that document attested. You need to get every document that you take to a foreign country attested from the embassy as almost every nation has very strict laws when it comes to document attestation. Presenting non-attested documents might land you in legal trouble in a foreign land. UAE Attestation in Bangalore can be done easily if you contact us, at ND Universal.
Why Is Embassy Attestation Important?
It is important to get your certificates attested by the embassy because without that the documents are not trusted as valid. This is a process to verify in a foreign land that the given documents are legal and valid and are true to the information. It is important because, when someone travels outside the country, the other country has no way to verify the information provided by them, and they have to rely on the native country of the visitor. Thus, these rules have been made in each country, that the embassy of that country will be responsible to manage the verification and validation process of the documents.
People need to get their documents attested to get their visas. Also, they need it to get admission into the universities where they have applied. There are different types of visas. Some of them are listed below:
Work Visa: When you wish to work in some other country, you need to get many documents attested. You must gather the information on the list of documents that they require from you and get all of them attested so that your visa can be approved.
Study Visa: When you want to study in a foreign university, you need a study visa. Here too you need to get many important documents, like your degree certificate, attested.
Family Visa: When traveling to the UAE with your family, you will require a family visa for which some important documents need attestation.
Business Development in UAE: When you are planning to expand your business in a foreign country, you will need a business visa for which you will required verified documents of your company attested.
This is a four-fold UAE attestation procedure in which the document goes through 4 different departments and the final attestation is done by the embassy.
Step 1: Regional
This is the initial verification of the document, and it is done by the university or by a notary where the person has studied or lived. The region is where the document has been issued.
Step 2: State Government
After the regional verification, the second verification is done on the state government end. Three departments are involved, namely the State Home Department, Human Resources Department, and the SDM.
Step 3: MEA Stamp
This is the last step of certification before the document finally reaches the Embassy for attestation. The MEA stamps the documents in this important step.
Step 4: Embassy Attestation
The last step of this process is the embassy attestation, where the Embassy of UAE in your country attests to your documents. For the UAE Embassy Attestation in Bangalore, you can rely on ND Universal.
The Cost of UAE Embassy Attestation
Here is the the cost of UAE embassy attestation for educational and non-educational documents:
Most Popular
Services
Regular
Normal
Urgent
Cost
₹ 7100.00
₹ 8100.00
₹ 9100.00
Time
15 Working Days
8-10 Working Days
4 to 6 Working Days
Pickup Facility
Drop Facility
Same Day Delivery
After Attestation
Remove Lamination
Note: No extra/added cost. Pickup and Drop charges are already added. In case you courier your documents an amount of 250 will be deducted from the cost.
---
Why Choose ND Universal For Embassy Attestation?
There are multiple reasons for choosing ND Universal's services but the most important among them is that we are well-versed with the procedure and can get it completed with proper accuracy. If you need to get your documents attested by the Embassy of UAE in as minimum time as possible, you can trust our services to help you throughout. We have been in the market for a long, and thus we are aware of the kind of services the customers require. We also provide you with the services of pickup and drop from your door. This is something that saves a lot more of your time and is also a free service. You will only be required to pay for the services that we provide for the attestation, and all other things are taken care of by our organization. Also, even if you think that you want to just get a brief about the services, you can call one of our agents and get the information.
Another reason for an individual to pick us as their attestation service agents is that we are available 24/7 for your queries, and we provide you with timely updates on the status of your documents in the procedure. Additionally, we have a panel of experts and professionals who handle the documents with the utmost care from start to end. Thus, ND Universal can provide you with the best possible available services.
---
Frequently Asked Questions