Guaranteed Apostille Services In Surat In Just 7 Days
You will find many apostille services that are dedicated to helping people with their document attestation in Surat in the right and reliable way. However, the real job lies in finding the right company for you to get your documents attested. Many of the service providers are slow and others do not follow the official instructions and guidelines properly. You need a trusted service provider who you can hire and sit back at ease.
We, the ND Universal are considered the best choice for providing apostille and document attestation services because we are not only government-affiliated but we also thoroughly help our clients by making the process of an apostille easier for them as we provide them hassle-free assistance.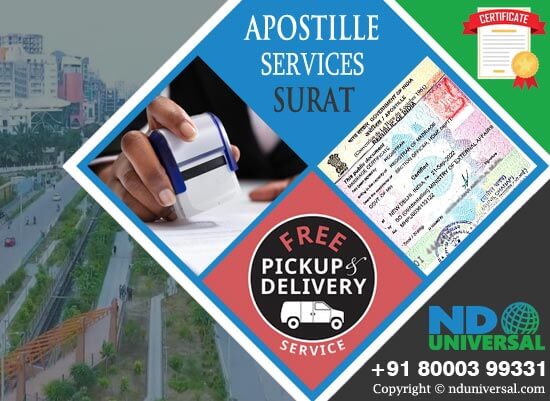 We assure you that it will be a great decision to hire us as your service provider and you will not have to worry about the quality and your documents will be delivered to you in a very less time without you having to worry about the tiresome process.
What Is An Apostille?
Apostille is, simply, a sticker that is used to verify the documents and certificates which you would be using in another country for having access to different services and facilities over there. The sticker is provided to the documents only if they can pass the general verification which is done. The type of verification also depends on the type of document that is being verified.
As of now, ninety-two countries around the world accept Apostille. An apostille is required if you are willing to travel to a country that is a Hague Convention member. The MEA ( Ministry of External Affairs ) provides the stamp of Apostille to the documents and certificates. The MEA is the central level department that is responsible for dealing with all the issues and matters related to a foreign land. The documents and certificates will get legalized for usage in the country that is part of the Hague Convention after being apostilled.
Why And When Document/ Certificate Apostille Is Required?
If you want to travel to another country that is a part of the Hague Convention, then you need to get your documents and certificates apostilled. Apostilled documents are a must-have for getting your Visa and the documents will also have the eligibility of being used only if they are apostilled. You will not be allowed to cross the border to other countries that come under the Hague Convention if your documents are not apostilled. Legal actions may also be taken against you if you get caught using documents and certificates that have not been apostilled.
Degree certificate
It is important to get your degree certificate apostilled because it helps you in acquiring work visas and employment abroad.
If you want to complete your higher studies in the nations that come under the Hague Conventions then you will need to get your degree certificate apostille. Without getting your degree certificate apostilled you will not be able to go for admissions in their colleges or universities.
You can easily find a job and get admission to the universities or colleges of your choice abroad if your certificates and documents are apostilled. Your degree certificate will have no use in a foreign land if it does not have the apostille sticker.
Birth Certificate
You can get a children's visa if you get your birth certificate apostilled. As a personal document, it is important for you to get this document apostilled.
Getting your birth certificate apostilled helps you prove your credential in other nations.
Getting your birth certificate apostilled will help you get admission to a school, college and it will be easier for you to apply for jobs abroad.
A birth certificate is one of the major documents that certifies your nationality, which is why it is very important for you to get it apostilled.
Marriage Certificate
A marriage certificate determines the relationship between the people who are claiming to be married.
It certifies the marital status of the two concerned individuals.
You need to apostille this certificate for validating the marriage in countries that are members of the Hague convention.
You can get a family visa, resident visa, dependent visa, spouse visa, etc, if you get your marriage certificate apostilled.
Police Clearance Certificate
Police Clearance Certificate certifies that the concerned individual does not have any current or past criminal record.
This certificate validates the criminal data of an individual legally.
You can get a clean chit when you are traveling if you have apostilled this particular certificate.
This will assure them that it is safe for them to welcome you to their country, so this certificate will not let anyone question you when you are abroad.
Export Document Certificate
People involved in business need this certificate apostilled because it makes commercial work easier in other countries.
Getting this certificate apostilled will help people involved in business for registering their company, having export permission, expansion of the business, and having certificate incorporation.
Single Status Certificate
The single status certificate will verify if you are single or not.
One needs to get this certificate apostilled for getting their single status certified in nations that come under Hague Convention.
Affidavit apostille
Getting an affidavit certificate is for people who want to claim their name and people want to change it. They need to apostille these documents too.
Getting this certificate apostilled will help you in the process of name correction in countries that come under the Hague Convention
Death certificate
A death certificate identifies and confirms the death of an individual, and it is important to get this certificate apostilled to make death-related claims overseas.
Countries Accepting Apostille Documents
Only the countries that are a part of the Hague Convention are the ones that will accept apostilled certificates and documents. No other countries will accept the apostilled documents and certificates.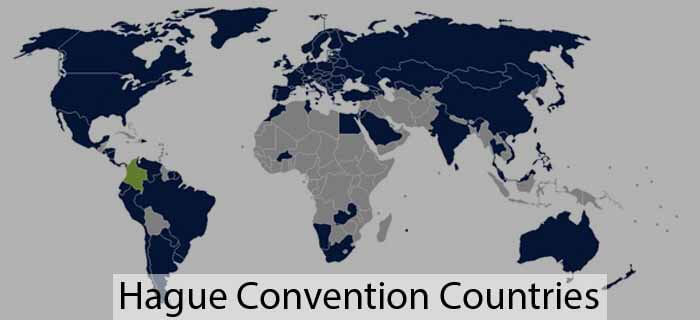 Irrespective of the reason for your visiting the country, it is essential for you to get your documents and certificates apostilled. It is because when you will be using these documents in those countries, they will check if these documents have the apostille sticker or not. Only then, you will be granted for apostille sticker by the legal authority of the respective country. You need to make sure that all documents needed for getting a visa are apostilled, or else you will fail to get a visa for your journey.
Process of Document Apostille
Getting your documents Apostilled can be a lengthy and tiresome process. It also depends on the type of document you want Apostilled and the departments that will be involved in getting these documents apostilled. Given below is the process of Apostille for different documents:
Educational Documents
For getting apostille stickers on educational documents, the following process should be followed:
The documents and certificates will go through a verification that will be done by the Local Notary or the University. This is the place from where the document was issued in the first place.
Then, under state verification, the documents will get verification from the Human Resource Development Department ( HRD ).
After both processes are done, documents will be forwarded to the MEA ( Ministry of External Affairs ). Here, the documents will finally get their Apostille stickers.
Non-Educational / Personal Documents
For getting apostille stamps on the personal documents, the following steps should be followed:
The first step of verification will involve a local notary from where the documents and certificates will be issued.
Once this verification is done, it will be followed by the State Home Department or Sub Divisional Magistrate verification which will be done on the personal documents
Once both the verifications are successful, the document and certificates will get an apostille stamp from the MEA ( Ministry of External Affairs ).
Commercial Documents
Commercial documents go through the following process:
Commercial documents will first have to go through verification from the Chamber of Commerce
Local Notary and State level departments do not play any role in the verification of commercial documents
Documents are then sent to the MEA ( Ministry of External Affairs ) for getting the apostille sticker as the final step.
The process as mentioned above should be followed without any negligence. Individuals will not be able to pass the documents before the documents are verified by the mentioned authorities. Any mistake will result in delay and difficulty in the process which might lead to the Apostille being rejected. Documents need to be verified thoroughly for getting the apostille sticker.
What Does An Apostille Look Like?
There is a unique identifier digit in every apostille sticker.
The Apostille sticker is a square-shaped sticker that is 9 cm long and is generated by the computer.
Hague convention member countries can check the legitimacy and authenticity of the information provided in the documents with the help of these unique identification digits.
The Apostille sticker will be provided by the Ministry of External Affairs ( MEA ).
You do not need to get the documents checked by the embassy if you have got the apostille sticker.
What If Your Documents Are Laminated?
Do not try to remove the lamination all by yourself, as you might end up damaging the entire document. You can let us handle that part too by submitting the documents to us. Our professionals will be very careful with your documents, and they will safely remove the lamination from the documents. Then, an Apostille sticker will be provided by the end of the procedure.
We need to take the lamination off for the document being verified because with the lamination being on the documents, the concerned authorities will be unable to verify your documents.
Documents Required for Apostille Process
Documents that are required for the Apostille Process are mentioned below according to the type of documents:
Documents or certificates related to Education like:
For graduation, certificate of 10th & 12th
For post-graduation, certificate of graduation
Documents or certificates that contain Personal/Non-Educational information like:
Marriage certificate
Birth certificate
Documents or Certificates related to Business or Commerce
All the records related to Business like Export documents
Other supporting documents: To be submitted along with the original certificates.
Copy of your Passport
Passport-size Photographs
Application receipt of the Passport
Photocopy of your Aadhar Card
Photocopy of your Visa
Time Taken To Complete The Process
Time taken by the Apostille process is determined by the type of documents and the urgency of the situation. Every department has its own time frame and pace of working, so delays are inevitable.
However, you can contact ND Universal as trying to do this on your own will not only consume a lot of your time but energy as well. We provide the quickest Apostille services in Surat. The processing of the documents is usually done in just 5 to 7 working days.
Cost Of Apostille In Surat
The cost of the process will differ from the type of documents, and also how many of them are to be apostilled. Travel costs also have to be included if you are doing the process by yourself as all the departments are located in different places.
Most Popular
Services
Regular
Urgent
Cost
₹ 3900.00
₹ 4900.00
Time
6-8 Working Days
4-6 Working Days
Pickup Facility
Drop Facility
Same Day Delivery
After Attestation
Remove Lamination
To avoid all these unwanted hassles, it is suggested you should contact ND Universal. We, as your apostille service provider, will make sure you do not pay more than needed and will also process the documents within a week.
How To Start The Process?
For hiring ND Universal as your Apostille Service Provider, it is suggested that you contact our executive. Our executive will personally attend to you to clear all the formalities. Feel free to ask any queries that you have to our executive as they will be happy to help you out. Once all the formalities are done, we will begin the process. First, we will collect the documents from you, and then provide you with a receipt for the same.
You will also be able to track the progress of the process easily after the process begins. We will keep you informed regarding the same too. Blue Dart Dispatch will provide the final drop-off service. We will not charge a single penny for the pickup and delivery of the documents. Our Apostille services in Surat are reliable and you can get your documents in just 5 to 7 working days without being charged any extra money.
Our Highlights
24x7 Customer Support: We pride our customers and are here for them 24x7.
Brand Value: Our experience in the industry for more than eight years makes us provide high-quality apostille service to our clients.
3. Free Pick up and drop off services: We provide a free pick up and drop off service of your documents.
No extra Charges: We make sure that you do not pay more than needed. No extra or hidden charges will be taken without informing you, and we will also highlight the reasons.
Tracking of the documents: You do not have to worry about the safety and location of your documents. You will be provided with a time-to-time update regarding your documents, and you will be easily able to track the procedure yourself.
---
Why Choose ND Universal for Apostille Services in Surat ?