Certificate Attestation in Hyderabad for UAE
UAE Embassy Attestation is a legalization process of authenticating the documents or certificates with the official stamp and signature of the issuing authority to make them legally valid to be used in any foreign country. It helps the authorities of the foreign country to which you are migrating to verify the genuineness, originality, and legitimacy of the documents.
If you're planning to relocate to a foreign country like UAE, getting your certificates attested is a must to obtain a residence, family, employment or work, and student visa.
Certificate attestation can be a very stressful process. That is why, we, at ND Universal, provide our customers with the best UAE Embassy attestation services without any hustle-bustle and tedious paperwork on your part at reasonable prices.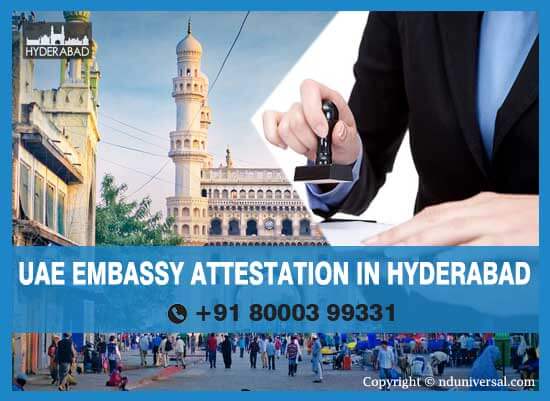 UAE Embassy Attestation in Hyderabad Telangana
Fundamentally, it refers to the legal process where documents are given their authentication and validation for getting permission to enter another country. Attestation refers to the document certification that is to be legally done for a long-term visa. Without attestation, the legal system of the UAE will not find your documents valid. Thus, you will not get permission for a visa altogether. Completion of this procedure will be useful for a family visa, work visa, and study visa.
Attestation Services in Hyderabad can be a very daunting and tiring process. Getting a document attested can leave you running into a state of confusion every now and then, being stressed the majority of the time, and the exhaustion which comes with a lengthy procedure! But you need not worry about any of these as ND Universal will help you all along. We assure you that we will make UAE Embassy Attestation in Hyderabad much easier than it could have been for you before consulting us.
Purpose and Process of Attestation
Certificate attestation is required for various reasons. No government wants to give an entry permit to an intruder on their land, and thus, attestation is mainly a security process that is to be followed for the assurance that when someone will stay, they will cause no harm to their nation. Therefore, the government releases guidelines regarding this legal procedure.
The document attestation process for UAE is a very lengthy one. Your document will not go directly to MEA (Ministry of External Affairs) for the stamping process, or the Embassy for final confirmation. Rather, it has to pass through certain levels of verification before that. It includes regional and state-level verification. All over, the process can be divided into four major levels:
Step 1: Regional level
This is the first step of verification your documents need to go through. This level of document legalization will be done by the same notary from where the documents were issued in the first place. If your documents are commercial, then they will be verified by the Chamber of Commerce.
Step 2: State-level
Further legalization of your documents will be preceded by three different departments as per the document type- the State Home Department, the Human Resource Department, and the Sub-Divisional Magistrate.
Step 3: National level
After the verification from both levels, your document will be ready to be passed on for MEA stamping which comes under home or central government. This will be the last certification stage from the central government.
Step 4: International level
This is the last step in the process. Documentation will be done by the concerned country's officials ( UAE Embassy ).
Who Must Apply For UAE Embassy Attestation And Why?
Having certificate attestation is crucial for anyone willing to go to UAE for any particular reason. The fundamental purpose is to legalize your stay and to make sure none of the parties get in any trouble in the future. It also confirms that you are a reliable person with no illegitimate intentions for the nation.
Given below are the reasons why people require Attestation?
If you are a high school student and are planning to proceed with your education in the UAE, then you have to apply for a study visa, and thus, for certificate attestation.
If you own a business and aspire to expand it in the UAE, then you will have to make sure your documents are attested.
If you aspire to move to UAE for professional benefits then you have to apply for a work visa, and thus certification attestation is important.
If you are someone willing to move with your family to the UAE, then a residence visa will be a necessity, and for that, you will need certificate attestation.
Attestation will include your personal, educational, and commercial documents.
Benefits of Getting UAE Attestation Stamp
Many benefits come along with certificate attestation, some of them are mentioned below.
Non-Education related benefits
You can expand your business.
You can move safely to the UAE.
Officials will trust your documents.
You will not get in any legal trouble.
You can move your family on a residence visa.
Education-related benefits
You can continue your studies in the UAE without any trouble.
You can proceed with your professional/ research-related work.
Getting your child admitted to schools within the UAE and getting equivalent certificates for your child.
More work opportunities.
We at, ND universal assure you that you will move fairly, without disturbing your schedule even for a little while. It has often been said that for procedures like this it is really good to have some professionals around to complete the work easily and without any hassle. We are the professionals who would work for and with you to assure that you get your attestation as soon as possible. We value your time thus assuring that the process becomes as simple as it can be for you while charging as low as we can.
Our Procedure
Under our guidance, you do not need to think about the validity of the procedure being performed. The process which we will follow for certificate attestation for UAE will not be any different from the official one. We work with the terms of the government. Our team of professionals rectifies your workload and saves your time as well as the energy that could have been consumed while running from one office to another. Our attestation process takes place in four steps-
Step 1: Getting your certificate attestation from the local notary from where it was issued.
Step 2: This step will involve getting your documents the verification they need from the departments as per the need of the document. This is a process that involves the state you belong to.
Step 3: Making sure that your document gets a stamp from MEA (Ministry of External Affairs). This will be the last step of the procedure under the central government.
Step 4: The last step is to make sure that your certificate is attested from the UAE embassy.

---
The Cost of UAE Embassy Attestation
Here is the the cost of UAE embassy attestation for educational and non-educational documents:
Most Popular
Services
Regular
Normal
Urgent
Cost
₹ 7100.00
₹ 8100.00
₹ 9100.00
Time
15 Working Days
8-10 Working Days
4 to 6 Working Days
Pickup Facility
Drop Facility
Same Day Delivery
After Attestation
Remove Lamination
Note: No extra/added cost. Pickup and Drop charges are already added. In case you courier your documents an amount of 250 will be deducted from the cost.
---
Why Choose ND Universal For Attestation?
Certificate attestation plays a major role while moving to another country. You will not want to make any mistake that could ruin your chances, and so you have to choose an attestation service provider who will not only do his job flawlessly but will also be aware of the importance of the procedure and the stress you must be experiencing through it.
ND universal is one of the most trusted, authentic, popular, and highly reputed certificate attestation service providers, with years of experience and services that are certified in the UAE. Choosing us as your service provider will benefit you in many ways including the following-
Simplification of the procedures for you
Services faster than you except
Transparency throughout the entire process performed
Time-saving and stress-free attestation
Receiving timely updates during the process
Company prioritizing your needs and demands
Professional and experienced staff
A fair process adopted for documents submission
Pick up and drop service of documents for clients
24/7 service availability
Reliable and trustworthy certification
Certified service
Easy payment methods.
---
Frequently Asked Questions