UAE Embassy Attestation in Thane
In recent years, moving out from one's homeland to abroad countries has become very common. While some move out for higher education, others go to live their dream lifestyle abroad. Still, others are there who travel to foreign countries for job purposes or to diversify their business ventures. Whatever the reason is, one needs to get their documents legalized and authenticated before moving out from one's homeland.
Countries part of The Hague Convention look for legal documents before allowing foreigners a stay in their country. According to UAE attestation rules, the emigrant needs to have their legal papers certified by the officials of their home country. Unless they could put up proper legal documents, they would not be permitted residence in the UAE.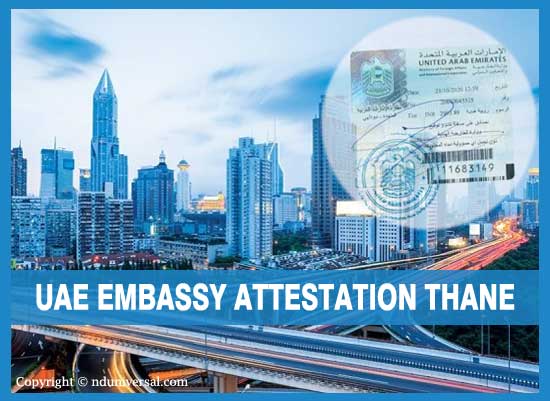 Which Documents Are Required For Attestation?
1. Birth Certificate Attestation
Birth certificate attestation is a process wherein the birth certificate of a person is scrutinized and legalized for different purposes by the officials of the home country.
Birth certificate attestation is required to be put up during admission to foreign universities.
Birth certificate attestation is also helpful during employment.
To get a family visa abroad, a birth certificate is essential.
2. Degree Certificate Attestation
Degree certificate attestation is a legalized procedure to ensure the authentication of one's degree certificate.
A degree certificate apostille is necessary for pursuing higher studies abroad.
Also helpful during employment abroad.
3. Marriage Certificate Attestation
It is required in obtaining a resident visa, spouse visa etc.
4. Death Certificate Attestation
While claiming life insurance from foreign countries, a death certificate attestation is required.
5. Export Document Attestation
An export document attestation certifies a business to diversify itself to foreign countries and to export its products abroad.
What Are The Steps Of Certificate Attestation?
1. Notary
In the first step, the original certificate to be attested needs to be verified by the district notary of the home country. The notary needs to put a stamp certifying the genuineness and authenticity of the certificate.
2. State Authentication/ SDM
In the second step, the SDM or the home department at the state level needs to verify and legalize the certificates and legal documents to be attested.
3. MEA Attestation
Following the completion of the previous steps, the MEA or Ministry of External Affairs needs to authenticate and certify the documents to be attested by putting a stamp or signature on the credentials, which vouchers for its genuineness.
4. Attestation For UAE Embassy India
In the next step, the Embassy of UAE in Delhi attests to the legal documents and legalizes them to be used abroad.
What is the Cost of UAE Embassy Attestation?
Here is the the cost of UAE attestation for educational and non-educational documents:
Most Popular
Services
Regular
Normal
Urgent
Cost
₹ 7100.00
₹ 8100.00
₹ 9100.00
Time
15 Working Days
8-10 Working Days
4 to 6 Working Days
Pickup Facility
Drop Facility
Same Day Delivery
After Attestation
Remove Lamination
Note: No extra/added cost. Pickup and Drop charges are already added. In case you courier your documents an amount of 250 will be deducted from the cost.
---
How We Can Help You With The Process Of Attestation?
We at ND Universal, a government-certified attestation firm perform all types of certificate attestation services at a very low and affordable price with top-notch service.
If you are interested in availing our services, you just need to get in touch with our Executive. Soon after you contact us with all your important details such as an address, email id and contact number and other related details, you will receive confirmation that your order is confirmed.
Additionally, you will also get all your queries and doubts solved by our expert team. There is no need to worry about your legal papers as with ND Universal, they will be in safe hands. Soon after your certificate reaches us by our agents, we carry out the procedures of the certificate attestation.
You can even track the entire process from the comfort of your home through your laptop or smart device! With our honest and dedicated experts, you will get each and every update about your attestation process through email or message.
Once each and every step is completed successfully, we ship them to your address through Blue Dart. You will also receive a tracking id for the same through which you can track your shipment. There is no need to pay any extra for shipping charges. We don't charge our clients extra money, except the money that is required for the certificate attestation service!
Note: If you want your documents to be delivered in the UAE, we can also deliver it. DHL cost will be applicable in this case.
So, what are you waiting for? Contact ND Universal today and get your certificate attestation process done through us from the comfort of your home.
---
Frequently Asked Questions