Your Affordable Guide To Apostille Services In Karnataka
There are many Apostille services available in the state of Karnataka to ensure proper attestation of your documents. However, this makes it difficult to simply pick and trust one service provider. Many of these available service providers might not fulfill our needs, some may be slow, and others might not even follow government guidelines. It can be extremely exhaustive to find a trustworthy service provider.
If we were to suggest one such service to you, we would tell you to put your faith in us, ND Universal. ND Universal is a government-affiliated service that helps clients throughout the multi-layered process of an apostille. By choosing ND Universal, a client need not worry about the hassle involved in this long process. ND Universal makes sure that everything happens smoothly and systematically.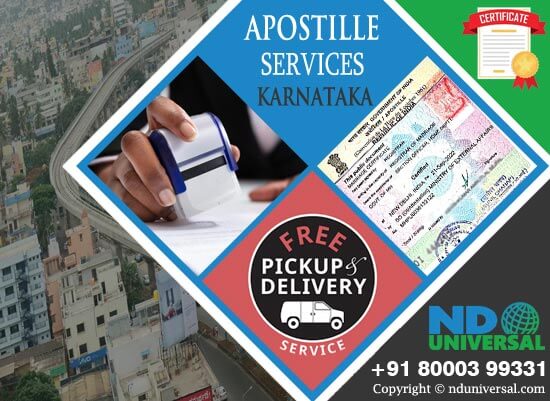 What Is An Apostille?
In simple terms, an Apostille is a type of sticker provided to an official document to be used in a foreign country. To obtain this sticker, it is important that the document passes a general verification that is done on multiple levels. Different types of verifications would also depend on the type of document.
Apostille is accepted in ninety-two countries around the world and is required if an individual wants to travel to a country that is a Hague Convention's member. The MEA ( Ministry of External Affairs ), which is a prominent level unit dealing with all the affairs and issues related to a foreign land, provides the seal of Apostille to those certificates. Upon being apostilled, the documents are officially legalized and can then be used or presented in countries part of the Hague Convention.
Why And When Document/Certificates Apostille Is Required?
If you plan or wish to travel to countries that are a part of the Hague Convention then it is absolutely vital that your documents are apostilled. This is the only way to make your documents legally acceptable, as apostilled documents are mandatory to get a visa. If an individual fails to do so, they will not be allowed in the country they wish to go to.
Certain legal actions can be taken against people caught using documents that are not apostilled.
Degree certificate
It is important to have apostilled degree certificate to acquire a work visa.
The degree certificate apostille ensures that a person gets the job or admission they aspire to legally and easily.
To be able to study in countries of the Hague Convention, it is mandatory that the degree certificate is duly apostilled. Without it, the students will be denied admission to their aspired college or university
Birth certificate
A birth certificate is essential to get a child visa
An apostilled birth certificate is the only way to prove your credentials in a foreign country
Having an apostille birth certificate will also assist students in obtaining admission and throughout the admission process for school or college.
A birth certificate is the most important document to show and prove an individual's nationality, and therefore it must be apostilled.
Marriage certificate
A marriage certificate is a kind of certificate used in proving the marital status of two individuals.
An apostille marriage certificate helps to certify the marriage of two people in the Hague Convention countries.
An apostille marriage certificate will benefit in getting a family visa, spouse visa, resident visa, dependent visa, etc.
Police clearance certificate
Police Clearance Certificate is used to show the absence of your criminal history. This is a very important certificate that validates an individual's criminal record.
Apostille of this certificate is vital to get a nod to go to other countries without the hassle.
Countries should know that the person traveling to their country is safe and will not cause harm, and therefore it is important to get an apostille for this certificate.
Export Document Certificate
These include the property papers, company registrations for business expansion, new firm establishment, or a new director is appointed in a foreign country.
Apostille of this certificate will help business persons register the company, expand the business, get export permission, and get certificate incorporation.
Single status certificate
A Single status certificate helps individuals to show that they are single.
Also confirms that you can get married to the person of your choice.
Apostille affidavit
It is important to apostille an affidavit certificate to claim a person's name. It is also required when a person wants to change their name.
Apostille of this certificate will help individuals in name correction in a country under the Hague Convention.
Death certificate
It is used to prove the death of an individual. Apostille of someone's death certificate is essential to get the claim from overseas.
It is crucial to take an individual's body from a country that is a part of the Hague Convention.
Countries Accepting Apostilled Documents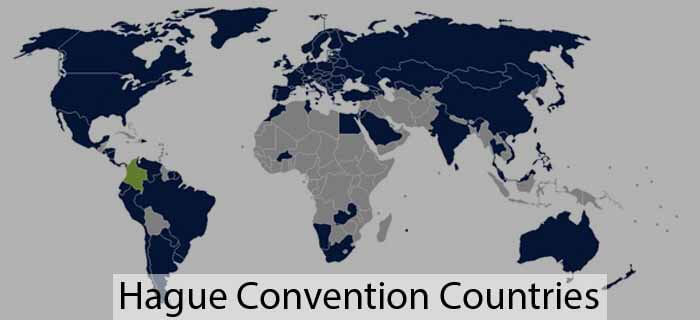 Generally, Apostille documents are not acceptable in every foreign country. But, the countries that are a member of the Hague Convention accept apostilled certificates. It started with 92 countries, and currently, 117 countries are a part of The Hague Convention.
It is crucial to get all documents apostilled regardless of the reason for visiting. These countries require a legally approved apostille sticker on the papers. If all the required documents for obtaining the visa are not apostilled by MEA, the visa request gets denied.
Process of Document Apostille
Getting an apostille stamp is a multi-layered and long process, and that's why it takes a long time. Any negligence in following this procedure will result in difficulties in obtaining an apostille. The processes listed below are followed traditionally followed for different kinds of documents:
Educational Documents
To get the apostille stickers on educational documents, the following process should be followed:
The documents and certificates will have to go from the verification being done by the Local Notary or the University.
Here, the state verification takes place. The documents will get verification from the Human Resource Development Department ( HRD ).
At last, the verified documents will get to the Ministry of External Affairs. Here, the documents will get their Apostille sticker.
Non-Educational / Personal Documents
To get the apostille stamp on your personal documents, the below steps are followed:
Initially, the verification process will be started by the local notary.
Once the initial verification is accomplished, verification by the State Home Department or Sub Divisional Magistrate will be done on the personal documents.
Once both the verification are done successfully, the document and certificates will be eligible to get an apostille stamp from the MEA department.
Commercial Documents
To apostille your commercial documents, the following process is accessed:
At the initial step, the commercial documents will have to get verification from the Chamber of Commerce
Other departments, Local Notary and State level departments, do not play any role in Commercial document verification
At the last step, the documents will be transmitted to the department of MEA and will receive the apostille sticker
This should be followed without any negligence. Documents should be verified accurately for getting the apostille sticker. To make the process easier for yourself, just constant ND Universal and sit back while your documents get processed without any trouble.
What Does an Apostille Look Like?
The Apostille sticker is a computer-generated sticker that is in the shape of a square.
It has a dimension of 9cm x 9cm.
Every Apostille sticker contains a unique identifier digit.
The countries that are part of the Hague convention can check the legitimacy of the information provided in the documents with the help of these unique identification digits.
You can skip the part of going to the embassy to acquire your documents verified if you have correctly apostilled documents.
The Apostille sticker is provided by the Ministry of External Affairs (MEA). It is a mid-level division that examines the affairs outside the country.
What If Your Documents Are Laminated?
It is vital to take off the lamination because, with the lamination, the documents will not get verified. If the documents are laminated, don't try to take the laminate off to avoid destroying them. To simplify the process, you can submit the documents to ND Universal. Our professionals will safely remove the lamination from the documents and process the document to get the apostille stamp. An Apostille sticker will be acquired once the procedure to get the apostille is completed.
Documents Required for the Apostille Attestation Process
Documents that are required for the Apostille Process are mentioned below
Documents or certificates related to Education like:
For graduation, certification of 10th & 12th class
For post-graduation, a diploma of graduation is a must.
Documents or certificates that contain Personal/Non-Educational information like:
Marriage certificate, in case you are married
Birth certificate, and others
Documents or Certificates related to Business or Commerce
All the documents related to Business, such as company papers, export documents, etc.
Other supporting documents: To be submitted along with the original certificates.
Application receipt of your Passport
Copy of your Passport
Passport-size Photographs
Photocopy of your Aadhar Card
Photocopy of your Visa
Time Taken To Complete The Process
The time taken depends on the type of document, the procedures being followed, and the departments involved. Every department works at its own pace, and hence delays can occur. If you do it on your own, it may take up to 15 to 25 days or more than a month.
To complete this in a very short time, you must contact ND Universal. You can contact ND Universal to make this process short. The processing of the documents usually gets done in 5 to 7 working days.
What Is The Cost Of Apostille Services In karnataka?
The overall cost spent on this process is based on the type of documents and department involved. The process also depends on the number of documents to be apostilled. In this case, travel costs will also be increased if you opt to do it all by yourself because you have to visit all the different offices.
Most Popular
Services
Regular
Urgent
Cost
₹ 3900.00
₹ 4900.00
Time
6-8 Working Days
4-6 Working Days
Pickup Facility
Drop Facility
Same Day Delivery
After Attestation
Remove Lamination
To avoid all the unwanted travel and expenditure, you contact ND Universal. ND Universal as your apostille service provider, will process the documents within a week in a reasonable amount that is easy on the pockets.
How To Start The Process?
To hire ND Universal as your Apostille Service Provider, firstly, you have to contact our executive. The executive will personally attend to you to clear all the formalities. You can ask all your doubts to our executive. Once all the formalities are done, we will start the process. The first step of the process will be collecting the documents. We collect them directly from your house and send you the receipt of the same. No charges will be taken for the pickup and delivery of the documents.
Once the process gets started, you will be able to track the progress of your documents very easily. We will also keep informing you time by time about your documents' progress. The final drop-off service will be provided by Blue Dart Dispatch. ND Universal's service in Karnataka is the fastest and most reliable apostille service where clients will get their documents in just 5 to 7 working days without being charged any extra money.
Our Highlights
Brand Value: We have worked in the industry for more than eight years and have adequate experience providing high-quality apostille service to our clients.
Free Pick up and drop off services: Being a client of ND Universal, you will get free pick up and drop off service of your documents.
24x7 Customer Support: Our professionals are ready to help you at any hour of the day. We provide 24x7 customer support.
No extra Charges: We will not make you pay more than necessary. No extra charges will be taken without prior information and a valid reason.
Tracking of the documents: With us, do not worry about the safety of your documents because we provide time to time updates over the phone. You will also be able to track them online.
---
Why Choose ND Universal for Apostille Services in Karnataka ?