UAE Embassy Attestation in Amravati
UAE Embassy Attestation is a crucial process of legalizing one's documents to validate them to be used in a foreign country for various purposes. It is mandatory to authenticate your documents with the official stamp and signature of the issuing authorities to obtain a visa for a foreign country and use them as legally valid documents abroad.
The most difficult part of shifting to another country is getting your certificate attested. It is a long, boring, and tedious process to do but it is essential to get your certificates attested while shifting from one country to another otherwise your documents would not be taken as legally valid abroad.
That is why to make our customers escape all that stressful paperwork, we, at ND Universal, provide hassle-free UAE attestation in Amravati services for reasonable prices without making them go through any trouble.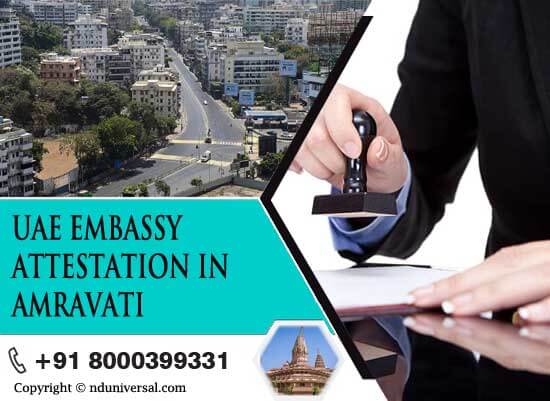 Additional Details
If you are planning to migrate to another country, getting your certificates attested is a must to obtain a visa and avoid any further obstructions after shifting abroad. There are generally three types of document attestations:
1. Educational Certificate Attestation
It includes all your educational degree certificate attestation such as,
Degree Certificate
Diploma Certificate
Master Degree Certificate
Training Certificate
CBSE Certificate
Higher Secondary Certificate
Secondary Level Certificate
AMIE Certificate
Private Certificate
VHSE Certificate
Transfer Certificate
MBBS Degree Certificate
National Trade Certificate
Ph.D. Certificate
ME Degree Certificate
Medical Certificate
Engineering Certificate
Passing Certificate
MS/MD Degree Certificate
Provisional Certificate
Distance Education Certificate
Management Degree Certificate
Online Degree Certificate
Provisional Degree Certificate
2. Non-Educational or Personal Certificate Attestation
It includes attestation of non-educational or personal certificates and documents such as,
Marriage Certificate
Divorce Certificate
Transfer Certificate
Birth Certificate
Death Certificate
Pan Card
Ship Book
Marriage Ability Certificate
Experience Certificate
Passport
Registration Certificate
Reference Letter
Finger Print
Affidavit
NOC Affidavit
Medical Certificate
Police Clearance Certificate
Copy of Passport
Power of Attorney
3. Commercial Certificate Attestation
Certificate of Origin
Invoice
Agreement
Memorandum of Association
Packing List
Articles of Association
Certificate of Registration
Certificate of Incorporation
Board of Resolution
Free Sale Certificate
Power of Attorney
Director List
GMP Certificate
Joint Venture Agreement
Other commercial documents
Income Tax Return
License UAE Embassy
Stockholders Agreement
Usually, It takes 5-8 days to get one's documents attestation but still, the time required for attestation may vary depending on factors like the number of documents submitted for attestation, nature of the case, rules and regulations of the foreign country to which the customer is migrating to, and the extra services the customers avail to.
Who Must Apply For This?
Every year, thousands of people migrate to and from the UAE in search of jobs to pursue higher studies, for business purposes, or to stay with their families. Anyone who is planning to migrate to UAE must apply for Embassy attestation in Amravati to obtain a visa for any purpose such as resident or family visa, employment or work visa, student visa, dependent visa, sponsorship for the spouse, e.t.c. Apart from obtaining a visa, your attested certificates will also help you proceed with any legal or official work involving documentation in a foreign country without any obstructions. So, it is essential to get your certificates attested if you want to relocate to another country.
Why is Embassy Attestation Important?
Embassy Attestation for UAE is a mandatory process for obtaining work visas, student visas, house visas, or over visas. It is a kind of affirmation that proves the authenticity and legitimacy of your documents to the authorities of the country to which you are migrating and that you are a genuine man or woman/organization and relocating to UAE without any ill-intentions. It proves that your documents are actual and can be accepted for official processes in the UAE. It is a part of safety measures that ensure the UAE authorities of your trustworthiness.
Attestation in Amravati is mandatory for these cases:
For Obtaining A Resident Visa
For Obtaining A Dependent Visa
Getting A Student Visa
To Get Sponsorship For The Partner
For Obtaining A Family Visa
To Get A Spouse Visa
For Buying Or Renting Property
Get Admission To a College
For Name Change
Getting A Employment Visa
Applying For A Job Abroad
We, at ND Universal, follow a very simple 3-step procedure to make the attestation process easier for our customers. The steps are as follows:
Step-1:
The very first step for getting one's certificate attested is to authenticate them at a local level through the regional notary department.
Step 2: State Level Attestation
The second step varies according to the type of document i.e., personal, educational, or commercial documents.
For Personal Documents : These documents are attested by the Home Department or SubDivision Magistrate (SDM) of the country.
For Educational Documents :These documents are attested by the HRD Ministry or GAD within the country.
For Commercial Documents : These documents are attested by the chamber of commerce of your home country.
Step 3:
Making sure that your document gets a stamp from MEA (Ministry of External Affairs). This will be the last step of the procedure under the central government.
Step 4:
The last step is to make sure that your certificate is attested from the UAE embassy.
The Cost of UAE Embassy Attestation
Here is the the cost of UAE embassy attestation for educational and non-educational documents:
Most Popular
Services
Regular
Normal
Urgent
Cost
₹ 7100.00
₹ 8100.00
₹ 9100.00
Time
15 Working Days
8-10 Working Days
4 to 6 Working Days
Pickup Facility
Drop Facility
Same Day Delivery
After Attestation
Remove Lamination
Note: No extra/added cost. Pickup and Drop charges are already added. In case you courier your documents an amount of 250 will be deducted from the cost.
---
Why Choose ND Universal For UAE Embassy Attestation In Amravati?
With more than six years of experience in the UAE Embassy attestation services, ND Universal is one of the most famous and leading certificate attestation Providers in Amravati. We provide our clients with hassle-free certified and reliable for attestation services in Amravati without making them go through any hustle-bustle.
Choosing ND Universal as your certificate attestation service provider will benefit you with:
Less complex and easy-to-understand attestation procedures
Certified and reliable services
Less time-consuming and stress less attestation
24/7 availability of services
Professional and quality staff
Customer satisfaction and peace of mind
Pick up and drop off services for documents
A streamlined process for document submission
Easy payment methods.
---
Frequently Asked Questions