Easiest & Quickest Apostille Services In Kochi
Providing services related to the authentication of documents is not an easy task. It might be very daunting at the moment, and a large city like Kochi will have several options for this kind of choice. As you know, too many cooks spoil the broth, and there are many apostille services in Kochi. This might make it very difficult to choose the very best service out of them all. What can an inexperienced person do? Let's check out!
ND Universal is one of the names which have been regularly circulating in this genre. It is often spoken of as one of the best apostille services all over India. It is not only affiliated with the government but also makes sure that the process is undergoing the proper measures. ND Universal is active not only in Kochi but also in other states. There are certain operations of this particular firm that help generate trust and support among the customers. We are the right service providers when you want to apostille your documents. Finishing things related to document authentication can be done very quickly with the help of ND Universal. Looking for a group that does work methodically? Well, ND Universal is always at your service.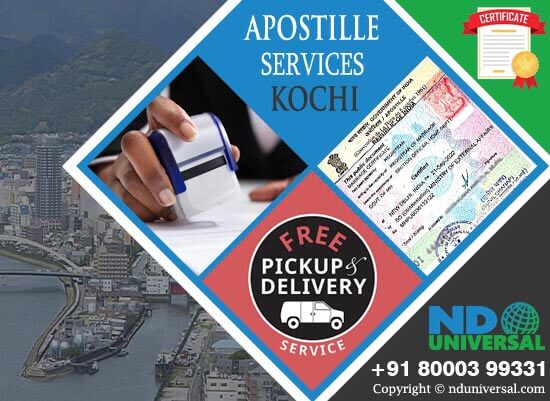 What is an Apostille?
The term apostille means sticker, but the significance of this sticker is higher than anything else that you have ever seen. When people wish to go abroad from India, they must get their documents apostilled. When someone wants to visit countries under the Hague convention, they have to get their documents apostilled.
Ninety-two nations have consistently recognized Apostilled documents. It is essential when a person wishes to go to a country already signed under the Hague Convention for various purposes such as job, study or marriage. These apostilled documents will be valid in every nation signed under Hague Convention.
Why and When Document/ Certificate Apostille is Required?
Issuing a visa is only possible with the help of this apostille document. Individuals who do not have the documents authenticated will not enter certain countries. If they manage to enter any such nation, there will be severe legal consequences. Let us check out some reasons for getting your documents apostilled.
Degree certificate
Degree certificates are considered certificates that prove the completion of a specific educational degree.
Documents and certificates related to education or work visas are essential.
Documents must be apostilled in case you want to get a visa for work.
Birth certificate
Birth certificate can be considered a document that can reveal the date and place of birth of a person.
This document must be apostilled to get a certification for your nationality and get a visa.
Complications might arise in case the birth certificate is not apostilled. You will not get admission for employment in any other country if this document is not authenticated.
Marriage certificate
A marriage certificate is a personal document that can prove the marital status of a person in a specific nation.
Any nation signed under the Hague convention will require the person to have this particular certificate apostille.
You will be able to get a family, spouse, dependent, or resident visa with the help of this specific apostille document
Police clearance certificate
A PCC or Police Clearance Certificate can be considered as a particular document that can prove that a person has no previous criminal records.
Most forms undertake stringent background checks while hiring employees from foreign nations. This document is essential in this case.
Export Document Certificate
When a business person wants to facilitate any kind of commercial transaction in foreign countries, they must get this particular certificate apostille.
Getting this certificate apostille can help register and expand the business beyond the borders.
Single status certificate
A single status certificate is a document that can prove that a person is not married to anyone.
When you are willing to marry in any other country or apply for a green card, this document is a must.
Apostille affidavit
An affidavit is one of the most important legal documents that can help change someone's identity or date of birth.
This document must be apostilled so that you can prove your identity in any nation signed under the Hague convention.
Death certificate
An Apostille of Death Certificate is essential to get a claim of the deceased from foreign Nations.
The certificate is required to prove that a person is dead.
Any country that is a part of the Nations under the Hague convention will require the certificate to remove the corpse of a deceased person.
Countries Accepting Apostille Documents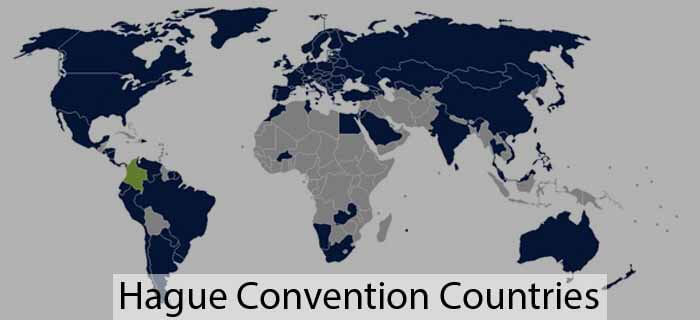 The nations which are not Hague Convention members, do not ask for apostille stamps. On the other hand, only the nations signed under the Hague convention are allowed to accept apostille papers and authenticated documents. Documents opposed to apostilled are vital because the sticker proves that you are a member of a particular nation. When you do not have all documents for Visa apostilled, it will not be possible to get a visa recommended for foreign travel.
Process of Document Apostille
The procedure which is required for an apostille is very detail-oriented and time-consuming. It is possible to get the sequence wrong, and the process must be started again. When you have contacted ND Universal's Apostille services in Kochi, you can ensure there will be no blunders and the system is running smoothly. Let us check out some of the steps given below.
Educational Documents
The following steps should be used to get apostille stickers for an educational document:
The documents and certifications must pass through the verification process conducted by the Local Notary or the University. This is the location from where the paper was issued in the first place.
The documents will next be verified by the Human Resource Development Department (HRD), which falls under state verification.
Documents will be delivered to the MEA after completing the process ( Ministry of External Affairs ). The Apostille stickers will be applied to the papers here.
Non-Educational/Personal Documents
The following procedure must be undertaken to obtain an apostille stamp on a personal document:
The local notary will do the initial verification, after which the paperwork and certifications will be issued.
After the initial verification, the personal papers will be verified by the State Home Department or a Sub Divisional Magistrate.
Once both verifications have been completed successfully, the paper and certifications will be eligible for an apostille seal from the MEA ( Ministry of External Affairs ).
Commercial Documents
Commercial papers are subjected to the following steps:
The Chamber of Commerce must verify commercial documentation.
The papers will then be forwarded to the MEA (Ministry of External Affairs) to obtain the apostille sticker.
No role will be played by local notaries or state-level departments in commercial document verification.
The procedure outlined above should be performed precisely. Individuals are not permitted to pass the papers unless the aforementioned agencies have confirmed them. Any lapse in judgment will complicate the procedure.
What Does an Apostille Look Like?
A 9 cm long computer-generated squad ticket represents an apostille sticker.
There is a unique identifier digit on an apostille sticker.
Any nation signed under the Hague convention has the right to use the identifying numbers to verify information assimilated within the documents.
The Ministry of external affairs supplies the apostille sticker. When an apostille sticker already reviews your documents, the foreign embassy will not create any ruckus over the matter.
A square shape is a form of sticker provided by the ministry of external affairs to prove that a document stands legally correct.
What If Your Documents Are Laminated?
Laminated documents cannot be apostilled on any basis. The lamination film must be removed by all costs when the documents are getting apostilled. A document is always apostilled on the back of the original papers. When you have your documents laminated, apostille services providing companies like ND Universal will assist you in removing the lamination without damaging it. We will do our best in order to ensure that the documents are safe and sound. Once we remove the lamination, we will apostille your certificates and drop them to your doorstep.
Documents Required for Apostille Process
The documents necessary for the Apostille Process are listed below:
Documents relating to education, such as:
Certificates of 10th and 12th grades for graduation
Diploma of graduation for post-graduation
Documents including Personal/Non-Educational information, such as:
Certificate of Birth
Certificate of Marriage
Documents Concerning Business or Commerce
All business-related documents, such as export documents, etc.
Other relevant papers include: To be provided in addition to the original certifications.
The Passport Application Receipt
A printout of your Aadhar Card
A printout of your visa is required
Photographs in passport size
A photocopy of your passport
Time Taken to Complete the Process
Urgency is considered to be an important factor when you are dealing with the apostille services. There are department sectors which have determined that the entire work will take a large amount of time. Also, the number and type of documents apostilled also plays a major role in determining the total time taken. When done on your own, there are delays in the process because the process is a hectic one.
You have to consider your own needs by the end of the day and choose an organization as per your convenience. ND Universal's services are trusted to get the apostille documents. The papers are usually apostilled within 5 to 7 days, which is quite helpful.
What Is The Cost Of Apostille Services In kochi?
The cost which is related to the apostille services in Kochi varies from one requirement to another. It includes the number of documents and the departments involved in the apostille procedure. Traveling in each of these cases might turn out to be different. When you are traveling from one department to another, it will take a longer time than usual. This will also increase the overall cost.
Most Popular
Services
Regular
Urgent
Cost
₹ 3900.00
₹ 4900.00
Time
6-8 Working Days
4-6 Working Days
Pickup Facility
Drop Facility
Same Day Delivery
After Attestation
Remove Lamination
Professional companies can be hired with the help of ND Universal. The clients in this case can avoid various different costs as they do not have to travel from one place to another. Prices can be turned down to a lower extent.
How to Start the Process?
When you want to get the apostille procedures started, it is possible to contact the executive of the top apostille service provider, ND Universal. It is for sure that your information will be handled very carefully by the executive, and there will be no information leakage. The apostilled paperwork will be delivered to your doorstep after every formality has been fulfilled. You will be provided with a receipt as soon as the documentation is ready. You can also keep track of the documents online and ensure they are adequately developed. We can assure you that our works are done organized and follow specific procedures for the final documentation.
We will make sure that your papers are apostilled correctly and send them to your house. The verification process is done with the recommendation of the government. Pickup and drop-off services are very readily available at ND Universal. This is quite easy to access and you can also track the documents without any issues. The customer service group is very much developed and they are always at the side of the client.
Our Highlights:
Free pick-up and delivery: When you are an ND Universal client, you can make sure that your papers will be delivered on time.
Brand Value: The company has been in this service for a long time, and they have the correct information about different apostille services.
No additional fees: The company will not ask you to pay more than extra even if there are complications in the process.
24x7 Customer Service: Customer Service is always ready for the clients, 24/7.
Experience: We have the experience of 8+ years and we have catered to thousands of clients.
Document tracking: You don't have to worry about the security of your documents. You will be able to check the documents quite regularly with the links we have provided online.
---
Why Choose ND Universal for Apostille Services in Kochi ?