UAE Embassy Attestation in Jalgaon
While applying for a visa to the UAE, attestation is a very important part of the application. ND Universal is one of the best agencies to get the UAE Embassy Attestation in Jalgaon.
At ND Universal, your documents, and the procedure is handled by a panel of professionals. Our staff holds expertise in this field, and they can guide you with the right advice throughout the procedure. This will help you get your documents attested in the least possible time.
The attestation process might take up a lot of your precious time if not done by professionals. In Jalgoan, you can get the fastest and trustable services for your requirements.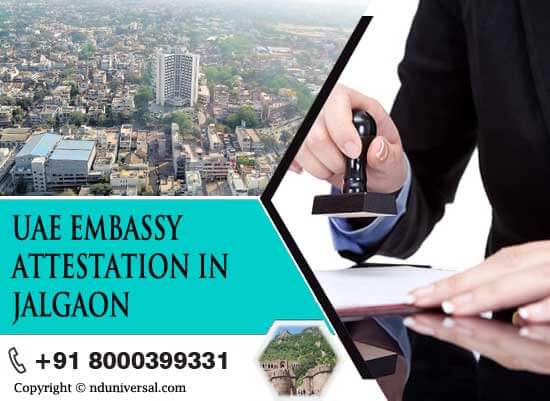 Procedure for UAE Attestation in Jalgaon
With ND Universal, you can ensure that everything that you need will be done in the best possible way and in the least time. You need to provide a set of documents that you want to get attested, and then the total time taken to complete the process depends on various factors. The process can take between 5 to 7 days to complete. After the completion, the person will receive their attested certificates for further use. The fee that you have to pay also varies with the country and the type of document that is to be attested. Additional factors can be there, such as the pickup and drop-off duration of the documents.
We, at ND universal, make sure to provide the best services at a reasonable fee. Even with your busy schedule, you can manage to get the attestation done easily with our help. We pick up your documents and drop them back once they are attested. This is something that saves time, though you might have to pay a little extra. This cost is not more than the time that you would have to give when you drive and drop the documents by yourself.
Who Must Apply For This?
UAE Embassy Attestation is very much required for people who want to go there other than the purpose of visiting. This means a person who is aiming of taking admission in a public or private school or university will need Embassy Attestation Certificate. Other purposes may include applying for a job, a promotion at a particular UAE-based designation, applying for a scholarship, writing for a particular government exam, and more. Without proper attestation, the Government of UAE does not allow any foreign candidate to apply for any of the aforementioned reasons or perform any of the activities that the citizens can do in terms of professional and academic spheres.
Why Is Embassy Attestation Important?
Embassy attestation is important for many reasons. This acts as a confirmation document that helps the Government of UAE identify that any individual visiting from another country is genuine and has no ill intentions towards their nation. The documents are proof and act as evidence for a person's background and aim of coming to the UAE. This document helps in building a sense of trust between the employer and the employee, or even two business associates. As far as students are concerned, this document helps them to pursue any course in their desired university or college.
Some fields where Embassy Attestation holds high importance are as follows:
Work visa: Temporary work visa for people who want or have opportunities for employment in UAE, or wish to work for a particular project and want a temporary residence permit.
Study visa: For students who wish to take admission in schools or colleges located in UAE.
Business Development: For business owners who wish to extend or establish their company in UAE and are based in any other country.
Family visa: Those who wish to relocate to the UAE with their whole family will need to apply for the family visa for which UAE embassy attestation is mandatory.
The process of Attestation services in Jalgaon is divided into four stages:
Step 1: Regional level
At this level, the documents are verified, and it is the initial process. Here the legalization of the document is done by either the university or through a notary from the place where documents were issued.
Step 2: State Level
This step involves the State Government where the legalization is done by three departments as per the type of your document. The three departments are State Home Department, Human Resource Department, and the SDM (Sub-Divisional Magistrate).
Step 3: MEA (Ministry of External Affairs)
In this process, a stamp of the MEA is applied to the documents at this stage. This is the step where the central authorization that is dealing with the external affairs of the country provides the verification.
Step 4: UAE Embassy
The last step is where the embassy officials perform the attestation of the document. This is also known as the embassy attestation. For most nations, this is the last step of certification after the Ministry of External Affairs.
The Cost of UAE Embassy Attestation
Here is the the cost of UAE embassy attestation for educational and non-educational documents:
Most Popular
Services
Regular
Normal
Urgent
Cost
₹ 7100.00
₹ 8100.00
₹ 9100.00
Time
15 Working Days
8-10 Working Days
4 to 6 Working Days
Pickup Facility
Drop Facility
Same Day Delivery
After Attestation
Remove Lamination
Note: No extra/added cost. Pickup and Drop charges are already added. In case you courier your documents an amount of 250 will be deducted from the cost.
---
Why Choose ND Universal For Embassy Attestation?
ND universal is a name that brings trust alongside. Our services for Attestation in Jalgaon have always been fast and never below the expectation of the people. The process is time-consuming, but we never take more time than what is mentioned. The process takes a minimum of 5 to 7 days and we make sure that no document is with us for more than 7 days. All our past customers keep coming back to us for these services as we provide them with proper attestations as soon as possible. With ND Universal at your service, you will not face any issues while presenting the documents attested through our services. Attestation is a lengthy process that is also exhausting and daunting. We are very determined towards the commitments that we make to our customers.
There are several reasons why choosing us would make your attestation procedure effortless on your part. Some of the reasons are:
Trustworthiness
Highly Experienced Staff
Highly Skilled Professionals
Speedy and Reliable Service
Reasonable Fee
Now, these are all the things that make any organization tailor-fit for your attestation requirements. You can get your documents attested from the comfort of your home as well if you choose the pickup and drop option.
---
Frequently Asked Questions