UAE Embassy Attestation in Mysore
Embassy attestation is a very crucial process to prove your credentials in the UAE while visiting or residing there. Attestation will assist you in proving the legitimacy of your documents.
It is really important to get the documents attested by the authorized units to avoid any complications in the future. Embassy Attestation will play a major role in acquiring your visa for the UAE.
Being a judicious process, attestation requires a lot of reassurance and safety. Hence, it is recommended to get assistance from a trustworthy service provider. We, at ND Universal, will make sure that the attestation process for you in Mysore will be hassle-free.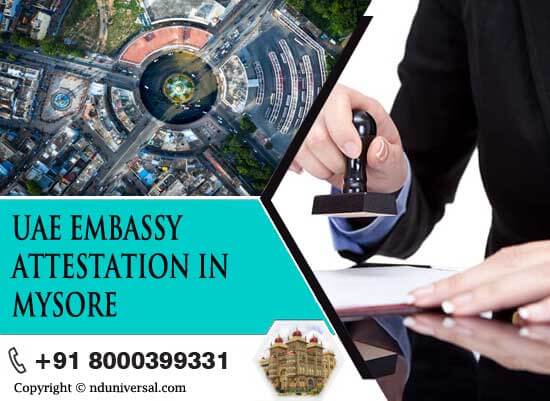 What Types Of Documents Require Attestation?
The attestation process will make sure that the validity of your documents stands the same in the UAE, as in your origin country. Document or Certificate attestation varies as per the reason of your visit or stay.
For example, if you are a student who wishes to continue their higher studies in the UAE then degree certificate attestation with related documents will play a major role in claiming your study visa.
The most common certificates that are attested are-
Degree certificate
Diploma certificate
Marriage certificate
Birth certificate
Commercial/ Business-related certificate
Death certificate
HSC certificate
SSLC certificate
Work experience certificate
Attestation of certificates might be a tiresome process but it is the only legal way to acquire a visa and keep away from legal trouble and difficulties in the UAE. UAE Attestation in Mysore will also help you in getting your certificates legalized for use in the UAE. It is a tactful process thus no errors should be made.
Who Must Apply For This?
Whatever your reason might be for visiting or staying in the UAE, your attested documents will prove that your reasons to visit the country are genuine and you do not mean any harm, thus you will not face any difficulties when living there. Every student willing to continue their studies, job seekers wishing to work in the UAE, business owners wanting to expand the business in the UAE, and individuals wanting to relocate to the UAE for a better life, has to apply for attestation service because it is important to get your documents legalized by the embassy.Without this process, you will not be granted a visa for the UAE.
Why Is Embassy Attestation Important?
Being an important process to be followed for legalizing your entry in the UAE, it also provides you with certain benefits that are mentioned below.
Education-related benefits
You can continue your studies in the UAE without any trouble after having your degree and related documents attested.
You can proceed with your professional/ research-related work by attesting your degrees, work experience certificates, and other required documents.
As a continually growing economy, UAE provides the best professional environment to grow even as an individual. So, for any such opportunity, you will need to get your essential documents attested.
Non-education related benefits
For expanding your business in the UAE it is mandatory to get your business-related documents attested to get the legal permission for setting up your business there.
Being a place where life is better and sound, many people relocate to the UAE every year. For relocation, you have to acquire a resident visa and for the same, vital certificates and documents are needed to be attested mandatorily.
The laws of the UAE are very strict. There is no room for a person who has ill intentions for the nation and if you fail to prove your reason and credentials for staying in the UAE because of the lack of attested documents, then it will cause you trouble. Under no circumstances, should you skip the attestation of your documents when moving or traveling to the UAE.
ND Universal is the most trusted attestation service provider with experience of more than seven years. The process which we will follow for certificate attestation will not be any different from the official one. We work with the terms of the government. Our team of professionals will resolve your issues and save your time as well as energy. Our Attestation services in Mysore takes place in four steps:
Step 1: Local Notary
The first stage is getting your certificate attestation from the local notary from where it was issued.
Step 2: Home Department
This step will involve getting your documents the verification they need from the departments as per the need of the document. This process will involve HRD ( Human Resource Development Department), SDM ( Sub-divisional Magistrate), and SHD ( State Home Department).
Step 3: MEA
This step involves your document getting a stamp from the MEA (Ministry of External Affairs). This will be the last step belonging to the central government.
Step 4: UAE Embassy
The last step is to make sure that your certificate is attested from the UAE embassy.
The Cost of UAE Embassy Attestation
Here is the the cost of UAE embassy attestation for educational and non-educational documents:
Most Popular
Services
Regular
Normal
Urgent
Cost
₹ 7100.00
₹ 8100.00
₹ 9100.00
Time
15 Working Days
8-10 Working Days
4 to 6 Working Days
Pickup Facility
Drop Facility
Same Day Delivery
After Attestation
Remove Lamination
Note: No extra/added cost. Pickup and Drop charges are already added. In case you courier your documents an amount of 250 will be deducted from the cost.
---
Why Choose ND Universal?
Certificate attestation plays a major role when moving to the UAE. It is a tiresome process that brings in a lot of unrequited stress on your table. But when you put your trust in us, it will make the process of the Document Attestation in Mysore very streamlined for you.
ND Universal is one of the most trusted, authentic, popular, and highly reputed certificate attestation service providers with years of experience and services that are certified in the UAE. Choosing us as your service provider for Attestation Services in Mysore will benefit you in many ways:
Procedures simplified for you
Service faster than you except
Transparency in the entire process
Time-saving and stress-free attestation
Receiving timely updates during the process
Professional and experienced staff
Pick up and drop service of documents for clients
24/7 service availability
Reliable and trustworthy certification.

---
Frequently Asked Questions
How do you ensure the safety of our documents?

A series of steps are followed throughout the process that makes sure none of the documents go missing even by mistake. Special attention is given to the documents throughout the process of attestation.

How does attestation help?

Attestation of your original certificates proves validity in Gulf countries for getting an education visa, family visa, work visa, etc. from the trade department of UAE.

Is Apostille valid for the UAE?

Apostille

is the process you have to go through when you intend to use your documents in the countries which are part of the

Hague Convention

. It will not work for the UAE as it is not a part of the Hague Convention.