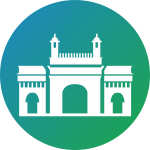 Apostille Services In Thane
Hey, you need not run pillar to post searching for Apostille services in Thane. We are here to provide the most trusted attestation services in Thane locality.
The first question that you are likely to ask is what exactly is meant by apostille service? In order to understand this, it is best to give you examples of where this service comes in useful.
Suppose you are hiring someone from a foreign country. How do you know if the person's degree and qualifications are genuine and as claimed? In the same way there are thousands of Indian students seeking admission to foreign universities for advanced studies based on their existing degrees.
How do those universities determine if a student's degree is authentic or not? This is where apostille services step in and carry out due diligence.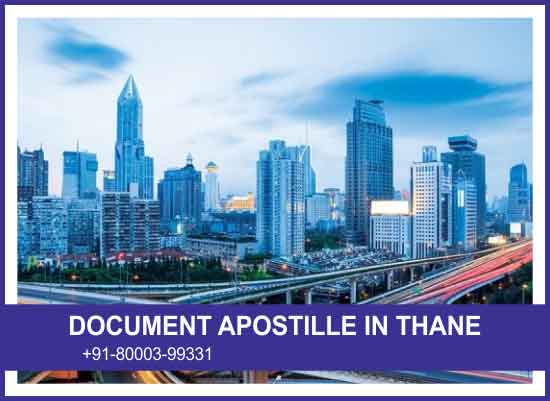 As an employer you will retain the services of an agency to carry out apostille services which means that agency will check, verify and certify that the applicant and his certificates are genuine.
Similarly, foreign universities will engage apostille services to check an applicant student's documents. Apostille services are impartial and unbiased and can be trusted to give authentic information.
This is why many countries created a law stating that a person intending to migrate for work or for studies must have apostilled documents to prove authenticity.
In fact, if you, for instance, plan to settle in any of the Hague Convention countries, it is mandatory that all your documents are apostilled which gives an aura of legitimacy.
When and where are apostilled documents required?
The next question you are naturally likely to ask is as to when and where and which documents should be apostilled. You will need the following documents apostilled according to the intended purpose.
Degrees:
If you plan to work or study abroad then your degree certificate must be apostilled.
Let us say you intend to settle in any of the Hague Convention countries. In that case it is mandatory to get your degrees apostilled if you wish to be successful in landing a job.
Birth certificate:
Another important document that must be apostilled is the birth certificate.
This is a must if you are planning to obtain a student visa, a PR or a resident visa. This is particularly applicable to children you are taking along with you.
Marriage certificate:
In case you intend to take your spouse along with you on PR then it is obligatory to get the marriage certificate apostilled by a trustworthy agency such as ND Universal.
Police Clearance Certificate:
You may wish to settle abroad and will furnish all the above documents duly apostilled but do not forget to get the PCC and, importantly, get it apostilled to avoid any hurdles in the process.
In the above paragraphs we talked about the Hague Convention Countries that mandate apostilled documents. Let us tell you about these countries.
In fact, there are 92 countries where it is mandatory to get documents apostilled. North America, almost all of South America, Australia, New Zealand, Europe, some countries in South Africa and most Asian countries are signatories to the Hague Convention.
Take a look at the map below to get a clear idea and click on it to view a page listing the countries.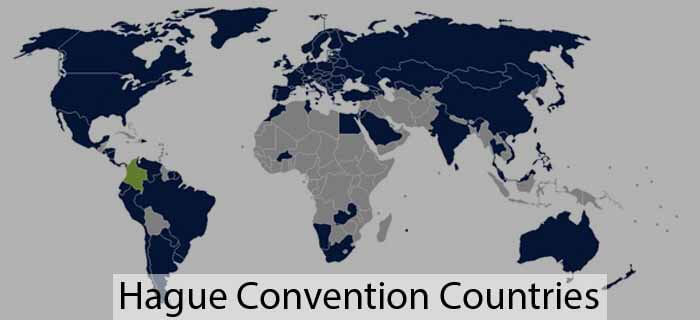 The next thing you will want to know is how do you go about the apostille process.
Documents process path
Notarize all your documents as stated above
Get university verification for your marksheets and degree certificates
Get HRD – state attestation
Get SDM or Home Department verification
Get the MEA (Ministry of External Affairs)
Next, let us walk through the actual process to get your documents apostilled.
HRD attestation
The HRD attestation process is carried out by the State's HRD Attestation Educational Department. You will need to furnish the originals and copies along with a request letter clearly stating the purpose in the application to the HRD.
The HRD will require the university's approval. Therefore, this process takes time. If you plan to apply for admission abroad or for work visa then you should start this process at least 5 to 6 months before you plan to depart.
The Ministry of External Affairs
The next step, once you have obtained the HRD attestation, is to submit documents to the Ministry of External Affairs office in New Delhi for their verification and approval.
The interesting thing here is that not all countries are rigorously strict about the HRD attestation. However, if you intend to travel to Austria, Portugal, Saudi Arabia or Italy you should make sure to Get the HRD Attestation otherwise your case will be rejected.
Sub Divisional Magistrate (SDM) attestation
Assuming the HRD has approved the documents, you take these to your local SDM and get the Magistrate's stamp and seal on these and then forward the set to the MEA.
MEA
It should not take long for the SDM to grant attestation. However, you may still need the services of ND Universal who know how to get things done. Once the SDM approved documents are in your hands you furnish the set to the MEA in New Delhi.
So far we have talked about educational documents. Now let us take a look at the apostille process for non-educational and personal documents.
Process for Non-Educational/Personal Documents
The process to get non-educational and personal documents apostilled is similar and follows the same sequence.
You can do it on your own or, better still, retain an expert like ND Universal to help you out. The first step is to get these documents attested by the Home Department of your State. Once this is complete the documents are forwarded to the MEA in Delhi.
The MEA will apostille and attest the documents which can then be the basis for you to apply for studies or residence in the Hague Convention countries.
Commercial documents
The pathway is different in case of commercial documents. You will have to compile the relevant commercial documents and process them through the local Chamber of Commerce department in Thane.
Once the Chamber of Commerce gives its attestation then the set of commercial documents must be sent to the MEA to get them apostilled.
What it looks like
So far we have been talking about getting the documents apostilled. What actually does the apostille sticker look like is something you may want to know.
The government department responsible to apostille relevant documents will affix an apostille sticker on the reverse of each document.
The apostille sticker is computer generated and printed on sticker paper measuring 9cm x 9cm.
It is registered, numbered, dated and impressed with the government official seal. It will carry the name of the owner of the documents.
It contains a unique 14 digit code that can be used by countries anywhere to check authenticity of the information contained in the documents.
Further documents
So far so good. We have learnt about the apostille process and documents that must be apostilled but the concerned authorities will also require documents about the identity of the owner.
In addition to all the original documents that you need to get apostilled, you will also need to furnish a copy of your passport or a copy of your aadhaar card or both. If you have doubts then please talk to ND Universal.
How long does the entire process take in Thane?
You will be glad to know that the actual apostille process takes just one week as far as the MEA is concerned.
However, the HRD attestation process takes a longer period of time since the HRD department will rely on the universities to check, verify and grant their approval based on which the HRD will attest your documents.
It is our suggestion that instead of doing all this on your own you engage an apostille expert like ND Universal.
How much does Apostille Cost for Navi Mumbai issued documents?
There are three different package options available here, so pick whichever services suit your needs best.
Most Popular
Services
Regular
Urgent
Cost
₹ 3900.00
₹ 4900.00
Time
6-8 Working Days
4-6 Working Days
Pickup Facility
Drop Facility
Same Day Delivery
After Attestation
Remove Lamination
What is the validity of apostilled documents?
There is yet another crucial factor relating to the apostille process that you must know. Please decide and make absolutely sure about your plans to travel for studies or work within a time frame. You cannot say OK, let us get documents apostilled and then you postpone plans for travel by 1 or 2 years. This is because apostilled documents are valid only for 6 to 12 months from the date they are stamped in some countries. Some countries do not have time limit restrictions. To know exact information you should consult ND Universal at the start of the process.
The apostille process is a bit complex considering that various government agencies are involved. It is our suggestion that you retain an expert like ND Universal to ensure hassle-free and fast apostille process in Thane.
Now, if you want to know how to go ahead and about the cost involved, Please Click Here .
---
Why Choose ND Universal for Apostille Services in Thane ?