Bahrain Embassy Attestation Services
Looking to find a job in Bahrain and move there?
Want to take your family to Bahrain and settle down in a beautiful country?
Got an opportunity to start or expand your business in Bahrain?
Settling down in a foreign country is always a dream for many. And if that country is Bahrain, it's even more thrilling.
As one of the most developed Gulf countries, Bahrain is constantly sought-after by people who want to move to a foreign country and settle there. And we appreciate your choice as this would mean an excellent lifestyle for you and your family.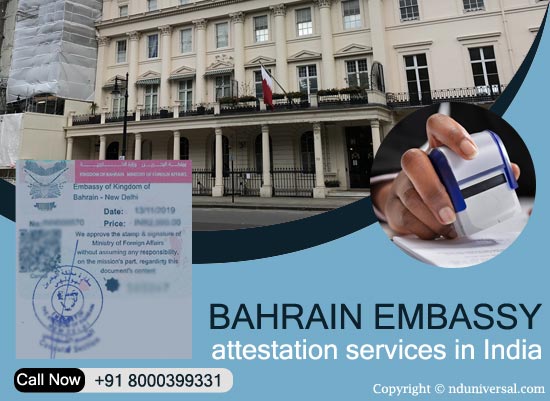 No matter why you have decided to go to Bahrain, you must get all the required documents attested from the Bahrain embassy before your preparations.
The law requires you to get all your important personal, official, and academic documents attested from the embassy. This is to ensure the originality and accuracy of your documents from the country of your origin before you can use them in Bahrain.
Degree certificate attestation from Bahrain embassy is a challenging task. You need the support of a professional agency offering Bahrain embassy attestation services.
If you require such an agency, ND Universal is at your service.
Let us help you understand the process, cost, and time taken for the Bahrain embassy attestation at ND Universal. We also offer comprehensive support with Bahrain embassy attestation in Mumbai and Kerala for everyone looking to make their immigration dreams come true. Our experience and expertise in the industry with helping thousands of candidates with Bahrain embassy certification makes us a reliable name to work with in Mumbai, Kerala, and other parts of the country.
What is Bahrain embassy attestation?
We believe that you might have heard of this term when you went to an agency to inquire about getting a visa to Bahrain for yourself or your family.
If you are moving to Bahrain with your family and are seeking admission for your kids in Bahrain, you might have heard the school talk about it.
Chances are that you may not have understood what Bahrain embassy attestation is or why you need it.
Let's explain that to you.
Document attestation is the process where the Bahrain government ensures that the documents submitted by potential visitors are genuine. This prevents Bahrain from dealing with fake certificates and documents.
Why do you need Bahrain embassy attestation?
When you travel to Bahrain for any of the following reasons, you need attestation services:
Student Visa
Family Visa
Business Visa
Job Visa
According to the immigrant laws of Bahrain, no person can enter the country without submitting the required documents attested by the Bahrain embassy.
Now that you have understood what the Bahrain embassy attestation is and why you need it, let us understand its process.
What is the process for getting Bahrain embassy attestation?
Different gulf countries have different processes depending upon the applicant's visa preference. However, Bahrain uses the following process:
Step #1: Attestation from the Local Notary
In this stage, the documents are notarized from the office of the local notary. This is the first step, and this is also an important one, as completing this step is necessary for the process to move ahead.
Step #2: Verification from Home Department/HRD
The Home Department of the country must verify the required academic documents at this stage of Bahrain embassy attestation. At the same time, personal documents like the Certificate of Marriage and Birth Certificate need to be verified by the HRD.
Step #3: Verification from the Ministry of External Affairs
After the documents are verified by the HRD and Home Department based on the type of the documents, they are then verified by the MEA of India.
Step #4: Bahrain Embassy Attestation
This is the final stage, where the documents are attested by the Bahrain embassy. Once the attestation is done, these documents can be used in Bahrain for legally permitted requirements such as getting a job, securing admission, starting a business, etc.
How long will Bahrain embassy attestation take to complete?
The time taken to complete the Bahrain embassy attestation changes depending on the documents for attestation.
According to the nature of the documents, the departments involved in the verification process may change. This change will also make the process longer or shorter.
What is the cost of Bahrain embassy attestation?
As we have seen earlier about the time taken for the attestation process, the embassy fee for each type of document is also different. Therefore, the cost of attestation can vary from one person to another.
However, ND Universal makes it a point to deliver the most affordable Bahrain attestation services to our customers.
Now that you have learned in depth about the Bahrain embassy attestation process, below is the cost of Bahrain embassy attestation.
If you have any difficulty then call ND Universal's customer service. They would love to help you.
Most Popular
Services
Normal
Urgent
Cost
₹ 6500.00
₹ 7500.00
Time
12-15 Working Days
8-10 Working Days
Pickup Facility
Drop Facility
Same Day Delivery
After Attestation
Remove Lamination
Over the last few years, ND Universal has been offering our customers reliable, professional, and quick Bahrain embassy attestation services. In addition, we also assure free pick-and-drop services for our customers.
We have helped hundreds of families, businessmen, and job-seekers get their documents attested by the Bahrain embassy in no time. We can help you with the same, too.
Visit Oman Embassy Attestation page, to know more detail on oman embassy process and time taken.
---
Frequently Asked Questions
How much time is required for the collection of documents?

The professionals at ND Universal will reach your doorstep as soon as you contact our services. We make sure that we give our all to all the last-minute queries and emergency requests that our clients might have.

Would I be able to track the progress of attestation?

You would be able to keep a track of the progress of your attestation. If you have any doubts about the same, you can contact our office right away and we will clear all your doubts without any delay.

What if you are provided with laminated documents?

Even though unlaminated documents are preferred, we accept laminated documents too. Our professionals remove the lamination without damaging the documents. After the completion of all the necessary procedures, we make sure to hand over the documents with lamination.