Argentina Embassy Attestation
Argentina is a very famous country and it welcomes foreigners for visits, staying for work and business. Individuals visit Argentina for many purposes including professional as well as business.
Argentina Embassy Attestation is a very significant process that is mandatory to carry out when an individual is willing to visit Argentina for any purpose. This process will help prove the genuinity of the credentials mentioned in the documents and certificates.
To visit Argentina it is very important to get the documents attested because without embassy attestation individual visa applications will not be accepted and access to enter the premises of Argentina will be denied.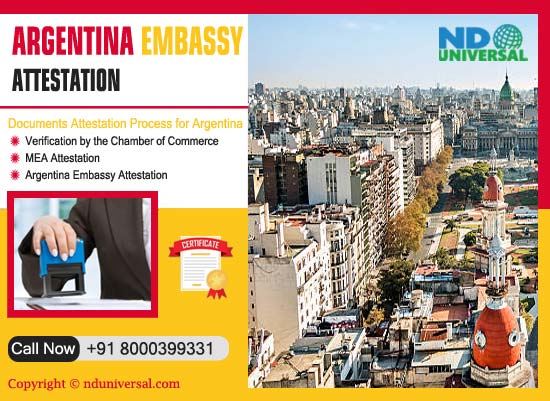 What is Embassy Attestation?
Attestation is the process in which the documents and certificates are granted with stamps that helps prove the authority of the information mentioned in them. Attestation stamp from Argentina Embassy is a legal procedure that will help prove the authenticity of the documents when used in Argentina. Argentina Embassy attests documents that are to be used for opening a business, for exporting, for getting a job, or for settling in Argentina permanently. For acquiring a visa also, one must attest the documents, or else the application will be rejected due to the absence of properly attested documents. To get all the documents and certificates attested, an individual needs to get the concerned papers checked at the various levels of Indian Government departments.
Attestation of the documents and certificates will depend on the reason for visiting or staying in Argentina. A large number of people from various countries migrate to Argentina for reasons like better job opportunities, or export purposes, or for running their own business in the rushed market of Argentina. Whatever be the reason, it is very important to get the documents attested from all the relevant departments and then by the Argentina Embassy.
The documents related to certificate of Incorporation, Invoice, Board of Resolution, certificate of origin, Registration, Memorandum, Power of Attorney, Articles of Association, packing list all are counted as commercial documents. The authentication or verification of documents and certificates is done by signing or stamping the documents. In any case, if someone is caught using unattested documents in the country, then legal actions against them will be taken.
Why Is Argentina Embassy Attention Required?
All the commercial documents must be attested according to the reason of visits such as business visa, work visa, or commercial approval to stay in the country.
Export document certificate: Documents and certificates related to commerce should be attested to take permission from the concerned government for doing commercial activities. Attestation of these certificates will help in proving the legitimacy of the information mentioned in documents and certificates. All the documents and certificates will be valid to use in another country only after being attested by the embassy. Documents and certificates will include:
Letter of Credit
Customs Packing List
Performa Invoice
Bill of Sight
Certificate of Origin Certificate (COO)
Memorandum of association (MOA)
Shipping Bill
Commercial Invoice
Certificate of incorporation (COC)
Articles of association (AOA)
GMP Certificate
Export License
Bill of Lading or Airway Bill
Bill of Exchange
Export License
Certificate of incorporation
Health Certificates
Authorized letter
Warehouse Receipt
Power of Attorney
Contract Letter
Commercial Invoice
Purpose: There are many reasons to attest Export documents:
For the registration of the company
For the consignment of export
To have a clean chit from customs inspection
To be able to elect an in-charge
For the expansion of the business steadily
For other legal matters
Attestation is always done on original documents. Argentina Embassy Attestation is a crucial process because without the certificates being attested properly by the embassy, one will not be allowed to enter the premises of Argentina.
Documents Attestation Process
Steps: The steps of the procedure involved are:
The verification of commercial documents and certificates will be done by the Chamber of Commerce. Verification from Notary or any other regional level department is not needed. Commercial documents do not even need verification from state-level authorities.
After the verification is done by the Chamber of Commerce, the document will be eligible for the legitimation of the information by the MEA ( Ministry of External Affairs).
When the document will be legalized by all the relevant departments, it will be granted attestation by the embassy.
The process of Embassy Attestation is not only complicated but is also very tiresome and thus professional help should be taken in these cases. Hiring ND Universal will help you in getting the Argentina Embassy Attestation in a very easy manner.
Detailed Procedure Attestation
As Argentina welcomes individuals from around the globe to enjoy and expand their professional side in the country, many come for the sole purpose of running commerce of their own. The required documents must get attested in the following manner:
Step 1: Verification by the Chamber of Commerce
In the initial stage, personal and professional documents are attested by the local notary but in the case of commercial documents, they must be attested only by the Chamber of Commerce. Individuals must get their documents signed or stamped by the department to get the central level authentication. Commercial documents included documents like power of attorney, documents stating the information about commerce, and much more.
Step 2: Authentication by the MEA (Ministry of External Affairs)
Commercial documents do not need authentication by the state-level departments which are important in the case of other documents. After the certificates and documents are attested by the Chamber of Commerce, one can submit the documents for authentication by the central government department MEA (Ministry of External Affairs) India, which handles all the issues that are related to a foreign land. The MEA (Ministry of External Affairs) provides the documents with a signature or stamp that is crucial to legalize the documents, to be honest.
Step 3: Argentina Embassy Attestation
After the commercial documents are attested by the relevant departments, they will be eligible for embassy attestation. One should not skip this part as it will help in obtaining any kind of visa and will grant permission to get into the country in a lawful manner.
The process is very tiresome and costly because all the departments are situated on different premises. For reducing any hindrance, one should hire ND Universal where clients will get proper and comfortable services.
Documents Required For Embassy Attestation
Following general papers will be needed to get the documents attested by the Argentina Embassy:
Attestation of commercial documents will require-
An original document to be attested by the Chamber of Commerce
Covering letter addressed to the Embassy of Argentina.
Timeline for Attestation Services
The time frame of the Embassy Attestation depends on the type of document that is to be attested. Each document has to go from a different level of verification. It also depends on the nature of the document and the state from where it was issued. There is no time limit for these procedures. It can take anywhere from three working days to weeks and even months depending on the procedure that has to take place.
All the related documents whether personal, educational, professional, or commercial should be attended to properly by the Argentina Embassy to get the acceptance of visa application and permission to enter the country. Without the documents being attested, individuals will not be allowed to enter the country and certainly, one can not use documents legally.
In many cases, it takes six to eight days for completion of the embassy attestation but this can also stretch due to unseen circumstances.
The process of Embassy Attestation can be very tricky and tiresome. Negligence cannot be tolerated when it comes to paying attention to details since the process is crucial and sensitive. There are different departments where one has to obtain verification before submitting the documents to the embassy for final attention. Individuals can face difficulties in finding and traveling to the various departments scattered across the whole of India. The process can get very monotonous and exasperating for some.
If done on a personal level, it will cost a lot of money and time. That is why one should hire ND Universal to get the right help and knowledge for embassy attestation. We also ensure the safety of your documents because we follow a very systematic and transparent process.
Choose ND Universal?
While attesting your documents, not even a minor mistake should be made and that is why this crucial task should be handed over to experts who are responsible and aware of the field.
ND Universal is one of the service providers that help people get their documents and certificate attestation from the Argentina Embassy.
We are experts in attestation: We are the experts in this field and our staff is also well trained and can handle any difficulties one might face. ND Universal will take care of the documents closely as we follow a particular system where we constantly keep an eye on the documents.
We deliver high-quality services at a low rate: The motto of ND Universal is to provide comfortable and high-quality client services that each client deserves. With an experience of 8+ years and a motto of client satisfaction, we promise to deliver high-quality services and legitimate attestation for your documents with relevant charges.
We make the process Easier: Being a lengthy process, it can get very irritating and stressful. The stress and disturbance this whole process can cause you are unimaginable. Hiring ND Universal will give you another perspective of this procedure where you will not need to stress about anything and we will take care of everything for you.
We offer 24*7 service
ND Universal will solve your problems at any time of the whole day. Our staff works continuously for the benefit of clients. If in any confusion or doubt, you can directly contact us and we will solve your questions.
Fast Attestation Service
ND Universal offers fast Attestation services in India. We work as per the government rules and we are the authorized service providers. We work relatively faster than any other attestation service provider. We will not charge you extra money for this feature.
Free pick-up and drop-off services
ND Universal gives free pick-up and drop-off services of documents and certificates. We will pick up the documents from your residence and after the process of attestation is done, we will dispatch them without any delay.
Our Highlights:
Professional staff who will respond to your queries 24/7
Free pick up and drop off service for your documents
Regular updates about the progress of your document
Transparent work with no hidden charges
Easy payment methods