Your Easiest Guide To Apostille services in Bhopal
Apostille services in Bhopal are dedicated to assisting clients in Bhopal with their authenticating needs. It is incorporated by the authentication procedure, which will verify one's genuineness and cause for travelling to the destination country, which is also an important component of obtaining a visa and expanding one's business in another country.
The process of selecting a service provider might be time-consuming. Because there are so many of them, it is difficult to choose and trust one service provider because many of them are slow, and others will not follow the government's instructions and criteria for this particular job.
We, at ND Universal, provide the best apostille services in Bhopal. Because ND Universal is not only government-affiliated but also assists clients in navigating the multi-layered process of an apostille, it will be the greatest choice of an apostille service provider.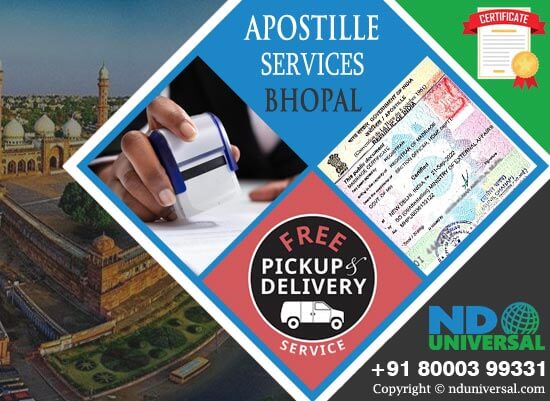 If you choose ND Universal as your service provider, you won't have to worry about the quality or the procedure because everything is done in a systematic manner.
What is an Apostille?
In layman's terms, an Apostille is a seal placed on documents and certifications that allows them to be used in countries other than their own. This label is only given to documents and certifications that pass a different level of general verification. The type of documents is also a factor in these verifications.
Apostille can be considered as a certain kind of authentication that can be recognized by most organizations under the Hague Convention. The western countries are quite accepting of Apostille, and 92 nations are included under these Hague Convention countries as well. The documentation is made with the help of the Ministry of External Affairs of GoI. The seal is generated with the help of computers and a unique identification number, and it ensures that your documents are verified. Documentation by Apostille is binding in a legal form as well.
Why and When Document/ Certificate Apostille is Required?
The Apostilled documents are also required in order to obtain a visa. Individuals will not be able to access the premises of other countries if their documents are not apostilled. Individuals who are caught using documents and certifications that have not been apostilled face legal consequences.
Degree certificate
The apostille of a degree certificate is necessary since it aids persons in obtaining employment or a work visa.
People who have an apostille degree certificate will have an easier time finding work and getting into school because no document may be used without being apostilled, and the degree will be useless without the apostille sticker.
People who desire to finish their studies in a country that is a signatory to the Hague Conventions must have their degree certificates apostille. Students will not be able to enroll in college or university unless their degree certificate is apostille.
Certificate of Marriage
A marriage certificate is a personal document that demonstrates the association between a married couple. This document is used to establish two people's marital status.
This certificate's apostille will help you obtain a family visa, spouse visa, resident visa, dependent visa, and other types of visas.
This certificate must be apostilled in order for the marriage to be recognized in a country that is a signatory to the Hague Convention.
Certificate of Birth
A birth certificate is a personal document that must be shown in order to obtain a children's visa.
Individuals will be able to prove their credentials in another country with the use of an Apostille of Birth Certificate.
Having an apostille birth certificate will also aid students in their school, college, and other admissions processes.
A birth certificate is the greatest document for stating a person's nationality hence it should be apostilled.
Certificate of Police Clearance
This is a crucial certificate that aids in the legal validation of a person's criminal data.
This document should be apostilled since countries need to know that you are a safe person to welcome.
A Police Clearance Certificate is used to demonstrate that an individual has no criminal history, either past or present.
This certificate's apostille is required to obtain a clean chit for overseas travel.
Certificate for Export Documents
The businessperson must apostille this certificate in order to facilitate commercial transactions in other nations.
This certificate's apostille will aid business people in registering their firm, expanding their business, obtaining export permission, and obtaining certificate incorporation.
Certificate of Single Status
Individuals can use a single status certificate to prove that they are not married and that their status as an individual is single.
To evaluate the single status you may have in a country that is a signatory to the Hague Convention; this certificate must have an apostille.
Apostille Affidavit
Individuals who want to claim their birth name as well as those who want to change it need to have an affidavit certificate apostille.
Individuals will benefit from the apostille of this document if they need to correct their name in a country that is a signatory to the Hague Convention.
Certificate of Death
Apostille of a death certificate is required to submit a claim from another country.
A death certificate is used to prove a person's death. It is critical to remove a person's body from a country that is a signatory to the Hague Convention.
Countries Accepting Apostille Documents
Apostille documents are not accepted in all foreign nations. It's important to remember that apostille documents and certificates are only accepted in nations that have signed the Hague Convention. Apostille of papers and certificates is required regardless of your reason for visiting the country. Any paperwork and certification that will be used abroad that accepts apostille should have an apostille stamp given first by the country's judicial authorities. An apostille is advised because the work permit will be refused if all of the required papers for a visa are still not apostilled.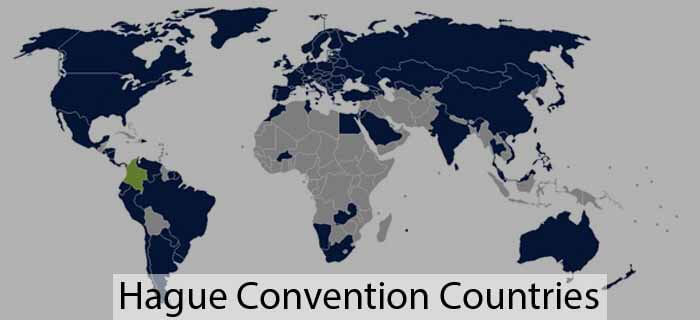 Process of Document Apostille
Apostille is a multi-step process that takes longer than one might expect. The time frame is determined by the type of document, as well as the procedure followed and the departments involved. Individuals are not permitted to use the documents unless the aforementioned agencies have confirmed them. Any lapse in judgment will cause delays in the process. Different sorts of documents follow the methods described below:
Documents for Education
The steps for apostilling the education-related documents are as follows:
Here, the document is issued in the first place. The verification of the documents and certificates will be done by the Local Notary or the University.
The documents will then be checked and verified by the Human Resource Development Department (HRD), which is part of the state verification process.
Documents will be forwarded to the MEA after the process is completed. The documents will receive their Apostille stickers here at the last step.
Personal Documents
Documents that are not educational or personal in nature are apostilled by following below steps:
The local notary will perform the initial check before issuing the documents and certifications upon request.
In this step, the personal documents will be verified by the State Home Department or a Sub Divisional Magistrate.
The paper and certificates will be eligible for an apostille stamp from the MEA if both verifications are completed satisfactorily.
Documents for Business
The following steps are followed when creating commercial documents:
The Chamber of Commerce will be required to verify commercial paperwork at the first step.
Commercial document verification will not be handled by local notaries or state departments.
The documents will subsequently be sent to the Ministry of External Affairs (MEA) to receive an apostille sticker.
The procedure outlined above should be followed without fail. To obtain an apostille sticker, documents must be carefully validated. Here, you only need to hire ND Universal as your provider of Apostille services in Bhopal to make the task easy while your documents get apostille-ed in a legally acceptable manner.
What Does An Apostille Look Like?
The Apostille sticker is a 9cm long, computer-generated sticker.
It is a square-shaped sticker with a unique identifier digit on each side.
With the use of these unique identification digits, countries that are members of the Hague convention can verify the legitimacy of the information contained in the documents.
If you have an apostille sticker, you do not need to have your documents examined later on.
The Ministry of External Affairs usually provides the Apostille sticker. MEA is a department at the federal level that handles matters that happen outside of the country.
What If Your Documents Are Laminated?
It is critical to remove the lamination because the documents will not be authenticated if it is left on. But, if your documents are in laminated format, we request you to not attempt to remove the coating on your own since this will cause the document to be destroyed.
You can simply choose us. You only need to send the documents to the ND Universal team in their current state; our professionals will remove the lamination carefully. We will also deliver you the documents with the Apostille label when the procedure for the apostille is completed.
Laminated documents cannot be authenticated by any of the official apostille services. You have to make sure that the laminated documents are finally free of their coating. This cannot be done on your own. You might damage the document while trying to take off the cover. It is better that you leave the responsibility in the hands of professional teams like ND Universal. This will help you to make sure that you have the right documents authenticated and provided with an Apostille sticker at the right time.
Documents Required for Apostille Process
The following are the documents that are necessary for the Apostille Process.
Education Documents
Documents or certifications connected to education, such as graduation certificates, 10th, and 12th-grade certificates, etc.
Personal Documents
Birth certificate, certificate of Marriage, etc.
Business or Commerce-related documents or certificates
All business-related documents, such as the power of attorney, export documents, etc.
Additional supporting papers include:
Along with the original certificates, this document must be presented.
Passport-size Photographs Copy of your Passport
Receipt of the Passport Application
A photocopy of your Aadhar Card is required
A photocopy of your Visa.
Time Taken to Complete the Process
The amount of time it takes to apostille documents will vary depending on the type of documents, and the urgency of the documents will also be a factor. Every department will work at its own pace, so there may be delays.
Individuals should contact ND Universal because completing the process on their own will take much longer than expected. We are here to assist you with this service in a very short time. The documents will be processed in 5 to 7 working days only.
What Is The Cost Of Apostille Services In Bhopal?
The cost of the process is determined by the type of documents to be apostilled and the number of documents to be apostilled. Travel expenses will be included if you are handling the process on your own because all of the departments are located in various locations.
Pick the best package as per your requirements, from the below given two packages
Most Popular
Services
Regular
Urgent
Cost
₹ 3900.00
₹ 4900.00
Time
6-8 Working Days
4-6 Working Days
Pickup Facility
Drop Facility
Same Day Delivery
After Attestation
Remove Lamination
If you wish to stay away from all this fuss, you can simply contact our agency, the " ND Universal "- a provider of Apostille service in Bhopal to get your document apostille complete within 7 days at a reasonable rate. Our goal is to provide affordable and top-rated services to all our clients!
How to Start the Process?
You must contact our executive to hire ND Universal as your Apostille Services in Bhopal. The executive will personally assist you in completing all of the necessary paperwork. Our executive is available to answer any questions you may have. We will begin the process after all of the paperwork has been completed. The initial stage in the process is to collect the documents from your home and send you the receipt.
You will be able to simply track the progress of your papers after the procedure has begun. We will also keep you updated on a regular basis. Blue Dart Dispatch will provide the last drop-off service. There are several apostille service providers in Bhopal who are willing to assist customers who need their documents confirmed properly. We've established their trust and belief as a result of the help and experience we've received over the years. Allow us to demonstrate how we can assist you with the best utilities:
Free document pick-up and delivery: As a client of ND Universal, you will receive free document pick-up and delivery from and to your doorstep.
Experts in offering high-quality apostille services: ND Universal has been in business for many years and has earned the status of top apostille services in Bhopal.
Affordable services: We will not ask you to pay more than is necessary. There will be no further costs if the proper grounds are not disclosed.
Customer service: Customer service is available 24 hours a day, 7 days a week. Our experts are here to assist you at any time of day.
Documents are being tracked: You don't have to be concerned about the security of your papers or their whereabouts with us because we give regular updates.

We provide services for attestation for all types of documents mentioned below:
Educational Certificate Apostille
| | | |
| --- | --- | --- |
| Degree Certificate | Nursing Certificate | PG Degree Certificate |
| MS Certificate | Dentists Certificate | SSC Certificate |
| Diploma Certificate | MD Certificate | Nursing Certificate |
| Transcript Certificate | BE Certificate | HSC Certificate |
| Marksheets | Engineering Certificate | Inter Certificate |
| Pharmacy Certificate | MBBS Certificate | |
Non-Educational Certificate Apostille
Commercial Document Apostille
| | | |
| --- | --- | --- |
| Physical Analysis Report | Certificate of Incorporation | Export Invoice |
| Chemical Analysis Report | Power of Attorney | Packaging List |
| Certificate of Origin | Agreement | Board Resolution |
| Article of Association | Memorandum of Association | Shareholder Certificate |
| GMP Certificate | Health Certificate | Manufacturing License |
| Food and Drug Licence | | |
---
Why Choose ND Universal for Apostille Services in Bhopal ?