Apostille Services in Akola
Guaranteed Apostille Services At Lowest Price
Many apostille service providers that are willing to help people who want to get their documents attested in the right manner. Since there are so many of them, it gets very hard to pick and trust one service provider as many of them are slow and others will not follow the instructions and guidelines given by the government for this particular work.
The process of choosing one service provider can get tiresome. ND Universal will be the best choice of apostille service provider because ND Universal is not only government-affiliated but also helps the clients in easing out the multi-layered process of an apostille. If you decide to hire ND Universal as your service provider then you will need not worry about the quality and the process being followed as everything is done systematically.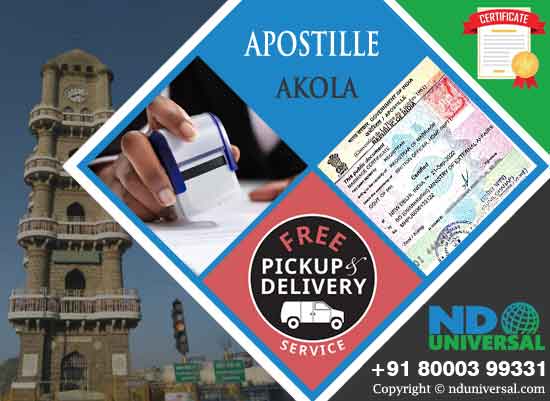 Quick & Easy Apostille Services in Akola
It is a well-known fact that many apostille service providers in Akola claim to help individuals get their documents and certificates apostille from the MEA ( Minister of External Affairs ). Even though there are many service providers, not all are authentic. There are many reasons that one should go for a genuine service provider. One of them is the legal procedure being followed and we at ND Universal guarantee you a high-quality apostille service for your documents and certificates. All the processes will be explained to you in a detailed manner, and all the safety measures will be taken to keep your records safe and sound. Apostille is a multi-layered process, but we will ensure that you will get a stress-free experience by hiring us.
What Is An Apostille?
Apostille is a sticker that is provided to documents and certificates. This sticker is provided to the documents and certificates that need to be verified to be used in a country that is a part of the Hague Convention. Apostille Sticker is important because the documents will not get the legal validity to be used in other nations without this sticker. If caught using them, strict actions will be taken against the individuals.
Apostille stickers are acceptable in around ninety-two countries. A central department of India will provide the apostille stamp that deals with all the affairs related to a foreign land; the department is the Ministry of External Affairs. An Apostille certificate or document can be lawfully used in the Hague convention countries; the sticker is necessary to gain the trust of an official of other countries and prove to them that you are not a threat to the country.
Why And When Is Document Apostille Required?
Though the main reason for getting your documents apostilled is to secure a visa, there are many reasons for which you should get various documents apostilled. Apostilled documents will help you use them for your profit in other countries. Without the papers being apostilled, you will not be able to secure a visa, and hence you will have no permission to enter a country. Every country takes strict measures against the individuals who tried to use the documents without an apostille sticker.
Degree certificate
Degree certificates are used for various purposes. They are academic documents and are very important for acquiring a student or employment visa
The degree certificate is essential to take admissions in colleges and universities
A degree certificate should get an apostille for admission to a college, getting a job, and securing a visa of the country one wants to move in.
Birth certificate
Birth Certificate come sunder personal documents, and it is essential to state the nationality
A birth certificate is also essential for taking admission in schools and colleges
The given credentials on this certificate are to be verified by the national government
Individuals should get their birth certificate apostille because it will help them acquire a visa, get admissions in schools and colleges, and assist in proving their nationality and name.
Marriage certificate
A marriage certificate is a personal document. This document is given by local authorities when a couple gets married
This certificate is proof that two individuals are married to each other legally
For couples who want to move to any country that comes under the Hague, the convention will have to get their marriage certificate apostille
It is essential to obtain the certificate apostille because it will help them prove their relations and help them secure their family visa, resident visa, spouse visa, and dependent visa.
Police clearance certificate
This certificate is the official proof of all the past criminal records one has
This certificate is beneficial to prove that you have not done anything against the law in your country
It is essential to get this certificate attested as this gives individuals a clean chit for obtaining a visa, and you can understand no country wants trouble in their country.
Let's checkout detail information about How to get PCC Apostille?
Export Document Certificate
Export Document is related to business owners
Business owners will need to get this certificate apostille various for various reasons like business expansion, for getting certificate incorporation, and also for export permissions
This document must be apostilled by all business owners who want to expand their business in the countries that come under the Hague Convention
Single status certificate
This certificate is used to confirm the relationship status of an individual
This certificate helps the individual prove that they are not married to anyone.
This certificate should get through apostille because it will help individuals in proving their status in n country that is part of the Hague Convention
Apostille affidavit
Apostille of this certificate will help individuals in claiming their birth name
This certificate will also help individuals who want to change their names legally
The name correction process can not be done without this document being apostilled, and that is why it should get apostilled by the individuals
Death certificate
A death certificate helps in determining the demises of an individual
This certificate is also essential to claim someone's death overseas
Apostille of this document should transfer the individual's body to another country.
Countries For Which Apostille Is Mandatory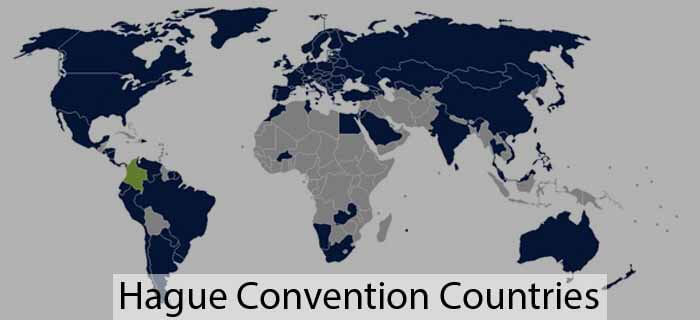 Apostille and Attestation are two different things. The apostille will not be accepted by the countries not part of the Hague Convention. The countries part of the Hague convention will need all the required documents and certificates to be apostilled. In addition, if you want to use any documents in foreign, they are also to be apostilled by the correct department. It is very significant to apostille the documents, or the country will not accept them as part of the Hague Convention.
To secure a visa, individuals have to apostille the documents mandatorily, or they will not get visa approval or enter the country. Documents and certificates must be apostilled to be funded in the country because non apostilled documents will not carry legal validity to be used. If caught, legal actions will be taken against the user. It is also essential that you make sure the procedure through which the documents are being apostilled is legal.
Process of Document Apostille
The process of documenting Apostille services in Akola depends on the type of document. Different documents go from other methods to get the final sticker of an apostille. Following are the general procedure that is followed by the documents:
Here at the first step, Notary authentication is performed by the respected university
After validation by the Department of Human Resource Development, that will come under verification by the state.
The documents will be given to the department of MEA to grant the stamp of apostille.
Personal or non-educational Records
The documents have to be verified from local notary
The documents here will be affirmed by the Sub Divisional Magistrate or the State Home Department.
Here in this step, the documents will be able to get the apostille stamp from the Ministry of External Affairs India.
Only verification by the department of Chamber of Commerce will be needed.
MEA will provide the apostille stamp to the submitted document.
What Does An Apostille Sticker Look Like?
An apostille is a sticker that is given by the Ministry of External Affairs, India.
Apostille sticker is generated electronically by a computer
It is 9cm, approximately
Each apostille sticker have a unique code
This code helps in checking the legitimacy of the information being provided in the documents
Every Apostille sticker is numbered, registered, dated, and impressed by the government's official seal
No need to attest the document from any embassy
The sticker will be provided by MEA for Indian Citizens
What If Your Documents Are Laminated?

People laminate their document for safety purposes, majorly that it does not get damaged, but laminated documents will not receive the apostille sticker. Even if your documents are laminated, please do not try to remove the lamination on your own, or you will end up damaging the document. Submit the documents in the way they are, and our professional will safely remove the lamination without causing any damage to your documents.
Documents Required For Apostille Process
A variety of documents is needed, or apostille. Individuals can get any official document apostille they wish to use in another country.
Documents associated with education like
Degree or diploma certificate
HSC or SSLC certificate
Personal or non-educational Documents like
Certificate of birth
Experience certificate
Marriage certificate and others
Documents associated with businesses, such as
Document for export
Power of Attorney
Other secondary documents will be needed for the verification of the certificate like:
Copy of your passport
1 Passport-size photograph
Application receipt of the passport
Photocopy of your Aadhar Card
Photocopy of your visa
Time Taken For Apostille Process In Akola
By Hiring ND Universal, you will not have to worry about the general period that extends to months sometimes because of many uncertain reasons like documents being held for further processing that lead to delays. But with ND universal, you will not have to wait for that much as we will not hold any documents purposely, and the apostille procedure will be done within 5-7 working days.
What Is The Cost Of Apostille Services In Bhubaneswar?
Most Popular
Services
Regular
Urgent
Cost
₹ 3900.00
₹ 4900.00
Time
6-8 Working Days
4-6 Working Days
Pickup Facility
Drop Facility
Same Day Delivery
After Attestation
Remove Lamination
The cost of this process generally depends on the procedure a document will go from. Individuals can choose to take care of this apostille on their own because the charges will be very high. Not only will you have to pay for the process but also have to invest your time and travel from one office to another will cost you extra money. With ND Universal, you will not have to stress the cost as our charges are minimal, and we do not charge unnecessarily.
How To Start The Process With Nd Universal?
If you are willing to hire ND Universal as your attestation service provider, you will have to contact our executive. Our executive will attend you personally, and you will be given all the details about our working system and other formalities. Once all the formalities are done, we will pick up all the documents to get an apostille from your home. You will receive the receipt of the same.
No pick-up or drop-off charges will be taken. Once the procedure gets started, we will inform you via mail, and you will also be able to track the process online. Once the documents get their apostille, our delivery partner Blue Dart Dispatch will drop off your records, and you will be able to follow this as well.
With ND Universal, you will have a hassle-free experience of Apostille Services in Akola where you will not even have to pay more than needed. For hiring us as your service provider, you can call our executive. Our executive will personally attend to you and will clear all the formalities.
Our Highlights
Free pick up and drop off services: Our clients get free pickup and drop-off services of safe and trackable documents.
Value of Brand: We have been in the industry for more than eight years and have enough experience to high-quality Apostille Services in Akola at minimal prices.
High-end customer service: High-Quality Service is something we aim for as a customer deserves this. Our apostille service will be hassle and stress-free.
Affordable cost: The Process will be transparent, and we will not cost you a single penny without any justification.
Tracking system: Tracking your documents will be available, and that will be done through a barcode provided by our team.
24*7 customer service: You can call our team whenever you feel like it, and we will solve all of your issues by attending to you personally.
---
Why Choose ND Universal for Apostille Services in Akola ?